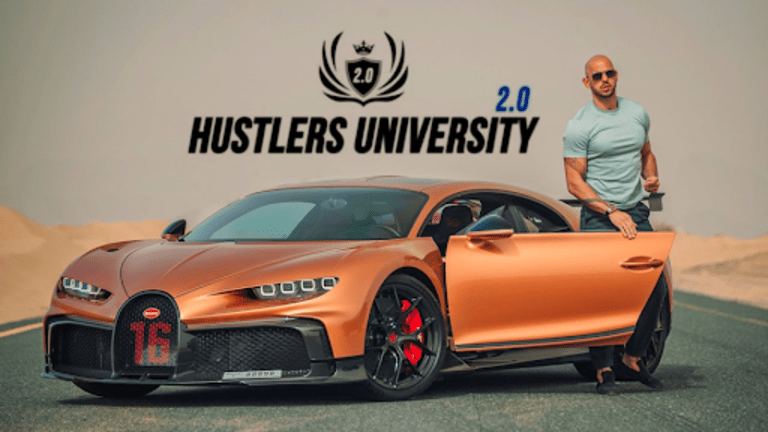 Hustler's University Changing to "The Real World" on November 14th
Simply put — Hustler's University is an online community focussed on making money.
A new platform offered as an upgrade to Hustler's University will be launching on November 14th. Tentatively named "The Real World," it promises to offer subscribers a much greater level of access to the now infamous founder Andrew Tate. Also, it will give more detailed courses into topics ranging from affiliate marketing and copyrighting to Crypto trading and investment. "The Real World" is, according to its website, the second of three stages; Hustler's University was the first.
Those already enrolled with HU will be automatically upgraded to this new platform once launched on November 14th. Prior students will also continue paying the subscription cost of $49 per month.
New students who enroll after "The Real World" launch on November 14th will have to pay a much higher tuition cost of. Current expectations are for a sign up price of $149.
Regular enrollment is still open today however giving those interested almost 1 week time to take advantage of the stage 1 price. The founder wants to give everyone the opportunity to learn from his organization.
Founded By A Social Media Celeb
That founder is Andrew Tate, someone hard to avoid if attentive to the news today. The former kickboxer, Big Brother contestant, and Social Media Influencer has had a high level of success.
"I was broke for a long time. I made my first million when I was 27, and then I had a hundred million by the time I was 31, " said Tate once of his growth.
An advocate of the self made man, Andrew was skeptical of the monetary paradigm theory when still a kickboxer. However, he eventually realized that it was better to invest in himself by learning valuable skills. From those talents he could earn exponentially more by starting his own business.
Alongside his brother Tate moved to Romania and started a webcam studio. The internet entrepreneur went there because of the lower cost of living, yet great technological infrastructure.
Even Binance held their first official meet up in Romania just last week. It's becoming a hot spot for the digital community.
Tate however, went there and supplemented income with his social media following to build out his business. Eventually he transformed that small vision into a multi-million dollar venture.
Beyond that studio, Andrew's been steadily building a social media following over the course of the last 6 years. However, the digital nomad really became a household name in 2021 with the launch of his on-line course known as Hustler's University.
What is Hustler's University
Simply put — Hustler's University is an online community focussed on making money. Started in 2021, HU now has over 160,000 students. And the program has seen constant growth since its inception, except for a small drop off during a viral scandal. The basic premise of the university is to supply an environment where like minded individuals can come together and discuss methods of wealth creation.
The university also offers courses run by experts in their respective fields. The topics of these courses include: Crypto, Freelancing, Copywriting, Affiliate Programs, Amazon FBA, E-commerce and Stocks.
Students are free to choose whichever specialization they wish for $49 a month. They are then mentored by a Hustler's University hired experts, like a professor.
The University's success comes much from student referrals. A commission was given to each student brought in by an affiliate of HU. This is also one of the reasons so many of Tate's videos have gone viral and thus gained him massive amounts of attention.
The Real World Platform
To date, Hustler's University has been hosted on private discord servers. The plan for the new platform, "The Real World," is for it to be a self-reliant infrastructure. The executive board behind HU wants to eliminate any third party host that may disagree with Tate and his mission. However, it could switch to relying on a popular encrypted messaging service — Telegram.
What specifically "The Real World'' will consist of to improve itself above its predecessor is unknown at the moment. What is known is that it claims to offer courses that were previously unable to be offered in the university.
Learn Cryptocurrency Investing
The crypto course that is available on discord currently offers tips and education about the basics of crypto investing. It also offers support and advice from fellow investors. The ecosystem of digital currency enthusiasts is somewhat of an iron sharpening iron deal.
Furthermore, there's the ability to actually copy professional crypto traders. People who stay abreast on crypto news, opportunities, and market shifts.
More technical, daily analysis of crypto trends and strategies in how to invest long term in crypto, are also offered.
HU suggests such courses allow even the least motivated people the opportunity to make clean profits.
The Future
Whether this information is worth the price or not is on a person by person case but those within the university certainly tend to on average feel that they benefit from this community and the inspiration that comes alongside it to focus on investment more.
This new platform "The Real World" should help expand Andrew Tate's influence further and offer deeper analysis of crypto investment or at least continue the legacy of Hustler's University.
Alex Gaughan