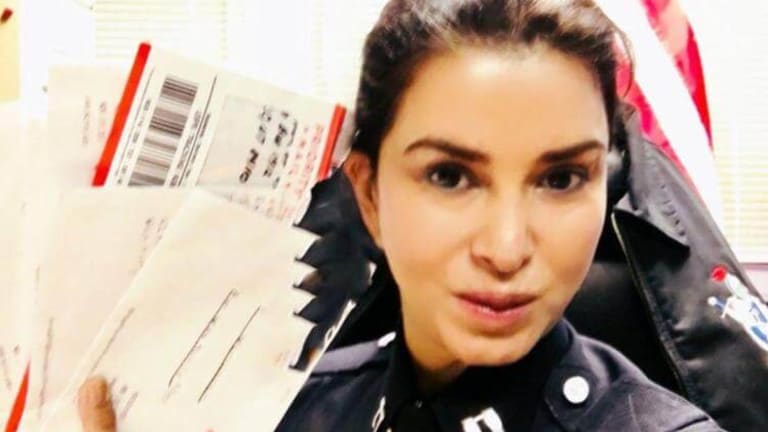 Sexism Back In Focus As LAPD Captain Sues
According to the content of the lawsuit, a photograph of a nude woman was circulated around the department, along with the false suggestion that it was an image of her.
As wonderful as it seemed for the progression of equality in the LA Police Department when women were promoted to senior ranks, it seems there's still work to be done to root out the dinosaurs. Captain Lillian Carranza, head of the commercial crimes division, has this week felt that she's been left with no option but to sue the force after coming up against sexual harassment and sexism over a period of several years.
The existence of a female captain, and especially a female captain of Hispanic descent, should have been a source of pride for the department. We only have to look back in time somewhere between twenty or thirty years before we reach a point where the majority of senior police were white men, who handed out promotions to other white men on too frequent a basis. Thankfully, times have changed.
The senior ranks of the police force are no longer off-limits to women, just as the senior ranks of most respectable institutions have been opened up. Old fashioned drinking dens are becoming bars where women are welcome and can enjoy a drink with colleagues without being stared at. The level of interest in women's sports has become greater in the past decade. Even gambling, once considered to be a purely male pastime, is becoming more accessible to women thanks to websites like Rose Slots. Women are finally being accepted in the same roles, and with the same habits, as their male peers. If they want to spend their time spinning the reels in a virtual casino, they can do that. If they want to become cage fighters, they can do that, too. And if they want to work as police officers, they should be free to do so without the kind of harassment that their male colleagues would never encounter.
According to the content of the lawsuit, a photograph of a nude woman was circulated around the department, along with the false suggestion that it was an image of her.
The allegations made by Carranza are troubling. According to the content of the lawsuit, a photograph of a nude woman was circulated around the department, along with the false suggestion that it was an image of her. Carranza further asserts that LAPD knew the picture was being circulated but took no action. Not only that, but she was ordered not to specifically discuss the allegations that she'd made with anybody else. In short, she feels she was told to keep quiet and carry on.
Seeking further help from her own superiors, Carranza states that she asked for the head of the associated department to make clear that she was not the woman in the photograph, and that further dissemination of the photograph would not be tolerated. Despite this plea to act, she says there was still nothing done, and no action taken against those who continued to send the photograph to others.
While the sharing of a nude image of a woman who may not be Carranza could be seen as unsavoury rather than illegal, for her it's just the latest in a long line of incidents which she feels have pushed her to the point where legal action is her only recourse. Her lawsuit refers to a previous incident, during a training class in November 2013, where a senior detective was caught on an audio tape referring to Carranza as 'a very cute little Hispanic lady who's been swapped around a bunch of times', before going on to make derogatory remarks about her ability as a police officer. According to Carranza, LAPD had been made aware of the content of the recording immediately, as well as the identity of the senior detective making the comments, but took no action and didn't inform Carranza until some time later, when the officer who'd made the original recording came directly to her with it.
The lawsuit couldn't come at a worse time for LAPD, who find themselves mired in ugly sex and sexism scandals. In April last year, former LAPD Officer Linda Allstot won $3m in compensation after her former supervisor had her placed under 24-hour surveillance in retaliation for her rejecting his unwanted sexual advances. It took a jury less than three hours to return a 12-0 verdict in Allstot's favor. The settlement was subsequently paid out at $1.8m after the judge limited the jury's award, but it was a damaging case which implied a culture of sexual bullying within the department.
Another LAPD officer by the name of Daniel Reedy is also finding himself investigated by the law, after he had an affair with fellow officer Ysabel Villegas and then blackmailed her by threatening to release intimate photos he'd taken of her if she broke off the affair. Reedy allegedly went on to publish the images, and Villegas has been awarded a restraining order against Reedy.
As if that weren't bad enough, Jorge Villegas (husband of Ysabel) retired suddenly from the force after he found himself in the spotlight of a sexual misconduct investigation. Undercover officers allege that he and a female colleague of a lower rank were observed engaging in sexual activity in Villegas's car, which was parked outside a bar.
While there are inevitably rogue elements and bad applies inside every police force, just as there are in most professions, the frequency, volume and severity of the issues reported at LAPD are cause for grave concern. Ysabel Villegas' lawyer Lisa Bloom has spoken of a 'frat boy' culture within the department, where male officers drink, make sexist remarks and sexual comments at female colleagues, and act with impunity. If that is the case, then it's to be hoped that severe punishments will be handed out not only for the perpetrators targeted by the ongoing lawsuits, but also those in power who were aware of the issue and chose to do nothing about it.
Between allegations of chronic and endemic sexual harassment, and the constant debate about the way in which black and white suspects or civilians are treated differently by police officers, trust in those who are supposed to serve and protect us may never have been lower. Dramatic action from those at the very top of the chain has never been more needed. Given the incumbents of the high offices who would need to bring that change, we're not holding our breath.
James Green
Sponsored