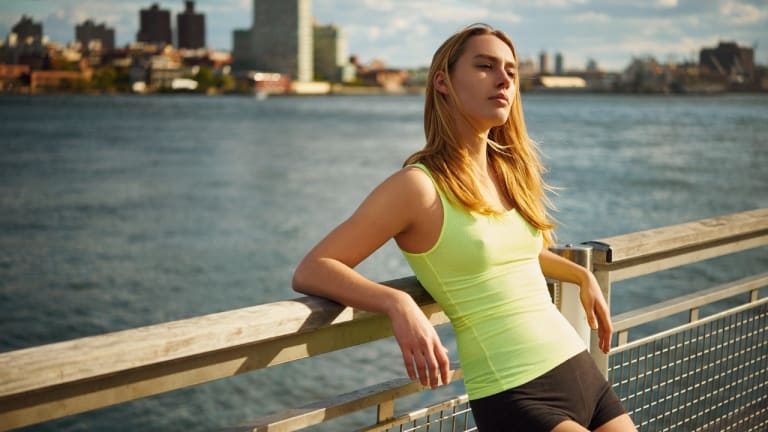 International fashion model Magda Swider has a pro tip for all the aspiring models
As much as the ravishing model pays attention to her fashion game and beauty, Magda is equally passionate about fitness.
Modelling as a career is lucrative and a daunting choice with thousands of aspirants chasing their dreams to become supermodels. While many depend on the luck factor to get into the spotlight, it requires hard work, dedication and discipline to become a successful model. Magda Swider, a quintessential model has established herself as a successful name in the modelling industry. With her roots in Krakow, Poland, she is currently based in London, United Kingdom.
Having collaborated with the world's top fashion houses, Magda has walked runways in New York, London, Milan, Paris and Los Angeles. The model's foray into the industry happened at the age of 15 when she was discovered by a scout at the swimming pool in Poland. Scouts typically scout new faces and present them to either the model agency that employs them or to a variety of different modeling agencies all over the world. Scout have a knowledge to guide the model as to the best choice of agency for their particular goals.
In this cut-throat and competitive industry, it is not easy to gain success overnight. "Models need to be persistent, consistent, stubborn and most importantly creative. To become a successful model, you should bring originality and have the quality of self-expression. According to me, the most important aspect of models is their fashion statement and the way they carry themselves. It is significant to create an identity of your own and influence others with your work", revealed Magda.
Starting her journey by walking runways for luxury designers and collaborating with small-scale brands, Magda has achieved a remarkable feat today.
Her modelling career started to take off after she landed her first campaign for cosmetic brand Pretty Vulgar and collaborate with Fendi and Miu Miu. She also made her runway debut for The Atelier by Jimmy Choo.
In 2021 she appeared on the cover of Glamour Magazine and has been featured in the pages of other global fashion magazines such as Vanity Teen, Vogue, Elle, Marie Clarie and Harper's Bazaar.
Moreover, also 2022 has been a successful year for the gorgeous model. Earlier this year, she set the stage ablaze by walking at the London Fashion Week, Milan Fashion Week and Los Angeles Fashion Week. In addition, Swider made two distinct appearances at the Cannes Film Festival and Venice Film Festival in May and September 2022. At the Venice Fashion Film Awards, Magda Swider got the trophy "Best Top Model of 2022".
As much as the ravishing model pays attention to her fashion game and beauty, Magda is equally passionate about fitness. She says, "What you eat is what you become. It is important to fuel your body with a nutritional and healthy diet for better functioning." On the professional front, Swider has an array of projects in the pipeline in association with fitness brands including Fabletics , Adidas and Lotus Activewear.
Born in Krakow, Poland, she is currently living in London, United Kingdom. However, for the last few years, she has been globe-trotting for professional engagements. With humble beginnings, through an extraordinary journey, Magda has walked runways in Paris, Milan, London, Dubai, Los Angeles and New York.

In all these years, fashion and fitness have been an intergral part of her life and she follows a healthy demanding nutritional and fitness regime. From her social media it is clear that she spends a lot of time in the gym, doing yoga, pilates and martial arts. "As a model, I believe that staying fit is of crucial importance. Fitness should be consistent on physical, mental and emotional levels. A positive mindset is what builds confidence. Therefore, I pay attention to improving my overall well-being."

Magda strongly believes in creating trends rather than following them. Having started her career at 15 walking runways and doing photoshoots for small-scale designers and brands, the beautiful model has come a long way. She has collaborated with global fashion brands like Fendi and Miu Miu in the past. Moreover, Magda Swider has been inspiring new face models through her fashion trends and holistic lifestyle. An interesting fact about her is that she started practising karate at 12 and holds a 1st KYU Karate Shotokan Brown Belt.

In her commendable career, the gorgeous model has appeared in global magazines and publications like Harper's Bazaar, Glamour, Marie Clarie, Elle, Vogue and Vanity Teen. Besides this, at the onset of 2022, the 29-year old model walked the stages at London Fashion Week, Milan Fashion Week and Los Angeles Fashion Week. Magda has also been at the Cannes and Venice Film Festivals this year.