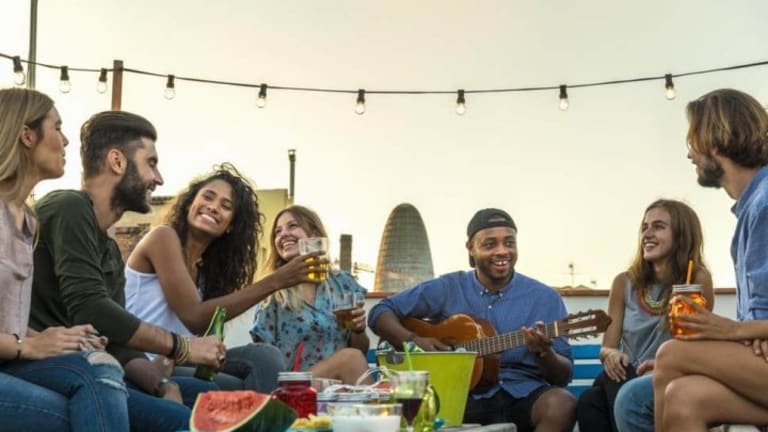 8 Cool Ways to Put Yourself Out There and Meet New People This Fall
Codrin Arsene: Adult friendships make us happier, reduce stress and raise our self-confidence. The more you put yourself in a position to meet people, the easier it gets.
Remember when you were 6 years old and meeting new people was as easy as looking around the park for another small person you could run up to and start a game of tag with?
We were a lot more confident back in the day. Once you hit your mid to late 20's the friendship game just seems to get exponentially harder.
Even science tells us that most adult Americans haven't made a new friend in the last 5 years, according to The Independent. If you haven't found your tribe or your soul mate by then, things can get a little rough. It becomes far too easy to just come home from work and cuddle up in front of Netflix with your dog every night but the truth is, in order to meet people, you're going to have to leave your house once in a while.
Adult friendships make us happier, reduce stress and raise our self-confidence. The more you put yourself in a position to meet people, the easier it gets.
Meeting new people is good for our physical and mental health. According to the Mayo Clinic, adult friendships make us happier, reduce stress and raise our self-confidence. The more you put yourself in a position to meet people, the easier it gets. You also increase your odds of finding love or close lifelong friendships.
Putting yourself out there can be awkward and even intimidating for some people unless you were born with social butterfly super-powers. For the rest of us, we need safe and fun ways to meet new people. Here are eight things you can do to meet new people.
#1. Dating And Friendship Apps
Leverage a little technology to meet people, a cool and fun way to find your next date using your smartphone. Dating apps became all the rage when Tinder first introduced the "swipe feature" that all the other apps now copy. You can take a look at the best dating apps of 2019 here at CoolThingsChicago.com. Even better, many of the popular apps have added ways to find your next BFF in addition to making romantic connections. Create a profile, use your best photos and start swiping away. We spend so much time online and on our phones these days anyway, this just makes perfect sense.
#2. Take Some Classes
Take the pressure off yourself by focusing on learning something new. Pick a hobby or interest you want to learn more about and sign up for a community course, a college class or even an exercise group. While you're there learning, you'll automatically be exposed to other people that share at least one thing in common with you. It's a win-win situation! You'll be learning, getting out of the house and meeting new people in a structured setting where the focus isn't on dating or forming relationships.
#3. Get Involved With Your Church Or Community 
Feeling a sense of community is another thing that gives our lives meaning and purpose. You'll meet a lot of new people if you get involved in the various free and cheap activities put on by your local church or your community. Most cities and townships put on special events, hold service days, or offer classes that will give you an opportunity to make friends. You can even help organize events or join community-led groups based on your interests.
#4. Attend A Meet-Up
Websites like Meetup.com offer an easy way to organize group events with strangers who can, over time, become friends. There are meet-ups based on interests, dating, finding new friends and events trying out local restaurants. Dinner clubs are a fun and trendy type of group, popular on meetup sites. These sites are usually free and easy to join. You can also organize local meetups with your neighbors on sites like Nextdoor.com. There are many meetup groups for singles based on location, age, and hobbies. In a singles meetup, you can enjoy meeting people during low-pressure group activities.
#5. Volunteer 
Pick a cause that's close to your heart and sign up to become a volunteer. You'll get paired up with other people who have the same desire to help as you do. Plus you'll be doing a great service to those in need. Many strong friendships and relationships have started during volunteer events. It's a great way to force yourself to interact with other people and gives you a reason to get dressed on the weekends rather than chill in your PJs all day. Plus, doing things that make you feel good and smile more makes you more approachable and gives you a beautiful smile.
#6. Ask Your Existing Friends For Help
Chances are you have at least a few friends already who can help you out. If you like them, there's a good chance you're going to like other people they hang out with, right? Put the word out that you're looking for opportunities to be more social. Set up a girl's night or group activity and encourage your friends to invite others. You can use your existing relationships to grow your social network.
#7. Leverage Your Social Media Groups
Do you have a few hundred friends on Facebook or Instagram and yet you always seem to be sitting home alone on the weekends? It's time to start making real-life connections with your local social media friends. Adults tend to have a lot of acquaintances and work friends who could easily become part of their tribe if they just extended an invitation and put a little effort in.
#8. Use Your Kids Or Pets
If you have kids then you're sitting on a potential friendship goldmine. There are endless opportunities to attend events, clubs, and classes with your kids where you can meet other parents. School events are also a great way for single parents to meet other single parents who have kids around the same age. If you don't have kids, pets work pretty well too. You can take your dog to a dog park or sign up for obedience classes to meet other dog lovers.
Take a leap of faith and put yourself into a position to meet lots of new people. The more people you meet, the more chances you have at building meaningful new relationships in your adult life.
Sponsored