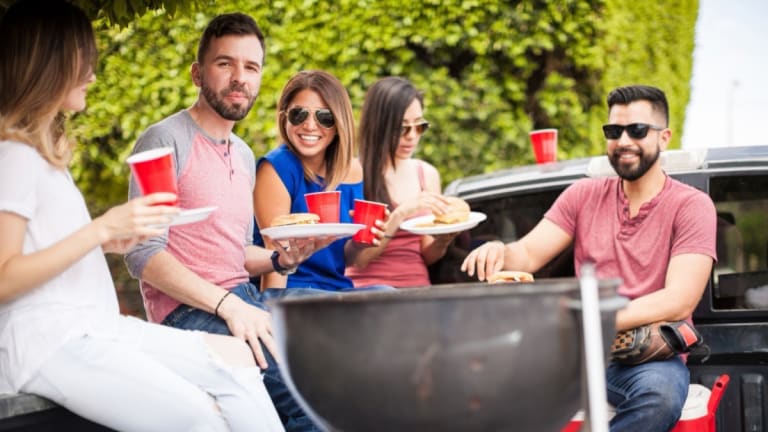 How to Properly Tailgate Like a Pro at NFL Gameday
NFL gameday isn't about staying stagnant with your menus, people. It's about taking chances!
The NFL season is officially upon us, which means it's time to turn your pickup truck into a glorified catering truck!
As fun as tailgating is, most people don't realize that there's an art to it. Without putting any thought into it, you won't be able to ensure a good time for everyone in attendance.
It's not just about the drinks and food; it's about the experience, people. Think of all the different ways you can create memories at NFL gameday tailgates this year.
See below for an in-depth guide on how to incorporate games, food, and even online sports betting into your NFL gameday tailgate events this season.
1. Plan the Menu
Listen, nothing says American Football like beer, brats, hot dogs, and burgers. However, if that's the only thing that you'll be serving up all season, it will start to become less and less appetizing to you and your guests.
NFL gameday isn't about staying stagnant with your menus, people. It's about taking chances!
NFL gameday isn't about staying stagnant with your menus, people. It's about taking chances! You need a hail mary of a tailgate menu to keep your attendees on their toes!
We suggest incorporating a little bit of your menu with whoever the home team is playing on that day.
For example, let's say that you're a fan of the Tampa Bay Buccaneers. You and your buddies take advantage of every home game by parking in the lot by the stadium, inviting friends and family, and having a big ole cookout.
You can customize your menu according to the visiting team that day by serving up a staple dish from the away team's city. When they play the New Orleans Saints, serve jambalaya. When they play the Carolina Panthers, serve up some pulled pork with North Carolina-style BBQ sauce. You get the idea!
Even if there's only one item on the menu that changes from week to week, it at least gives your guests something to look forward to.
2. Think of Convenience, Not Complications
If you've hosted NFL gameday tailgates before, then you've undoubtedly heard one sentence after going through the effort of providing a cooler full of beer and water: "I don't drink beer!"
Not everyone enjoys the taste of beer, it's true. However, if they're expecting you to set up a makeshift bar stand to serve them a custom-made old-fashioned, they can find another tailgate party to attend.
Don't add time-sucking elements to your tailgate party, just to appease others. If you like the idea of grilling out with a refreshing beer in hand, then that's what you should provide. However, for a bit of variety, consider throwing in some Truly drinks or Mike's Hard Lemonades to mix things up.
If you'd like to have some classic liquor drinks (EX: Jack and Coke) at your tailgate party, then make sure to create them ahead of time. You can also let your guests know to do the same if they wish to partake in a whiskey drink, vodka drink, etc.
Just a heads up: if you're tailgating at the parking lot of an NFL stadium, make sure there are no rules against hard liquor. Otherwise, it could lead to a confiscation of the drink and/or a fine.
3. Make a Budget
Thanks to the NFL's first 17-game season, teams will have the possibility of hosting either eight or nine home games during the regular season. It depends on how many home games they had in the preseason.
Whether you're planning on hosting a tailgate party for all regular-season games or just the home games, it's important to establish a budget. This can help you ensure that you aren't sacrificing your own finances for a party.
It can also help you create a real cost if you divvy up the total between you and your buddies. Make sure to factor in things like the cost of food, cases of beer, grill equipment, cups, coolers, ice, and utensils (if necessary). You might also invest in a tent or two to keep your party comfortable.
4. Bring the Entertainment
If all that you bring to your NFL gameday tailgate party is food and beer, you'll see people vanish soon after the dishes are served.
Think of it this way: you're going to be hanging out in the same spot for over 4 hours (or more); be sure to bring some fun things to do.
Having a football to throw is a must. You might also consider bringing multiple TV screens, to ensure that all attendees, regardless of their favorite team, can enjoy the event.
It can also be a great time to check up on the bets you placed or your fantasy football team. If you're looking for NFL betting tips, be sure to visit Doc sports for more information.
5. Create a Headcount
Generally, when inviting people to a party, you can count on about 75-percent of the people you invite to actually show up.
However, with an NFL gameday tailgate party, that gets amplified. You should plan for closer to 90-percent of those you invite to make an appearance.
For that reason, make sure you have a firm headcount. Twenty people are the maximum; that way the party stays relatively intimate. No matter how many people you invite, make sure you have enough beer and food for all of them!
Create the Dream NFL Gameday Tailgate Party Today
Now that you have seen an in-depth guide on how to properly tailgate like the Hall of Famers do for your NFL gameday tailgate, be sure to use this information wisely.
Take the time to browse our website for more articles on professional sports bets, watching live sports and many other awesome topics.