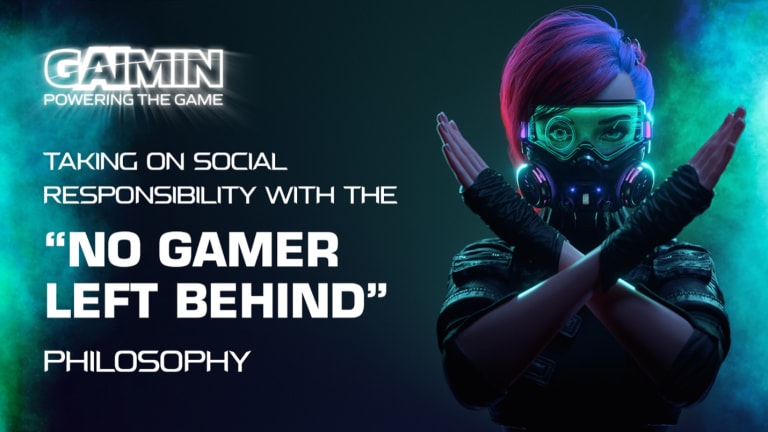 Taking on Social Responsibility with the "No Gamer Left Behind" Philosophy
With such a large number of people involved, it becomes the gaming platform's responsibility to influence its users positively.
The gaming industry has taken a huge turn in recent years, and for good reason. Even before COVID-19 hit the world, the constant disruption favored growth in the digital sales of games and esports, live streaming free-to-play revenue model adoption, and cloud gaming platforms.
Gaming has historically been looked at as a niche just for adolescents and hardcore enthusiasts. However, recent studies show that gaming participation has reached mainstream levels, with almost half of the world's population indulging in playing games in 2021.
With such a large number of people involved, it becomes the gaming platform's responsibility to influence its users positively. GAIMIN.io, one of the most influential gaming platforms, takes this responsibility very seriously.
"NO GAMER LEFT BEHIND"
Strategically developed, GAIMIN's target demographic is 18-30-year-olds. The focused age pool makes up for a huge number of people who associate with GAIMIN.io. To ensure every gamer is given an equal opportunity to participate and earn rewards in the game, GAIMIN crafted its CSR philosophy as "no gamer left behind."
As of 2022, the GAIMIN platform has over 1 million active users under its network, along with an additional 1.5 million gamers from all over the world. Knowing the figure that GAIMIN's marketing and communication can influence is huge, the platform maintains a high level of social responsibility to each person involved in its operations.
The platform aims to craft socially responsible approaches toward gaming and gaming additions, ensuring that its network of users balance out other non-gaming parts of their lives while enjoying gaming.
GAIMIN also aims to introduce gaming in underdeveloped countries and communities. The platform will deploy state-of-the-art IT systems to underprivileged global users, providing access to its exceptionally designed hardware. Moreover, the platform will also provide electrical services and a speedy internet connection.
The communications infrastructure and provision of hardware benefits not only the recipients but the platform as well by permitting access to the network of processing power via communications, hardware devices, and electricity power provision. The cost of these services will be taken out from the processing power utilised within the PC systems.
According to GAIMIN, physical limitations and disabilities do not exist in the digital world. To bring this philosophy to life, the platform will devise solutions, create devices, and craft gaming accessories for people with disabilities so that they can enjoy a full-fledged gaming experience. The gaming platform firmly believes every gamer is equal and deserves an uninterrupted gaming experience.
Moreover, the advanced gaming platform also aims to build gamification into the GAIMIN app and dashboards. This would include a diverse range of themes such as personal development leadership, morals, ethics, social responsibility, and personal responsibility.
A PROGRESSIVE GAMING PLATFORM
A visionary product of talented entrepreneurs, GAIMIN.io was formed in 2017, connecting the world's largest decentralized processing power supply today. The platform's business model is based on developing and transforming the GAIMIN gaming ecosystem to attract gamers by the value it provides to gamers in terms of gaming experience and monetary value.
The PC gaming community is the primary target market for the company's user acquisition. GAIMIN leverages the "off game time" as a significant source of potential users, curating a decentralized data processing network that harnesses under-utilized processing power found in PCs.
The platform has a skilled panel of experts, who, combined with the platform's formalized skill development that includes computer programming, game development, and economics ( via a partnership of UA92 and other educations providers), have the power to shape 1.5 billion youthful minds and ensure no gamer is left behind.