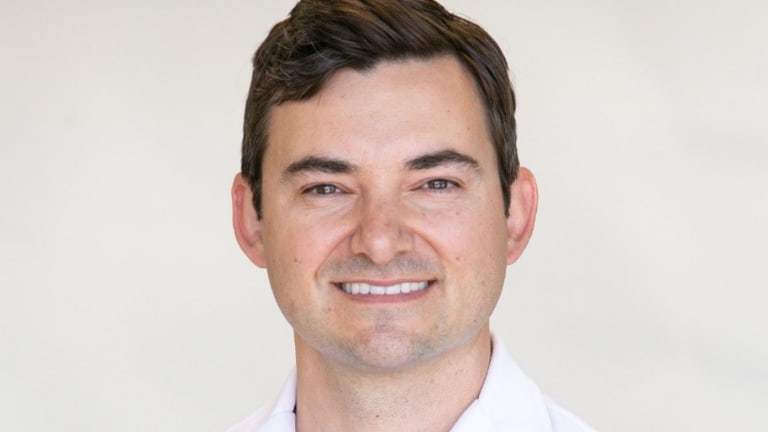 This Is What Happens When an Artist Becomes a Doctor: Dr. Ross Blagg Uses His Talents For Good
Since recovering from heart surgery, it seems that the now plastic surgeon was destined to do big things.
We have many experiences in our day-to-day lives. Sometimes those experiences have a deeper impact than others. When we talked with Dr. Ross Blagg, a plastic surgeon in Austin, Texas, we found that several experiences shaped him into a multi-faceted surgeon, artist, and humanitarian.
"I think the fact that I struggled early in lift, helped me to want to live life to the fullest now." Dr. Ross says, when asked why he has a seemingly endless source of energy. Dr. Ross was diagnosed with a heart condition as an infant. Fortunately, he only required one surgery to fix this. But this left a scar down his chest. "I like my scar," says the doctor. "It reminds me that something almost took me down, and I fought through it. I'm proud to be part of the zipper club!" Since recovering from heart surgery, it seems that the now plastic surgeon was destined to do big things.
As a teenager, Ross loved creating art, but was also a top student and ever-curious about things in the scientific world. It's no wonder that when he learned about plastic surgery, he found the fusion of art, medicine, and science irresistible.
He also developed an early love for the ocean and became a certified SCUBA diver at age 13. Since then, he has been diving the world and has lived in Australia, the Caribbean, and Ecuador exploring and helping to save reefs and marine life.
When asked how he manages to be an artist, a world traveler, a humanitarian, and a shark diver, Dr. Ross replies, "I just think it's important to not forget who we are and what we love. It's easy to become complacent as we get older, but I feel like life is a gift so I want to do all the things I love and to try and leave the world better than I found it."
And he seems to be accomplishing it. Nothing sums up this guy's abilities and life mantra better than his most recent project, Plastic Surgery Road Trip (PSRT).
'Plastic Surgery Road Trip', has recently taken hold, as a YouTube and social media phenomenon. Essentially, the production follows Dr. Ross as he road trips the country finding deserving people who need plastic surgery to complete their journeys. It's a heart-warming, adventurous ride that we can't wait to see more of.
Creativity is at the heart of art, and Dr. Ross Blagg lacks neither heart nor creativity. We're all lucky enough to see this artist in action.
Follow along on YouTube, and follow the daily adventures of Dr. Ross on Instagram: @dr.rossblagg.