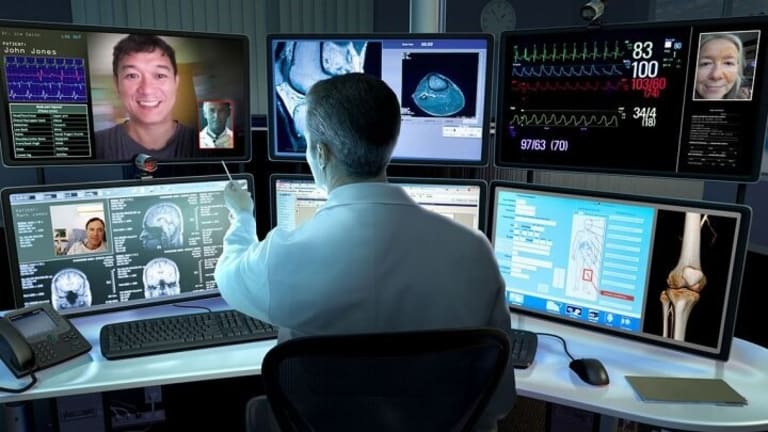 How Telemedicine Can Address Rural Healthcare Crisis
Anubhuti Shrivastava: Physicians can leverage each and every way the technology can allow them to reach rural patients and provide them with timely treatment.
The healthcare industry has become advanced and tech-savvy but still, people residing in remote locations need to face a plethora of hurdles to get medical attention on right time. According to a report generated by the National Rural Health Association (NRHA), the number of vulnerable rural hospitals in the US is on a rise which is a matter of worry for sick rural Americans.
Not only in the US but also in other parts of the world rural hospitals are either not fully equipped or at the verge of getting shut due to negligence by the local medical associations. Also, if they're in the running condition, there are not enough medical practitioners available to cater to rural patients. Considering this poor state of rural health, telemedicine or telehealth developed by health app developers can be one solution to provide rural patients with immediate care services.
How Telemedicine Can Address Rural Healthcare Crisis?
Physicians can leverage each and every way the technology can allow them to reach rural patients and provide them with timely treatment.
The primary advantage of telemedicine is to connect patients with doctors irrespective of their geographical location. This can be done through healthcare mobile apps, web portals or video calling software. Physicians can leverage each and every way the technology can allow them to reach rural patients and provide them with timely treatment. Let's look at a few major ways in which this technology is proving to be a boon for overcoming rural healthcare crisis.
Seamless Monitoring Of Patients At Home
There are many patients in the rural areas who can't personally visit a clinic because of their illness. But with the help of telemedicine, the vital signs of the patients can be checked at home such as heart rate, blood pressure, breathing, etc.
These measurements can be sent to the concerned specialist over the internet. They can analyze the details and prescribe appropriate medicines or tests for the patient virtually over a video call. This is extremely beneficial for rural patients as there's no need for them to pay a personal visit to the medical facility. Also, the time and money which would be spent on the commute can be saved and used for further treatment.
Telemedicine is an extremely efficient tool for helping patients suffering from skin problems. They just have to send the image of the affected body part and consult with the dermatologists digitally.
Freedom From The Problem Of Lack Of Specialists At Rural Hospitals
The majority of doctors leave rural clinical facilities and switch to urban medical settings for exploring better career opportunities. But telehealth can solve this problem by connecting rural patients with specialist medical practitioners via video calls which eliminates the need for the physicians to a remote rural clinic. Also, patients don't have to wait for several days with the hope that the doctor will visit soon.
Reduce Healthcare Costs For Patients
Telemedicine provides the rural patients with an opportunity to interact with specialized caregivers they would not otherwise be able to afford. Also, they don't have to struggle through the tedious process of registration and getting an appointment in hospitals.
In addition, patients can get themselves checked and treated way before their disorder takes an evil shape and become severe. This will reduce readmissions as well as emergency visits which ultimately will save time and money for the patients. Also, it will be a bit relaxing for the doctors as they don't have to deal with several critical cases day in and day out.
Quality Of Care Increases
When rural patients visit the hospitals in their local area they couldn't get access to highly qualified medical practitioners because these clinical settings can't afford them. But with the help of telemedicine, these patients can interact and take medical advice from specialized doctors.
It increases the quality of care they receive as the rural patients get medicine and tests prescribed directly from highly skilled doctors which makes them come to a step closer towards getting fit and fine. Also, patients can renew prescriptions without personally going to the clinics just by raising a request to schedule an e-visit to have a discussion on current symptoms with the doctor.
Increase In The Health Awareness Among Rural People
When rural people get to know that they'll be getting an opportunity to interact with specialist doctors virtually they tend to take their health issues seriously. This is because it's the easiest way to get in touch with medical practitioners and discuss their symptoms. Also, doctors can use these modes for making rural people aware of different issues such as tips to maintain a healthy lifestyle or how to avoid seasonal flu or viral fever.
These are the five crucial ways in which telemedicine can address rural healthcare crisis. It's a great initiative towards making rural patients have access to specialists economically leaving geographical, financial, and transportation barriers behind.
Anubhuti Shrivastava
Anubhuti Shrivastava is a content crafter at Arkenea, a custom software development company helping entrepreneurs and businesses build successful web and mobile apps. She is passionate about writing articles on topics related to design and the software development industry.
Sponsored