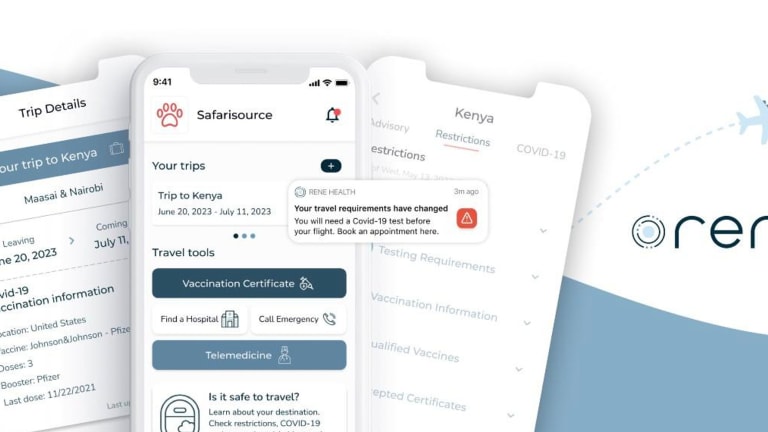 SafariSource and Rene Partnership Provides Comprehensive Travel Solutions
SafariSource is dedicated to promoting Africa's tourism industry and making travel as safe and enjoyable as possible.
Traveling abroad can be challenging, particularly during the current health and safety climate. To address these concerns, tour provider SafariSource has teamed up with Rene to offer an all-in-one solution for scheduling tours, finding guides, and obtaining medical care.
SafariSource is dedicated to promoting Africa's tourism industry and making travel as safe and enjoyable as possible. The partnership with Rene allows travelers to easily access information about travel restrictions, obtain appropriate travel health insurance, and receive assistance with medical or travel-related issues.
Through the Rene mobile app, travelers can access Rene's algorithm to find the ideal insurance policy, which provides comprehensive coverage with an easy-to-use interface. This not only saves time but also gives travelers peace of mind while navigating unfamiliar places. Rene also offers real-time updates during the trip to ensure that travelers stay informed of travel advisories, alerts, and safety news.
Jessika Nillsson, CEO of SafariSource, is excited to offer this service to travelers. "We believe that everyone should have the opportunity to experience Africa safely and confidently," she said. "Our partnership with Rene allows us to do just that by providing our travelers with the security and peace of mind they need to fully enjoy their trip."
Rene and SafariSource are offering a wide range of travel services as part of this partnership, such as customized insurance recommendations, access to medical providers worldwide, push notifications for travel alerts and advisories, digital COVID-19 vaccination certificates, 24/7 telemedicine calls, and online chat support.
Furthermore, SafariSource connects travelers with local guides who are excited to share their culture, language, natural heritage, and favorite landmarks. It also offers a variety of tours, including wildlife viewing, photographic experiences, climbing and hiking, city tours, outdoor adventures, and culinary escapades. The company is committed to making safaris more accessible and providing tour guides with a steady income. Transparency in communication ensures that travelers know exactly where their money is going.
Book your next adventure with SafariSource at www.safarisource.com and experience Africa with confidence and security.