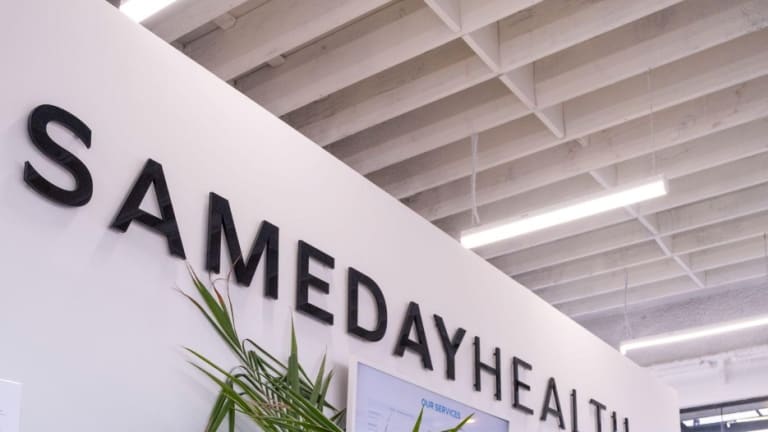 Sameday Health Clients Enjoy Perks of New Membership Service
Sameday Health is a national healthcare provider that specializes in diagnostic health testing and personalized wellness treatments.
Sameday Health recently announced that clients can now enjoy the perks of membership, including increased access to healthcare services, at a reduced cost. Like the lotus flower, a symbol of enlightenment and rebirth, Sameday Health's new membership program is designed to help clients reinvigorate their lives by making it easier and more affordable to maintain their health and wellness.
Sameday Health Services
Sameday Health is a national healthcare provider that specializes in diagnostic health testing and personalized wellness treatments. With more than 50 clinics across the country, as well as virtual and house call services, the company strives to deliver the care clients need quickly and conveniently. Membership options are based on Sameday Health's ever-increasing suite of services, which include the following.
COVID-19, Strep, and Flu Tests
Sameday Health offers fast, reliable COVID-19 tests, including RT-PCR, rapid NAAT, and antigen. Licensed professionals administer the non-invasive nasal swab in a safe, limited-contact environment, and the results are processed in a CLIA-certified laboratory. Clients can book an appointment and access their results online. They can also request a full laboratory report to use for travel.
Rapid strep throat testing is also available, with results delivered through the Sameday Health portal in 30 minutes. Licensed professionals administer the test via a throat swab. Clients who test positive can schedule a follow-up appointment with a medical provider through the Virtual Care platform.
In addition, Sameday Health provides influenza A and B testing. The test is administered via nasal swab, and results are shared with clients on the Sameday Health portal within 30 minutes. Clients who test positive can consult with a medical provider through the Virtual Care platform.
Wellness Injections
Sameday Health also specializes in preventative health services, including wellness injections administered by a registered nurse either in a clinic or at the home. Designed to support overall health and wellbeing, injections provide essential vitamins and nutrients, including those that are and are not naturally produced by the body. Clients can choose from various customized injections to meet their needs – from boosting immunity and energy to enhancing their natural beauty, building muscle, and losing weight.
IV Drip Therapy Treatment
In addition to wellness injections, Sameday Health nurses can administer vitamin-infused IVs either in a clinic or at the home of the client. These drips are specially formulated to combat common health concerns quickly and effectively. Among the therapies currently available are Alleviate, designed to minimize PMS symptoms; Myer's Cocktail, for easing chronic conditions such as ongoing pain, asthma, and migraines; Immunity, designed to protect the body against infection; Get Up and Go, for boosting metabolism and increasing energy; Inner Beauty, designed to fortify hair, skin, and nails; and Hydration, for helping the body recover from activities that lead to dehydration.
Virtual Care Visits
Clients can also depend on Sameday Health to assist with their wellness concerns via virtual care visits. The Sameday Cold + Flu program is available to those experiencing related symptoms. It is designed to guide clients back to health sooner by accelerating the recovery process. Similarly, the Sameday Travel program is available to anyone planning to travel soon, so clients can remain healthy and enjoy life away from home.
The process for scheduling a virtual care visit is easy. Clients fill out a brief intake form that the Sameday Health provider will use to develop a tailored treatment plan or prescribe medications. Visits are conducted via Zoom and take approximately 20 minutes. Clients can pick up medications at a local pharmacy or use Sameday Health's partnered courier pharmacy, Capsule, for same-day delivery. The cost is $50 per visit.
House Call COVID-19 Visits
For those wishing doctors still made house calls, Sameday Health delivers. Clients can book an at-home appointment on the company's website or the Sameday Health app by selecting their preferred treatment, entering an address to see if services are available in that area, and completing a brief questionnaire. Test results are provided via text or email with a live link to view them online. COVID-19 house call visits are currently available in select regions, including Los Angeles, Boston, and Las Vegas.
Lab Panels
Finally, Sameday Health offers a variety of lab panels, including STD testing and other health assessments (thyroid, vitamin, male/female hormone, diabetes, general wellness inflammation, SoCal allergy, food allergy, and extended allergy). A Sameday Health physician reviews the results and sends them to the client along with a summary of the findings. Clients can schedule a follow-up consultation to discuss the results and next steps if they have further questions.
Meeting Consumer Demands
As shifting consumer attitudes transform the retail marketplace, healthcare providers must adjust their services to meet consumer demands. With busier schedules and the growing ease of using eCommerce, clients choose brands that deliver both convenience and savings. This is especially true in times of rising inflation. Sameday Health is responding to this demand by offering different membership levels, each with progressively more savings, greater access to quality care, and more comfort and convenience at every step of the care experience.
Building Client Loyalty
Sameday Health operates with a client-first philosophy that focused on listening to clients' feedback and constantly introducing new programs that better serve its clients' needs. As a result, Sameday Health has created a loyal and always-growing client base over the years. Its new membership program is giving clients another reason to consider Sameday Health as their first choice for all health and wellness services. This program creates a unique sense of loyalty – clients start to feel a strong emotional connection with the brand. The more unique and appreciated they feel, the more likely they will share their experience with peers, who turn into new clients.
Membership Options
Sameday Health currently offers three levels of membership: Immunity, Wellness, and Whole-Body. Each tier provides different monthly services depending on the client's budget, the number of people on the plan, and the services they seek.
Immunity Membership
The Immunity membership offers clients more than 40 percent in monthly savings. For $95, they receive the following:
● 1 COVID-19, strep, or flu test
● 1 wellness injection
● 1 virtual care visit
● 20 percent discount on retail and other services
Wellness Membership
The Wellness membership is perfect for couples. This tier offers more services than the Immunity level and can be shared with others. Clients can expect monthly savings of more than 75 percent. For $250, they receive the following:
● 3 COVID-19, strep, or flu tests
● 2 wellness injections
● 1 virtual care visit
● 1 IV-drip therapy treatment
● 1 house call COVID-19 visit – If the person is positive, the entire household receives testing (up to four people).
● 1 lab panel
● 30 percent discount on retail and other services
Whole Body Membership
The Whole-Body membership is available for $500 a month. It provides care for the entire family, offering more than 75 percent savings for all healthcare needs.
● 8 covid, strep, or flu tests
● 4 wellness Injections
● Unlimited virtual care visits
● 2 IV-drip therapy treatments
● 2 house call COVID-19 visits – If anyone tests positive, the entire household receives testing (up to four people).
● 2 lab panels
● 35 percent discount on retail and other services
Paving a New Future for Home Health Care
Sameday Health is changing the health landscape with its new membership program. Currently, memberships are available only at the Manhattan Beach, CA, location. However, the company plans to offer memberships across California clinics shortly. Anyone interested in purchasing a membership at the Manhattan Beach clinic can sign up here.
About Sameday Health
Sameday Health is dedicated to providing a complete health and wellness experience, not just individual services. The company aims to offer client-centered services that combine the human touch with intuitive technology. Sameday Health offers quality, personalized care wherever clients are, including in one of its many clinics or in the client's home. Inspired by the lotus flower's ability to grow in even the most challenging terrains, the company is determined to create a sense of hope for clients. Since opening its first clinic in Venice, CA, during the COVID 19-pandemic, Sameday Health has been focused on closing gaps in the healthcare system – from testing to personal care. Devoted to responding immediately to client needs, the company provides expanded same-day healthcare services in locations all over the country and online.