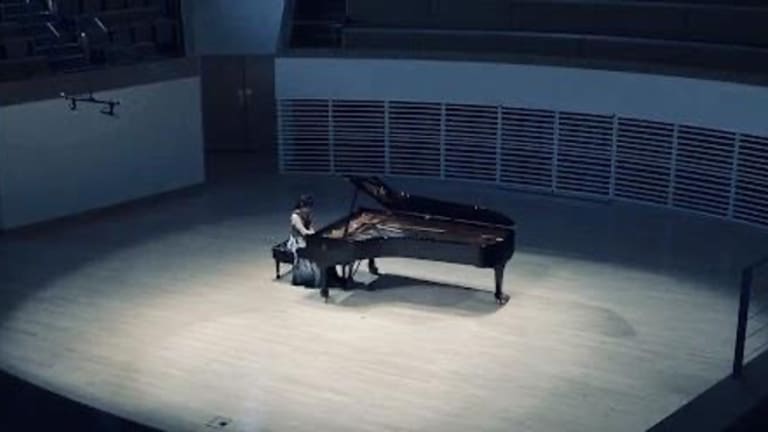 Taiwanese Pianist, I-Lin Tsai, shares her admiration of JJ Lin with her classical music audience
For audiences coming to see I-Lin Tsai, they often are surprised by her programming which includes a Suite for Piano Duet on Themes by JJ Lin.
Growing up as a classical pianist usually means dedication to Chopin, Beethoven, and Bach. For pianist I-Lin Tsai, she's always loved those composers, but she's also always been a huge fan of Singaporian Pop Artist JJ Lin. Now that she's emerging as a top classical pianist on today's classical concert scene, she's made sure to make her passion for JJ Lin something that she can share with her audiences.
Dr. I-Lin Tsai, originally from Tainan, Taiwan, completed her Doctor of Musical Arts degree at Pennsylvania State University in 2021. Since then she's carved out a name for herself as an established artist in classical music. Audiences come to see her Debussy, Bartok and Rachmaninov, but also leave being introduced to more contemporary composers like Kapustin.
For most concert musicians, their loyalty and focus on classical composers is exclusive. So for audiences coming to see I-Lin Tsai, they often are surprised by her programming which includes a Suite for Piano Duet on Themes by JJ Lin. The duet that she performed in her 2022 West Coast Concert Tour is an original arrangement written for her and fellow concert musician, Julian Toha.
Here is a video from one of their performances where they are playing this new arrangement.
I-Lin Tsai has always been a "huge fan" of JJ Lin and when she started planning for her 2022 West Coast Concert Tour she knew she wanted to feature the Singaporean Singer's music. Arranging three of her favorite tunes into a rhapsodic composition about 10 minutes long became the obvious choice.
The music by the World Famous Singaporean Singer, Songwriter and Record Producer is distilled to its main themes and then wrapped into a ternary form with elements of fantasy. The result is a suite for piano duet that is both pop and classical - or as I-Lin calls it, "Popsical". For audiences, they get the easy listening experience of predictable progressions from pop music and they get the complexity of layering, counterpoint and phrasing of classical music. Even though her audiences may not be overly familiar with JJ Lin, she's making them more aware of the singer through her classical treatment and arrangement.
Other notable concert artists who are doing or have done this type of theme-based music date back to Bach himself who used to borrow themes from popular music. This continued throughout the classical period with composers such as Wolfgang Amadeus Mozart with his Twinkle Twinkle Little Star Variations that he composed from a famous french folk song. Franz Liszt would do this during his concert touring years with everything from famous opera tunes to popular music motifs. In contemporary music, Pianist Christopher O'Riley is famous for his piano arrangement work in bringing Radiohead to the classical music scene. This tradition of these great artists re-engineering pop music into classical forms is now being carried forward by I-Lin Tsai and her work on themes by JJ LIn in her latest tour.
For more information on I-Lin Tsai and her tour dates, videos or to hear her on Apple Music and Spotify, visit her website at www.ilintsai.com