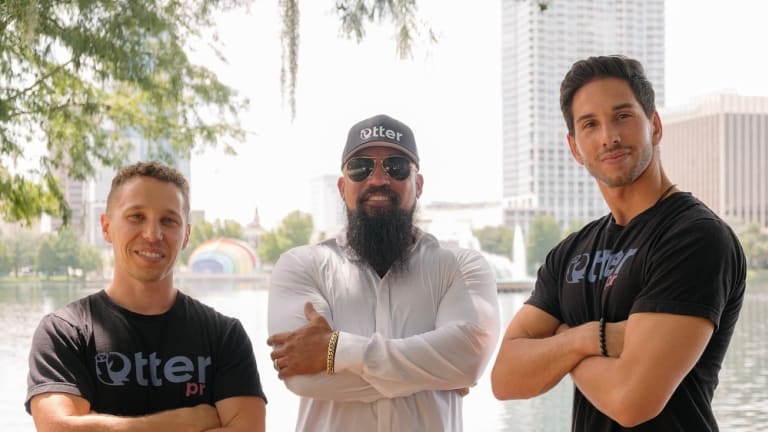 Dr. Jay Feldman and Scott Bartnick: The Grit Behind OtterPR
If you want to see what a successful person is made of, watch how they rise from failure.
Successful people have a certain resilience; it's like a tough as nails outer shell that protects them from things that destroy other people. Watching them navigate their day makes you wonder how a person attains this so-called grit.
Well, if you want to see what a successful person is made of, watch how they rise from failure. Some think ultra-successful people never make mistakes, never meet their match, and never fail. This misnomer could not be farther from the truth. We just don't notice their bad times because they don't dwell on them and live in them for very long. They move on. And you know what -- they come out stronger and more determined than ever.
Enter Dr. Jay Feldman and Scott Bartnick, life-long friends who have seen the fall and the rise of business dreams. Today, Feldman, as CEO and Barnick as COO, run OtterPR, a public relations firm out of Orlando, Florida. But just a few short months ago, life was very different for both of these entrepreneurs.
As with nearly everything in life these days, COVID-19 was the killer of dreams for this dynamic duo. After the country shut down, Feldman, an osteopathic doctor and serial entrepreneur, and Barnick, an eCommerce specialist and former fortune 500 rising star, found themselves on the edge of a precipice looking into the horizon. In their lifetimes, they had accomplished more than most people ever think of attempting, but much of it was about to be taken away by a pandemic no one could stop.
But here's the difference between Feldman and Barnick and most people. When they looked out on the horizon, they didn't see all that was being lost. They saw all that could be gained. Their solution to the business world's COVID-19 problem was to create a public relations firm to help budding and struggling businesses that would otherwise be thriving if left untouched by the pandemic complications. And so they got to work.
Assembling a top-notch team with extensive knowledge in public relations, social media, news media, publications, and writing, Feldman and Barnick divided their specialties. Both have extensive business and public relations experience with Jay's specialty lying with thought leaders, health coaches, and speakers. In contrast, Scott's best foot forward is working with eCommerce start-ups. Melding their domains has proven to be a winning combination.
As OtterPR goes into its eighth month of existence, the determined duo and their dream team have taken a moment to pause and reflect. How did OtterPR claim a seat at the top of the PR firm ladder in eight short months? It's really no surprise to any who know the minds behind the success. But the real difference between their fledgling PR firm and others has a few notable points.
First, their combined knowledge of business, media outlets, and public relations goes unmatched. But beyond this detail, the company was founded on some highly unorthodox and incredibly risky tenets. Feldman and Barnick decided their company would offer month-by-month services rather than long-term contracts. This decision has been at the forefront of their success.
Knowing most struggling start-ups and brands could not commit to expensive long relationships under the current circumstances, Feldman and Barnick moved some of the burden to their Otter PR team. Monthly contracts meant the team had one month to lock down some stellar placements that would move their clients' businesses forward. According to Feldman, "Our goal is to overperform for our clients so that keeping us on the payroll is a no-brainer." Delivering in one month is an instant business boost, and OtterPR has gained the clients' trust to stay on for more fantastic results. The concept -- considering the times -- is genius.
Next, OtterPR is a firm that has its clients' backs 100%. This statement means they believe in their clients' brands, and they know their team of experts can deliver exceptional exposure. If they don't think a brand fits their niche, they don't make promises they can't keep. They would rather turn businesses away than complicate their situation even further with less than excellent returns on their investment. It's a code of ethics, so to speak, that maintains OtterPR's reputation as a trusted group of professionals that can deliver on their promises.
And last, but certainly not least, the success of OtterPR stems from that grit Feldman and Barnick brought to the table. Having worn many hats in the business arena prior, both Jay and Scott used what they had learned from their successes and their failures to ensure OtterPR had the chops to go the distance. Scott adds these words, "We're all in this together, and that's why we are working around the clock to hone our craft and build up new brands and services."
Browsing through OtterPR's Instagram page, you'll find several tips, photos, and motivational quotes. This one hit home and explains exactly how these two serial entrepreneurs maintain that rock-hard outer shell: 'That risk you're afraid to take could change your life.'
Take it from a couple of risk-takers: when a pandemic ravages the world and life as you know it is about to change forever, you don't sit back and watch it happen. Instead, you test that armored shell by jumping off that precipice into an unknown horizon. And for these two risk-takers and OtterPR, that has made all the difference.
Sponsored