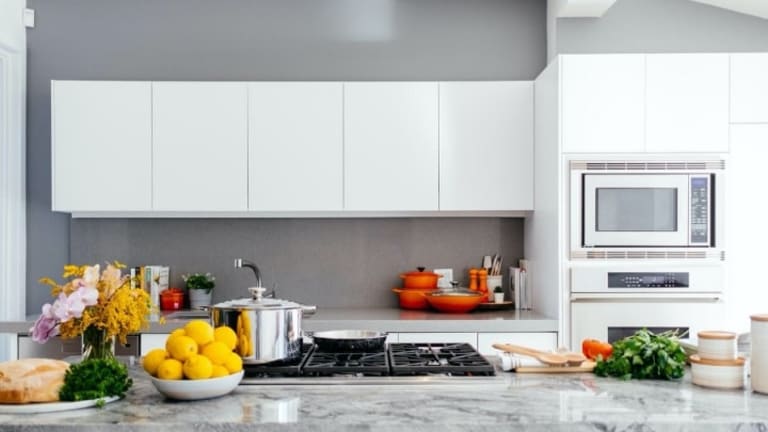 The Holiday Kitchen: 7 Kitchen Tools That Are Useful During the Holidays
While it is fun and enjoyable to prepare delicious food in the kitchen during the holidays, it is also not easy.
Don't we all love the holiday season? It is the most awaited lovely time of the year when most of our family are gathered at home and enjoying each other's company. It is also when most of the adults are cramped up in the kitchen and are preparing appetizing and delectable delicacies for everyone's delight.
While it is fun and enjoyable to prepare delicious food in the kitchen during the holidays, it is also not easy. It requires a whole lot of patience, especially when you don't have a complete set of kitchen equipment and tools at your disposal. So, before the holiday season comes and knocks you out, be sure to have this list of kitchen tools that can make your holiday food preparation manageable:
Deep Fryer
Children and even adults love to eat deep-fried food such as fried chicken, fried mozzarella cheese sticks, tempura, deep-fried shrimps, fried spring rolls, etc. Preparing and cooking these dishes can be challenging if you don't use the right equipment for deep-frying.
Deep-frying involves a lot of oil. And thus, the most suitable equipment that you should use for frying is a high-quality deep fryer that can contain a considerable amount of oil. Deep fryers are deep-walled pots that usually come with a fry basket intended to contain or hold the fried food. These deep fryers aren't all created equal and have different types, including:
Presto Profry
This type of fryer is an electric one that can contain up to 1.25 gallons of oil for frying. It contains dual fry baskets that allow you to cook different types of dishes at the same time. Presto Profry also has an adjustable thermostat that would allow you to select which temperature you would desire to cook your food.
Masterbuilt Indoor Electric Fish Fryer
This type of deep fryer comes with a fold-up lid that protects you from the splattering oil while frying. It also comes with a large and stable pot that can contain a gallon of oil for frying, a digital timer, and an adjustable temperature thermostat that runs up to 375°F.
Oven
Freshly baked home-made cakes and roasted chicken or turkey are easily prepared and made for the holiday if you have an oven at home. Having an oven at home would allow you to bake your favorite pastries, roast and cook your tender meat, and heat your soup and other leftovers.
When you purchase a new oven, you can either opt for a conventional or a convection one. Conventional oven's source of heat comes from the bottom and is stationary, while the convection oven uses a fan that circulates the heat continuously around the inside of the oven. Both are suitable for baking but using a convection oven is more hassle-free.
Kitchen Knives and Chopping Board
Chopping and slicing ingredients and other food substances when preparing and cooking dishes are inevitable. That is why holiday kitchen knives and chopping boards are two of the most utilized tools you use in the kitchen. Kitchen knives have different types for different purposes, and each of them should be used cautiously to avoid accidents.
Spatula
Usually made of metal, wood, plastic, or silicone, spatulas are used to lift and transfer a food item from the pot or pan to the plate, or from one plate to another. Spatulas come in different types and varieties, depending on their use. Some of these types include offset spatula, frosting spatula, fish spatula, and many others.
Food Processor
For a hassle-free slicing and chopping of ingredients, you should have a food processor at home. Food processors are used in grating cheese, making dough, grounding beef and pork meat, and shredding vegetables such as lettuce and Brussel sprouts. You can also use it in chopping carrots, onion, garlic, and celery into the tiniest bits.
Stove
Aside from the oven, the stove is also one of the excellent sources of heat and fire needed in cooking all sorts of dishes. It has different types, depending on the fuel that you use. A gas stove, for instance, is fueled by gas or butane to function. When using a gas stove, be attentive enough not to leave it on for a long time as it can cause fire accidents.
Pots and Pans
You can't cook food directly on the stove. So, having a set of pots and pans at home to use in cooking is essential. Pots and pans come in multiple sizes and types and are used according to their purpose. Saucepot, for instance, is used for making sauces and soup. And saute pan, as another example, is used in frying meat and sauteing vegetables.
Takeaway
It is during the holiday season when most of us are busy in the kitchen. So, being prepared for this season is a must. By having these kitchen tools and equipment in your household and by using them correctly, the task of preparing and cooking tasty food for your family would be less stressful and more enjoyable.
Sponsored