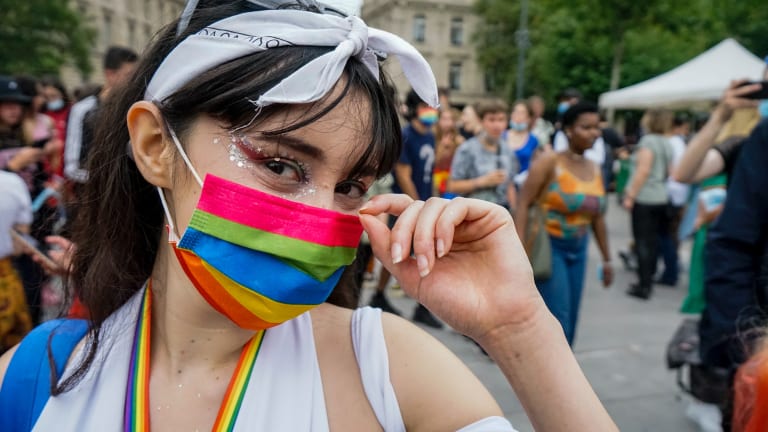 The LGBTQ Community in the World of Gambling
Besides actively supporting Pride Month, many gambling providers frequently feature LGBTQ personalities in their campaigns.
The gambling industry has enthusiastically taken up the LGBTQ banner in recent years, with many high-profile companies embracing inclusivity for the community in a number of ways. Besides actively supporting Pride Month, many gambling providers frequently feature LGBTQ personalities in their campaigns. There have even been a couple of attempts to launch platforms aimed exclusively at LGBTQ gamblers.
Cynics point out that such tactics are nothing more than a cynical marketing strategy, cashing in on a group that has considerable purchasing power. At least one study also highlights that certain members of the community may be more vulnerable to problem gambling. Here we take a closer look at the gambling industry's relationship with the LGBTQ community and meet one of the most influential casino game streamers - who also happens to be gay.
Cashing in on the 'Pink Pound'?
The bottom line for gambling providers is that they are there to make a profit while providing a service. It therefore makes sense for the industry to be as inclusive as possible, rather than to alienate or ignore certain groups. Ever since the 1980s and 1990s, businesses have caught on to the enormous potential of the so-called 'pink pound', meaning the multi-billion purchasing power of the LGBTQ community.
The relationship between gambling companies and LGBTQ interests goes further than a simple, cynical cash grab, however. In an era where many businesses seem to be increasingly politicised, with hidden or not so hidden right-wing political or religious agendas, casinos and sports betting providers welcome everyone equally. In fact, gambling is often shunned by those who also disapprove of people on the grounds of gender identity or sexuality. In many ways, the gambling industry's support for LGBTQ rights is a natural fit.
Exclusive LGBTQ Casinos a Flop
Over the past decade, several attempts have been made to create online casino sites targeted exclusively at LGBTQ players. These sites, which included names like LGBTBet, Fruity Bingo, and TOMS Casino, hoped to provide a welcoming space for all players, but with a focus on minority sexuality customers. Without exception, all these sites failed spectacularly within a year or so of launch, despite being casinos with a good choice of games, high payout rates and so forth. With hindsight, it seems obvious that such ventures would not succeed.
For a start, as previously discussed, the gambling industry is already an inclusive space, and so making an online casino targeted specifically at the LGBTQ community was redundant. Even if they were online casinos with the best payouts, the narrow focus meant that the target audience was overall too small to sustain the business. There are still plenty of high payout slots with LGBTQ-friendly themes, many of which can be found at some of the best-paying casinos listed on this website.
Female Sexual Minorities at Higher Risk
A recent study, published in the esteemed research journal Frontiers in Psychology, revealed a link between sexuality and potential problem gambling. Female participants in the study, described as being of a sexual minority to include lesbian, bisexual and other non-heterosexual descriptors, showed a statistically significant tendency to engage in problematic gambling behaviour. The same study found no correlating result with male participants.
So far this is a largely unexplored area, and this study did not have the scope to explore the underlying reasons why the women surveyed may be engaging in unhealthy gambling activities while men seem unaffected. Further research is needed, but it seems clear that gambling providers must continue to do all they can to safeguard players while engaging with their LGBTQ clientele.
Successful Casino Streamer Makes Videos with Husband
Brian Christopher is a casino streamer with a current following of 547,000 subscribers on his YouTube channel. He regularly uploads videos of him playing slot games online and at casinos in his native Canada and elsewhere, and most have racked up tens of thousands of views within just a few hours of posting. Brian is one of the most prolific and popular casino streamers active today.
Brian has never made a secret of his sexuality, and his husband Marco is a frequent guest on his channels. The two met almost twenty years ago in London, Ontario, and have been inseparable ever since. The videos featuring the couple together are some of the most watched clips on Brian's channel. A look at any given comments section shows a huge amount of love and support for Brian and Marco, hopefully a reflection of the majority of today's gamblers and their attitudes.
The casino industry's support of the LGBTQ cause is commendable, even if the underlying motivations are not entirely altruistic. If Brian's channel is anything to go by, the wider audience of gamblers and casino fans are largely free from prejudice regarding sexuality. It seems likely that the vocal support given to the LGBT community by the gambling industry has played a role in opening minds.