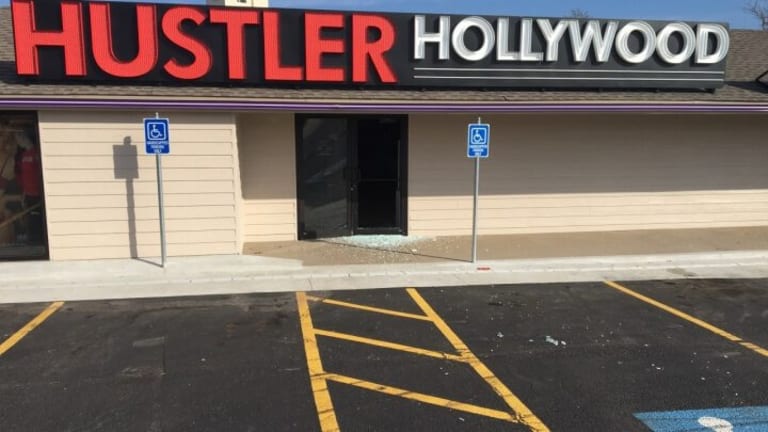 Tulsa Hustler Hollywood Store Victim of Smash and Grab Raid
Matt Smith: Police have confirmed that a man smashed his vehicle into the glass front of the adult store in Tulsa, Oklahoma, before taking off with several hundred dollars' worth of goods from the store
Police have confirmed that a man smashed his vehicle into the glass front of the adult store in Tulsa, Oklahoma, before taking off with several hundred dollars' worth of goods from the store
An incident that took place in the early hours of Monday 19th February 2019 resulted in extensive damage to the front of the Hustler Hollywood store in Tulsa. In addition, several hundred dollars' worth of merchandise was also taken as part of the raid. At present, police are looking for a male in connection with the crime but so far no identification has been made and there are no pending arrests according to reports.
The incident took place while there was nobody in the store, but employees turned up to carnage later that same morning. The man had driven the vehicle into the glass front of the store before alighting and stealing goods. He then took off again in his vehicle. After the incident was discovered, police from Tulsa were contacted to come out and investigate the scene as well as the CCTV footage in a bid to try and identify the criminal.
The store manager confirmed that the man took two sex toys along with a range of lingerie. He also confirmed that the cost of the items taken ran into several hundred dollars, although the majority of financial damage is thought to have come from the damage to the glass doors. In the meantime, police are continuing to seek the male suspect after reviewing the incident on CCTV.
Man many have been familiar with the store layout
One conclusion the police have reached following a review of the footage is that the man may have been familiar with the layout of the store already. This is because he was very fast when breaking in and taking the merchandise and he seemed to know exactly what he wanted and where to find it. The footage showed the man driving his vehicle into the store front at 3.24am and then exiting the store again at 3.25am, just one minute later. In addition, he knew exactly what section of the store to go to and quickly grabbed the items he wanted.
Police said that after he grabbed the items, the man simply headed back to his vehicle and drove away from the scene of the crime. Whether or not he knew that there was CCTV in place is as yet unknown but the entire incident was captured.
Police have expressed their concerns over how desperate the man must have been to commit a crime of this magnitude just for a few adult products. One female office from Tulsa Police said that it seemed odd that someone would go to such lengths and this raised further concerned with regards to what the man may do next. Police are now appealing for anyone with information to come forward to speak to an office from the Tulsa Police Department as they continue to hunt for the suspect.
Matt Smith
Sponsored