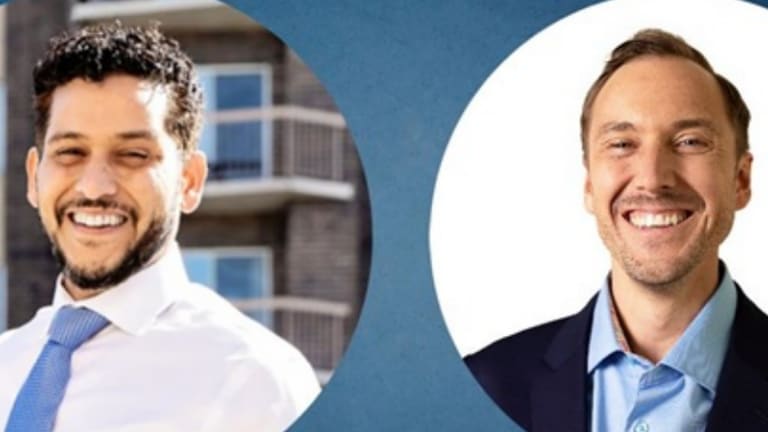 Meet Two Progressive Congressional Candidates Rallying for Real Change
Both candidates support campaign finance reform and have rejected donations from corporations and special interests.
Derek Marshall is running for the U.S. House seat in California's new 23rd Congressional District, while Junaid Ahmed is running for the U.S. House seat in Illinois' 8th Congressional District. The two men seek to represent two very different regions, yet they share a lot in common: Both are grassroots progressives on a mission to make real change on three core issues.
The Fight For Medicare for All Isn't Dead
The debate over enacting a single-payer system has been reignited recently as an estimated 12 million Americans lost their employee health insurance due to the pandemic, showing the cracks in the U.S. healthcare system. What's even more telling is that the majority of Americans are actually in favor of a single-payer system. Not just Democrats – more than 40 percent of registered Republicans are in favor of it, too.
Congress has made recent efforts to fix some of the flaws in the U.S. healthcare system, such as the passing of the federal No Surprises Act in 2020, which prevents healthcare providers from sending surprise bills to consumers for out-of-network care during an emergency. However, loopholes and complicated billing practices show major problems still exist.
"I put my trust behind Raja Krishnamoorthi and helped get him elected because I thought he cared deeply about reshaping our healthcare system," said Ahmed. "Instead he accepted donations from the healthcare industry and did their bidding. That's why I'm running against him to fight for the people in my community."
As the only industrialized country without universal healthcare, making any real progress sometimes seems like a distant dream. Powerful groups of healthcare lobbyists work tirelessly to make sure change doesn't happen. They are the greatest force in preventing healthcare reform from being passed, largely in part due to their enormous pocketbooks. Every year, the healthcare industry spends more money lobbying than any other.
"There is no incentive for the healthcare industry to change when they're making record-breaking profits," said Marshall, "but I think putting profits above basic human needs is insanity."
Irreversible Climate Change is Among Us - The Time for Action is Now
The climate change crisis presents another pressing issue. A recent UN-backed report shows that if nothing is done to dramatically combat the problem, every government will face unprecedented global disaster. More famine, extreme weather, and the mass extinction of species are all but certain to occur.
The effects of climate change could not be more evident in the U.S. than in California, where the region is experiencing its worst drought in 1,200 years. The state is home to the largest population in the U.S. and produces some important agricultural staples, including dairy products, almonds, pistachios, wine, and walnuts. There isn't enough water in reservoirs to keep farmers and residents at current rates of usage. Making matters worse, devastating wildfires have wreaked havoc on residential homes and wildlife in recent years.
"Bringing sustainable industry and public solar and wind projects will not only help protect our communities from further environmental damage but will bring good high-paying jobs to every corner of our district and our country," said Marshall.
Marshall plans to increase investments in National Parks and mass transit that moves away from fossil fuels, as well as to provide grants for upgrading existing buildings into eco-friendly ones. These measures are expected to provide job opportunities for thousands of people in his district.
Similarly, Ahmed supports a Green Economy not only to preserve the environment but also to ensure everyday people don't bear the brunt of rising energy prices caused by global supply problems.
"One key takeaway from the rising gas prices as a result of the Ukrainian and Russian war is that we need to be moving away from fossil fuels," said Ahmed. "We need to create a clean energy system that is not dependent on outside sources. Jimmy Carter had the right idea in 1979 when he installed solar panels on the roof of the White House during the Arab oil embargo."
Money Shouldn't Be King in American Politics Anymore
In his primary this June, Ahmed will face off with Krishnamoorthi, who currently possesses the largest stockpile of campaign cash in the country. Marshall is expected to face off with Republican incumbent Jay Obernolte, the 16th richest member of Congress and one of the top self-funding candidates.
"The Supreme Court's decision in Citizens United created a dangerous trend where those with the most cash in their pocket have huge political power. It's time to end that by moving towards publicly funded elections," said Ahmed.
The Supreme Court's 2010 Citizens United v. Federal Election Commission ruling opened the floodgates for outside sources to dump billions of dollars into U.S. politics.
Both candidates support campaign finance reform and have rejected donations from corporations and special interests. They also champion policies that would narrow the income gap and improve the lives of ordinary Americans.
"For decades, working folks have borne far too much of the tax burden, while the rich get richer and more powerful," said Marshall. "It's time we implement a progressive tax on the wealthy and give the IRS the resources it needs to ensure fair auditing for the people who are most likely to cheat - the very rich."