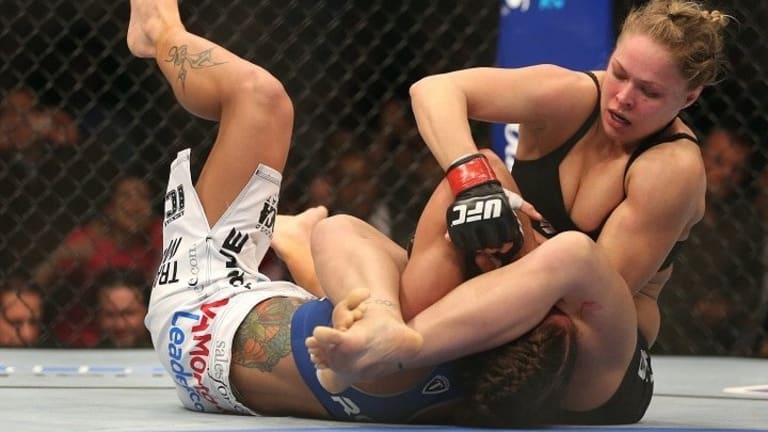 How Vern Gagne Led Me to Ronda Rousey
Dave Price: Replacing that was my interest in mixed-martial arts fighting, which was clearly the real deal as I knew from my bit of hand-to-hand combat experience in the army.
Growing up in Minnesota in the 1950s and 60s, I was fascinated by professional wrestling. One of my childhood heroes was Vern Gagne, for years the heavyweight campion for the Upper Midwest. Some years earlier, he had attended my high school in suburban Minneapolis, where he had been a state champion amateur wrestler.
At that high school and later for my first couple years of college, I was on the school wrestling team, not really because of Vern Gagne—though I was aware of him—but more because I got my growth late. As a 10th grader, I wrestled at the 103-pound class and even as a freshman in college I wrestled at the 145-pound class. It wasn't until later in my 20s, after a stint in Vietnam and what was to become a decade as a rugby player—and not as one of those jittery little backs but in the scrum—that I grew into my adult 215-pound size.
Replacing that was my interest in mixed-martial arts fighting, which was clearly the real deal as I knew from my bit of hand-to-hand combat experience in the army.
And, even though I loved playing sports, before I had lens-replacement surgery later in life, my vision was 20/300 or so, which meant I could barely see a basketball or baseball coming my way. So, wrestling it was.
Over the years, though, I lost whatever interest I had in professional wrestling, as it was so obviously staged for theatrical benefit. Replacing that was my interest in mixed-martial arts fighting, which was clearly the real deal as I knew from my bit of hand-to-hand combat experience in the army. Along with that, came an attraction for wagering on matches (see ufc betting at 888sport).
How UFC Came About
Ultimate Fighting Championship, or UFC, is a form of mixed-martial arts that was founded 27 years ago in 1993. Currently, with eight men's weight divisions and four women's, UFC has grown into a wildly popular, multimillion-dollar enterprise. With much greater mainstream media coverage in recent years, UFC has expanded into Australia, Europe, and Asia from its original home in North America.
Mixed-martial arts is a hybrid sport, borrowing from boxing, wrestling, judo, jujitsu, karate, Thai kickboxing, and just general mayhem. MMA bouts are fought in an enclosed octagon-shaped arena, caged to prevent escape. Men's bouts have five-minute rounds, with one-minute rest periods between rounds. Non-title events have three or fewer rounds, while championship bouts last five rounds. Women's bouts typically have two- or three-minute rounds.
Key to its growth has been a modification of its rules to eliminate the more violent aspects, such as kicks to the head of a downed opponent, headbutting, hair pulling, groin strikes, and twists to fingers and toes. Had not those modifications been made, it's possible that various states in the U.S. and its federal government would have nipped UFC's growth in the bud.
Indeed, high-ranking Senator and former presidential candidate John McCain had started an effort to ban the sport after witnessing the tape of a particularly violent early competition. Calling what he saw "human cockfighting," he wrote to all 50 state governors urging them to crack down on the sport.
As a result, UFC tightened its rules and begin working with state althletic commissions to preserve some of the more entertaining grappling aspects of the sport while protecting the combatants more and minimizing the bloodletting.
Because the fights are so genuine and their outcomes unpredictable, wagering on UFC bouts has been one of the sport's main boosters.
As with any type of gambling, you'll want to figure out what you're doing before putting your money on the line.
Woman Fighters
Much of UFC's growing success grew out of the inclusion women combatants. Female professional wrestlers has long been a staple of television entertainment in the United States, with such champions as The Fabulous Moolah and Mildred Burke gracing the black and white television of my youth.
Women's kickboxing has a long history as well. But women's mixed-martial arts—a more violent and genuine form of combat that the theatrical professional wrestling—really came to the fore as a result of The Ultimate Fighter reality show that began in 2005 and ran for 14 years. Before that, the first female MMA bout in the United States was held in 1997 between Becky Levi and Betty Fagan.
In the past several years, Ronda Rousey became something of a household name, both for her string of mixed-martial arts victories and her upset loss to Holly Holm in 2015. After becoming the first American woman to win an Olympic medal in judo, at the 2008 Summer Olympics, she rode her prowess as a wrestler and judoka artist combined with her beauty to become an actress and an author.
Upcoming Bouts
UFC is kicking off a series three events in Jacksonville, Florida. May 9th's event will feature a lightweight battle between Tony Ferguson (25-3) and Justin Gaethje (21-2), followed on May 13th by a battle between Anthony Smith (32-14-0) against Glover Teixiera (30-7-0). Three days later, Alistair Overeem (45-18-0) will fight Walt Harris (13-7-0).
Dave Price