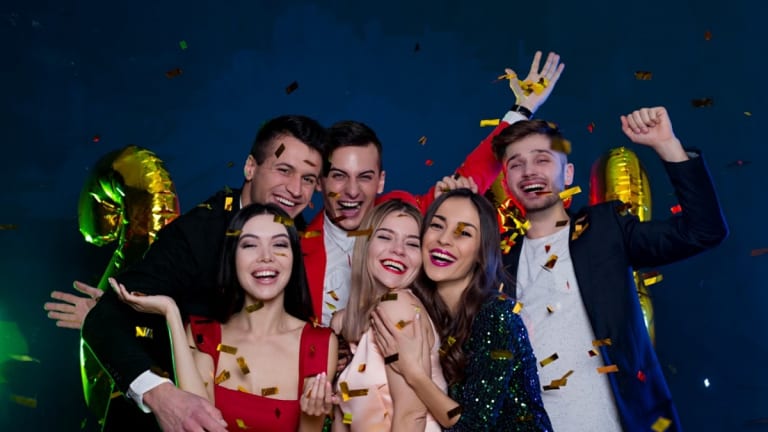 How to Host the Ultimate Winter Bash This Holiday Season
Lighting, decor, and even the flow of the room are important to create the ambiance that you want.
The time is upon us! The holidays are here and along with all the changes in the weather comes the excitement of fun parties, family, and friends. The best part about the holidays is how it gives an excuse to get together with the people you love and just celebrate life. Whether it's centered around a holiday or just because you feel like it - the cooler weather calls for in-door gatherings and fun nights to remember.
Going into this holiday season one of the best ways to celebrate the past year and let those around you know how much you appreciate, is to put on a winter bash! A lot goes into planning a party, it's not just as simple as developing the guest list - even though this task alone can be a big one.
First, you have to decide why the part is being put on and then base all of your decisions after that around that conclusion. The theme, the music, the drinks, food, and even gifts for the guest. But this doesn't have to be as daunting a task as it sounds. Here are some of the best items you can use to make sure you host the ultimate winter bash this holiday season!
Setting the Tone
Lighting, decor, and even the flow of the room are important to create the ambiance that you want.
When it comes to setting the atmosphere at a party certain elements make a big impact. Lighting, decor, and even the flow of the room are important to create the ambiance that you want. However, no other element to setting the mood at a party is quite as impactful or important as the music selection!
If you want your party to have that classy, new year kind of holiday cheer there is no greater artist to help you set the tone and liven up the place than the classic himself - Frank Sinatra. In fact, Frank Sinatra songs have been used to celebrate in American for decades and continue to be some of the most loved tunes ever produced in the United States. With udiscovermusic's extensive Frank Sinatra library, you won't have to worry about finding vinyl of all the classics that you need. 
Make it an Invitation to the Whole Family - Even the Furry Ones
Want to take your hosting skills up to god-like levels? Encourage your friends to bring their four-footed family members along with them! By providing your guests with biodegradable grooming wipes for dogs, you can welcome your friends and family's little partners to be part of the fun and celebration.
This level of thoughtfulness will go a long way to show your guests how much you care about their experience. What's more, is that these hypoallergenic, chemical detergent-free biodegradable wipes make a thoughtful present for guests with house pets and are sure to wow!
Candles That Say a Lot
A party is all about celebrating and there's nothing more worthwhile to celebrate than the very people who are in attendance. Getting gifts to hand out to all the loved ones on your invite list is about more than just a formality, it's a way of saying how much you appreciate them and a way of showing them a thoughtful act of love.
Luxury Candles by VENUS et FLEUR is a great way to impress your guests and let them know they matter. Hand-poured and sold in custom ceramic vessels, these candles have been crafted using the highest quality perfumes available. Not only will this be a gift that that is sure to amaze, but it will be one that puts a smile on the face of your guests for days to come as they use it in their homes.
The Food and The Drinks!
Here is one of the most exciting parts of planning the ultimate winter bash this holiday season - the food and drinks! Most of the most important aspect to think of when picking out what kind of drinks you want for a party is the atmosphere. If your goal is to put on the ultimate winter bash that will leave your guests chattering about it for years to come, then making sure you bring something unique to the table is a must. Thankfully, that's easy to do with some of these great options.
Mezcal Warmth During the Winter Holidays
Mezcal is a unique agave spirit that is sure to surprise and delight your guests this winter. Harvested agave from Santiago, Matalán Mexico, this handmade agave spirit is as beautiful as it is delicious.
Gluten-free, non-GMO, vegan, and with absolutely zero carbs, this drink can impress either straight up, on the rocks, or put in your favorite mixed cocktails. 
Fermented Goodness
Tepache is a pineapple-based, fermented drink that is great for parties and keeping the atmosphere fun and light. In the middle of the winter months, it's great to break out something fruity and light-hearted - and Tepache is the perfect drink for that.
Made from an old family recipe that has been around for years, this little taste of Mexico brings just the right kind of tropical touch to whatever style party you are throwing. Delicious, organic, low in processed sugars and rich in vitamins C and D, this fermented drink will have your guests wondering why they haven't ever tried it before!
Harry & David Gift Baskets
With the holidays being so full of cheer and good food, giving that exact gift to your guests is made so easy with Harry & David. Shop from countless beautiful, hand-crafted gift baskets that are filled with the finest of fruits, desserts, cheeses, and nuts. Have a friend who loves wine? No problem, with the many assortments of gifts that pair exquisite wines with chocolates, cheeses, and much more!
If you give the gift of a Harry & David basket, you will be truly sharing something special that your guests will remember for a long time to come!
Don't Forget About the Little Ones
This holiday season, don't forget to add the new parents who are desperate for some fun and interaction. While having kids can bring a lot of change to your life, this holiday season should still be marked by some good old-fashioned fun. A lot of this freedom comes around learning new things like a newborn bedtime routine.
Thankfully, your friends at Littleyawncollective have a whole catalog of safe, organic supplements to help you and yours find great resting habits. With sleep under control, your schedule can open up immensely to say yes to that party invite or even host the event itself this holiday season!
The Games
Lastly, it's always a good idea to have an ace up your sleeve when it comes to games and entertainment. No other game brings people together quite like the fun of Cards Against Humanity. With simple rules and truly insane combinations that become absolutely hilarious, Cards Against Humanity is one of the best party games to have on hand. This zany card game will have you and your guests rolling on the floor laughing and if you need to liven things up a bit, this game acts as a great way to break the ice.