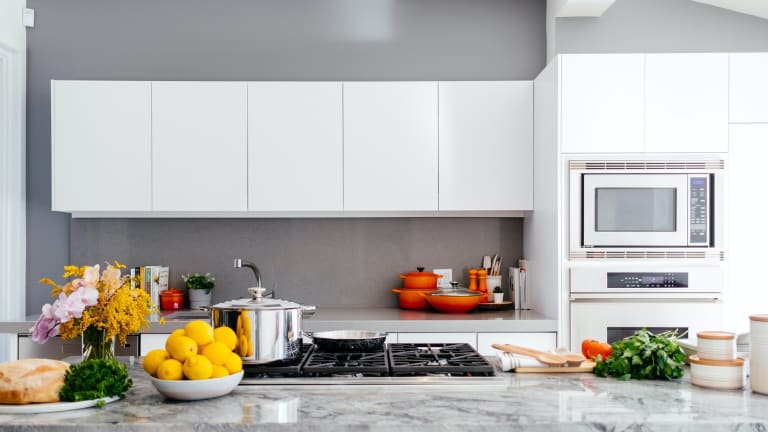 Kitchen Décor: What to Do When You Run Out Of Space
Often, the kitchen can be so full of practical utensils that you run out of space for decor. Click here to find out where that space can be found.
For a lot of interior design lovers out there, the kitchen can be a bit of an Achilles heel. It is the most practical room of the house, designed simply as an area to cook and prepare food. In this way, a lot of the ornaments found in a kitchen are purely pragmatic, with not a lot of room for décor to smoothen out the space.
This is a shame, especially in kitchens with a modern or modern traditional design. A lot of the time, these spaces can end up looking a little clinical, which is why it is important to find ways of balancing it all out with something a little more warm and homely. Unless you cook for a few thousand people every day, it's unlikely that every single surface is covered. So, take a step back and start looking at the space as a whole.
Season The Windowsills With Some Candlelight
Windowsills are always the first place to look when you are strapped for space. Designed to structurally support the window frame, their purpose has evolved over time to be the perfect little stage for your home décor ideas. In the kitchen, utilising the windowsills with some candles is a great way to give your space more of a warm, welcoming feel.
We're not talking tea-light candles, either. If you want to really make use of this space, then purchase candle holders that will grab the sunlight, so that you can benefit from these candles whether you need them lit or not. Opt for a bold, bright metal, from brass candlesticks that contrast well with a white kitchen to sterling silver candlesticks that add a little sparkle and class.
Add Some Flavour To The Awkward Spaces
If your surfaces and tabletops are lacking for space, then drop your eyes to the floor and see if you can utilise any awkward, empty areas. Often, the corners of every room are left bare, but this is a waste of space that should be avoided.
You would be surprised how much a simple plant vase, standing lamp or corner table can light up a previously bare area of your kitchen. A plant, specifically, is a great call to flavour the space with some colour and character. You do not want anything too small for this area, however, as it will end up making the space look unfinished and amateurish. Instead, look at finding a large houseplant which will stand a few feet towards the ceiling and really command the space.
Spice Up The Cabinets With Interesting Designs
In most kitchens, the cabinets will line the walls just a few inches from the ceiling. This gives you a bit of room to add a little decoration on the top of them. This can either be done with a tiled, motivational sign or, if you are looking for something a little more subtle, a selection of small ornaments that are dotted along the tops sequentially.
Hanging foliage, too, can be a good option for someone wanting a little more umph. So long as it doesn't get in the way when you're trying to retrieve the last tin of tomato soup, then why not? Like any other room in the house, the kitchen is your playground, and the space is always there to have fun with.