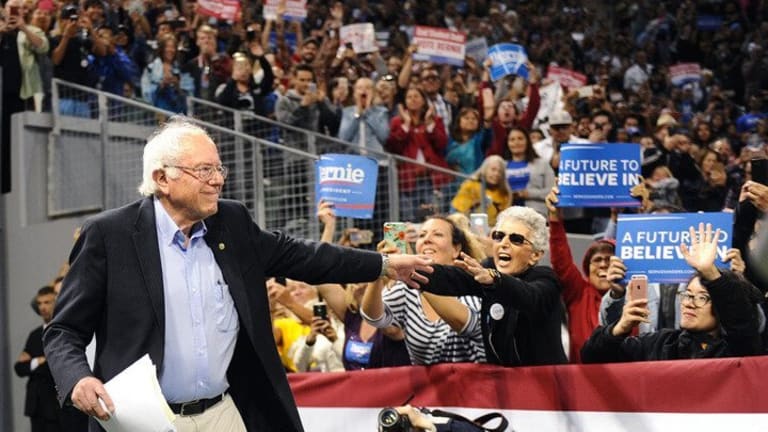 Okay, Okay, Can Bernie Fill LA's Olympic Plaza and Not Win?
Dick Price: A common theme in the responses is that rallies aren't votes, that what counts is who and how many actually vote, not how many are up for a hootenanny with thousands of their friends.
We got a little carried away when we asked about last night's Bernie Sanders rally filling the Los Angeles Coliseum, didn't we?
Actually, the rally took place on the Olympic Plaza, just outside the Coliseum entrance, drawing something north of 13,500 enthralled Angelenos, not the 93,000 it would have taken to fill the Coliseum itself.
At the last moment, Bernie's rally was bumped from tonier settings in the Greek Theatre thanks to the handiwork of City Council newcomer David Ryu, an ardent Clinton supporter who found it appropriate to put his thumb on the scale. As always, the Sanders event was free, wherever it was held; Clinton will charge $250 a head for her event at the Greek tomorrow night.
Still, 13,500 is a pretty fair showing on a hot Saturday afternoon in Los Angeles, just like the thousands and thousands of supporters Bernie draws every time he turns around, in small towns and large, in Republican strongholds and Democratic ones, all across the state. Tomorrow, his campaign is gearing up for a big event in San Francisco to close out the California primary race.
Before we get to the survey results, let's make two stipulations.
First, the party's 712 superdelegates will cast their only votes that count at the party's late July convention in Philadelphia. Clinton's allies in the media telling you at every turn about 547 superdelegates already in Hillary camp are not talking about actual votes. They're telling you how the superdelegates lined up long ago—inclinations often made well before the primary season began, leanings that could well change if something dramatic happens in the race. (See chart below for current status.)
Second, no matter how the Bernie Currently Winning Democratic Primary Race
" target="_blank">voting turns out Tuesday—in California, but also in South Dakota, New Jersey, New Mexico, North Dakota, and then Washington D.C. a week later—neither Clinton nor Sanders can reach the 2,382 delegate votes needed to secure the nomination. Not with pledged delegates, which are the only votes that have been officially secured at this point.
So when the folks at MSNBC and CNN—Chris Matthews, Rachel Maddow, Anderson Cooper, and the bunch—tell you Tuesday night, well before California's polls close, that Hillary Clinton has just secured the Democratic Party's nomination, they'll be lying to you. Through their teeth. So far in the bag, they won't even flinch.
Just so we're clear on that.
Do You Believe What You're Telling Us?
Our poll shows that 57% of respondents think Bernie cannot fill his huge events in Los Angeles and San Francisco and then not win the California primary. Which means 43% of you think he will still lose because there isn't any question he can draw a crowd.
A few of you agree with Nancy Cook that the contest is over:
"The more important question is whether Sanders will use these events to urge his supporters to get vigorously behind Hillary's campaign against Trump. Right now all he is doing is aiding Trump and damaging the Democratic Party."
More of you are still holding onto Bernie's slim chances along with David Steele:
"Bernie's been talking up a movement from before he announced he was running. That's the way it is now, and that's the way it's going to be. If Bernie wins California, we can go into the convention with even more credibility and do even more of the things you say we should be doing for the American people, not just the corporations."
A common theme in the responses is that rallies aren't votes, that what counts is who and how many actually vote, not how many are up for a hootenanny with thousands of their friends.
Donna Crane captured the sentiment nicely:
"I always vote, but I never go to rallies. I'm old now but have been politically engaged since I was in my 20s and I have never gone to a rally. Does that mean I don't care? No, it means that I have been a precinct committee person, attended local meetings of my party even when there isn't an election imminent, attended the state party meeting where members from all over the state vote on rules, platforms, and elect their leaders."
"Rallies and voting are not the same thing," Bruce Wright added."Many people go to rallies for many different reasons and don't go out to vote. In addition, the numbers involved in the primary and in the attendance at rallies are of a completely different magnitude. There were nearly 5 million votes in the last Democratic presidential primary (2008). No rally has millions of people."
That is, of course, a comfort for Hillary's backers but also a deep concern for Bernie's team, who saw him pack New York City's Washington Square Park in Greenwich Village with 27,000 supporters—but a total of perhaps 60,000 according to the NYPD if you count all the people in surrounding streets—only to lose the state's primary by a whopping 16%, or nearly 300,000 votes, with much of that massive edge coming from New York City itself. And, yes, with more than a little help from Party functionaries putting their thumbs on the scale, by removing tons of voters from the rolls, too.
It may be that not all those people who showed up to wave their Bernie placards and dance in the street showed up to vote, or perhaps they had not gotten their voter registration arranged ahead of time. If that happens in California, it won't matter how many Californians put Bernie selfies on their Facebook page.
Passion Running High On Both Sides
The survey showed just how high people's blood is boiling just a few days ahead of what will clearly be a turning point in the primary: If Bernie does well on Tuesday, he'll have an argument to take to Philadelphia whether the party's entrenched interests and their cohorts in the media want to hear it or not. But if he falls well short, Bernie will have much less to say going forward, again whether his supporters want to believe it or not.
Here's how the outcome matters to Caroline:
"I lost several friends in the Iraq war, who had joined the service so that they could get an education through their service. Unfortunately, they never made it back. Hillary Clinton is a War Hawk. Donald Trump is a complete imbecile. I am afraid for our country if one of them is elected."
And David Steele:
"If Clinton doesn't shake off her corporatist mantle, we may barely win in November, we'll probably not get back the Senate, and we will for sure not get the House. We have to think about voting for what we want rather than voting against what we don't want."
Rallies Are Not Votes?
Sharon and I were slated to attend yesterday's rally at the Coliseum—er, Olympic Plaza—"Bernie" shirts freshly laundered, water bottles filled, Metro cards at hand. But then we punked out. Too many 12- or 14-hour days. Too many meetings. Too many publishing deadlines. Sorry, we turned out to be faithless friends, at least for one night.
But afterwards, on the local CBS news show, we saw that rarity—an even-handed two-minute report on the Sanders rally, sans any statement about how Hillary's got it in the bag. Just some nice shots of the big crowd, a few quick interviews, and a little commentary about the vote Tuesday. Refreshing.
Immediately after that came the report on Hillary's campaign activities where she made an appearance at a local community college. Ushering her into what looked like a lunchroom were our own LA Mayor Eric Garcetti, State Senator Pro Tem Kevin de Leon, and Congressman Xavier Becerra. Big smiles on their faces. Suits freshly pressed. Looking pleased as punch.
With them was the candidate herself, that familiar smile on her face as she delivered rather wooden comments to, I swear to god, not three dozens students and adults, who had checked whatever enthusiasm they might have brought with them at the door.
So I'm so stuck on this point that it's become a running joke between me and my publisher, the boss, my wife Sharon. Bernie Sanders takes two days to draw ten thousand deeply engrossed followers to one venue after another. Hillary Clinton and her husband, Bill Clinton—who won two terms as president of these United States, for chrissakes—struggle to fill a high school gymnasium or, now, a community college lunchroom.
How does it make sense that the superdelegates don't see it, absorb it, wonder what it means for the Democratic Party for the next several decades?
A successful president doesn't hide away crafting policy, at least not much of the time. No, presidents who do actually "get things done" rally the American people to causes, causes they might not otherwise support.
One of our two Democratic candidates has shown time and again that he can do that. The other just as clearly cannot. And, unfortunately, their bilious Republican foe can also rally people as well, but in the worst way possible.
They tell me Sanders-supporting Democrats and all these Independents will rally to Hillary's cause once Bernie is finally put in his place.
On that, like Harry Truman, I'm from Missouri. You're gonna have to show me.
Dick Price
Editor, LA Progressive