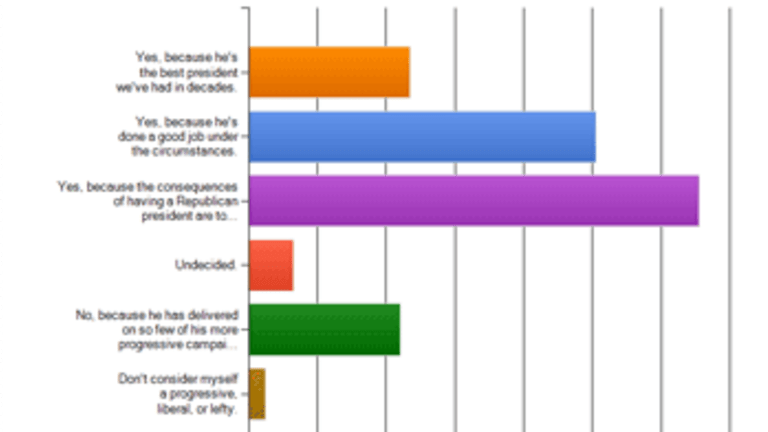 Obama and Leftists Survey -- Question 1
As a progressive (or liberal or lefty), will you support President Barack Obama's re-election?
1. As a progressive (or liberal or lefty), will you support President Barack Obama's re-election?(Check all that apply)
He has continued the Bush Regime's policies overf 95%. There is. no way I'll vote for Barack Bush.
It's worse than failing to deliver on campaign promises. Obama has actively moved to the right, and given the corporate elite almost precisely what they want.
Absolutely NOT! It is not just that he failed to deliver on his campaign promises, it is that he extended Bush Tax Cuts, put Social Security on the table, signed the NDAA, ordered the assassination of American citizens, without charges or trial, and on, and on the list could go.
He *has* delivered many gifts to the elite and the far right. Voting for him only encourages more of the same. Our options are poor but I cannot vote for a horrible "lesser of evils." And a big part of that is the ineffectiveness (or unwillingness) of progressives to present a united front for an alternative. Regardless of who wins the next presidential election, I do not look forward to the following four years.
During his Presidency it became even more obvious that 1) we are part of a world economy not just USA, and 2) the disaccord in Congress has made being President and working with Congress unworkable - 3) the President has been sabotaged
If there were a viable third-party candidate, I might think of voting for him/her.
Probably yes, but what choice is there? Obama or Mitt Romney? Obama or Newt Gingrich? I would have prefered someone like Rocky Anderson and his Justice Party to have waged a bona fide primary battle against Obama.
The intransigence of the Republican Party and its veering to the far right in social and economic issues is a real and present danger to our way of life and freedoms. To expect perfection in this situation is what is defeatist. Some friends who declined to vote in the latest Congressional election only aided and abetted the take-over of the House of Representatives last fall.
support him, no. vote for him because the Repubs are worse, yes. Unless a viable progressive third party emerges.
I didn't vote for Pres. Obama in 2008. I voted Green in 2008; I've voted Peace & Freedom previously, I'll likely not vote for Pres. Obama in '12.
The Left has got to stop expecting perfect scores on all their pet issues from a Democratic president. Obama, specifically, faces three decades of focused Republican efforts toward their agenda. It will take more that one Democratic president to get things back on track and the work can't all be left for the president to do. Each of us has a role to play in our communities to stand up for our beliefs.
No, because the presidency is an imperial and inherently undemocratic institution no matter who fills the post, and because Obama has legitimized and outdone Bush in regards to torture, assassinations, use of the military without legal approval, deportations, transfer of wealth to the wealthiest and corporations, "free trade," concentration of power in the presidency, federalization of law enforcement, political repression, use of the military for domestic political control (eg the Coast Guard in the Longview labor dispute), etc etc etc.
He has commited more right wing atrocities than a "Republican" president ever COULD have
Uh.... Progressive? Progressives do not suspend portions of out Constitution, make illegal killing OK for the president, do not wage war on countries that did not attack us. Progressives DO support peoples of the world looking for Democracy, and do so peacefully. I can only name a couple of Democrats that favor this, unfortunately I can name more republicans, as they both support their Party Platform MYTH, but no fear, there aren't enough of them to over turn a 2/3rds majority Fascist support vote.. Thanks for the forms so I can share this far and wide. Y
es, because he's done a good job under the circumstances. = Yes, because he's done about as good as could be done under the circumstances.
Not undecided, really, because it depends on circumstances. If the election is very, very close I would likely vote for him to stop the GOP. If it is lopsided either way, I would likely vote 3rd party.
"1. Nothing that he has revealed about his character has failed to impress me. 2. No president who is unwilling to compromise with Congress and the Opposition is worthy of the office!"
Supporting is a luke warm maybe because the issues must be addressed; if he begins to show the courage to fight for the 99% and shaft the financial industry, the insurance industry, and the oligarchs then I could move closer.
and he made very few ACTUALLY progressive promises. Mostly that was smoke and mirrors, designed to obtain progressive support for a pro-corporate conservative.
We should ask Ron Paul choose Dennis Kucinich as his running mate instead
DUH!!!
It is ludicrous to elect a President and then not support him in the face of unprecedented opposition. This is exactly when we need to rally around the change we voted for. To do otherwise is to let the party of 'no' have their way with our government - our very individual lives. We must stand together. We cannot throw Obama to the wolves. It is inappropriate and just plain bad business to hire an employee and then abandon them when they are attacked for doing the job we hired them to do.
He has left the Veterans Admin budget in tact
And, he has continued all of the militaristic policies of previous presidents, such as Afghanistan and unrestricted aid to Israel as it continue to colonize and threaten Iran. I don't see anyone anywhere that could have accomplihsed what he has. There should be a third candidate but liberal "More accurate answer is that I don't expect to ""support"" (or oppose) his re-election. I may vote for him, but that's the most. It's far better to spend my time, energy, and money on the issues struggles, and just take a couple of minutes to vote (or not vote)." He has not only not delivered, he has delivered the opposite. He has wimped out on America's positive overseas commitments - for democracy, against genocide, against nuke proliferation. He has undermined our allies overseas, including liberal movements and prospects for non-fanatic democracy in Islamic nations - and common-sense progressive policies and progress at home. By action and omission, he's returned to the wacko Bush wars: on drugs and on wildlife and on a liveable future environment.
What Bush did in secrecy, Obama does in the open with the rule of his new laws. Where is the change we can believe in? Why is Gitmo still open? New war with Iran? Obama is a warmonger and so are the Democrats. The payroll tax that was kept of the books was only a way to stop funding Social Security. Obama is like Bush--- a crook.
I don't understand it when people blame him for what the Right-Wing is causing. It's like the entire Republican Party is wearing a Cloak of Invisibility. Their propaganda is very successful at making it happen. Since I live in NY, I know my state will vote overwhelmingly democractic which leaves me free to vote my conscience which is third party Green or Peace Party. Otherwise I'd have said the consequences of having a Republican president are too dire.
I appreciate the space his presidency has opened up for the Left in the US...less of our time is taken up with fighting back every reactionary move from the White House, and more of our time can be devoted to trying to pass progressive legislation.
Obama has not been perfect. That is not a reasonable criterion to use to judge whether to vote for him. He has moved the rights of gay Americans further than anyone before, has brought us our first national health insurance plan, is getting us out of two disastrous wars. Obama is not a leftist. Which electable Democrat is? Should we have Romney instead?
"NO! Because he is a Traitor to the people who helped him get elected and he can go to hell. Obama made it clear that people's vote doesn't matter in this system."
Are you kidding me? Any democrat (Progressive or not) who chooses to not vote, or not support President Obama because he isn't what YOU want him to be all the time, is crazy. We like to mock conservative who are very luke warm about Mitt (because Jesus isn't on the ballot), but this is the same silly notion in reverse. Mitt is the one candidate who can beat Obama, if all goes right for him.
I can't believe you all into the same trap as the rest of the pollsters. Support is not a yes/no question. What does support mean? I will vote for Obama (I think) but I will not knock on doors in two states like I did in 08. I will not journey to another state to work the polls on election day.. I will not man any phone banks. I may give money but not nearly as much. You forget also that the Democratic Party bears some responsibility for Obama's failures.
Also, part of a loaf is better than none. Maybe in 4 years the US will be ready to embrace a progressive candidate but with the current economy and the nutty proclamations of the corporatocracy-fueled wingnut/Tea Party Republicans, it would be a difficult sell. And we can't afford to split the vote with so many disenchanted to the point that those who vote will likely use their vote against Obama more than for the other guy.
Only if he's truly the lesser of two evils, as I expect him to be.
The American people will become outraged enough with corporate influence only if the Republicans are given the opportunity to overreach, which they will do if they control the White House and the Congress. Electing a Democrat who is Republican-light will only
postpone the outrage and prolong the agony.
Yes, because his agenda is to weaken America, and that is the leftist agenda, too. Only, he will make millions doing while most of the leftists will make nothing.
Waited 21 years and voted for a Black comedian named Dick Gregory for president- I threw away my vote, because he was the only candidate that wanted out of the Vietnam War. As I approach my 65 birthday in March, I take cognizance of the fact that I have never had the opportunity of voting for a president who offered even the possibility of change.
No, because he's taken so few progressive stands. In other words, Obama is not a progressive. At best he's a right leaning moderate.
He has broken all the promises he made to working people, while doubling the loot for big businesses. He has deported more immigrants, including children, than any president in history, and is a certified war monger and union buster.
He led country in the wrong direction toward national Socialism
I'd prefer if he grew a set of balls, but we do not know what kind of threats he's getting -- and he has a young family.
Our political system successfully exclude all qualified 3rd party candidates-sad....
Meek, Weak, No vision for America, No point he's not willing to negotiate away for little or no gain. If he's not willing to stand up for principles, then people won't be willing to stand up for him either.
No, because Obama represents the pro-fascist capitalist class!
He's a Neo-Liberal come Fascist ~ Never Again I am eclectic.
Progressive change is not overnite and we need to keep that in mind- what we need to focus on is a better Congress seat by seat
There is more political space in the Obama coalition for the long term progressive forces to survive and grow.
When Barack Obama was a candidate for President of the USA, I felt for the first time in my life (over 60) that I was not just voting for a "lesser of evils." I felt I was truly voting for a candidate that might harken back to the days of FDR. I felt I was making a positive choice. Now I may feel forced to choose Obama to prevent the election of a Republican who is even more scary, but not by much. - Gary
I would rather not have to vote for Obama, the war and Wall St. president. I believe that in many respects this is Bush's 3rd term. I may sit out the presidential election but not the Congressional election in which progressive Norman Solomon is seeking the seat being vacated by Lynn Woolsey.
c'mon, this is so weighed - 3 yeses, and only one no. How about "no because I don't support conservative candidates" "no because I don't support murder and illegal confinement" how about "no, because I never supported Slim Shady?
No! He not only hasn't delivered on the stands he took when running, he has actually betrayed more of our civil liberties and freedoms. He has surrounded himself with Wall Street insiders, and refused to hold those responsible for violating national and international law. He has betrayed his base on multiple issues that he has the power to control.
I think he is improving and will only be better in his second term He promised Immigration reform and did not even attempt to deliver when he had a super majority.
he promised war in afghanistan and he delivered afghanistan, libya, overthrow of democracy in honduras
Republicans and Democrats are two halves of the same capitalist party. Voting for the "lesser of two evils" is a downward spiral that will in the end result in environmental destruction of the planet, unending wars, and super concentration of wealth. We need to start seriously supporting third (i.e. second) parties.
he has sold out all of his so-called principals and original objectives and will lead us down a path to world war and fascism
This is the usual STUPID LEFTIE survey! What other choice is there? Please remember when President Johnson was primaried!
He the best problem solver ever
By his own benchmarks, the President has failed to deliver to the American people. He has shown little in the way of leadership capabilities including his refusal to get down to the nitty gritty of political persuation. He simply doesn't care for the job in the way other Presidents have acted with the legislative body. He probably would abolish Congress if he could get away with it.
I will support Obama because we need a Democratic president to appoint the next Supreme Court justice and because the Republicans are totally anti-choice and anti-women's rights. But I am terribly disappointed in Obama and don't think I can actually campaign for him. Under Obama, more undocumented people have been deported than under any other president and he has surrounded himself with Goldman Sachs banksters.
In good conscious I cannot support this bum but have no alternative, it is a choice between "tweedle dee and tweedle dumb"
Supreme Court. One more Republican president will put in place a Supreme Court that will solidify corporate power and disenfranchise non-Republican voters, setting back any change for progressive policies for decades. This is so bloody obvious!!!
He signed NDAA (he is more of a Republican than many Republicans).
I will probably vote for him, but I'm not going to volunteer my energy for the effort. Instead, I'll work on local issues and for progressive candidates who are committed to action on issues I care about. "I almost checked off the one as an alternative to Pres. Obama, which would be a REAL disaster for our country. I do believe he has had an uphill battle with a Republican led Congress who thwarted him at every turn. In fact, they really did do damage, not just to Obama, but to our country, in general! We need more people in Congress who want our country to progress, not just be in the pockets of the wealthy who support their elections."