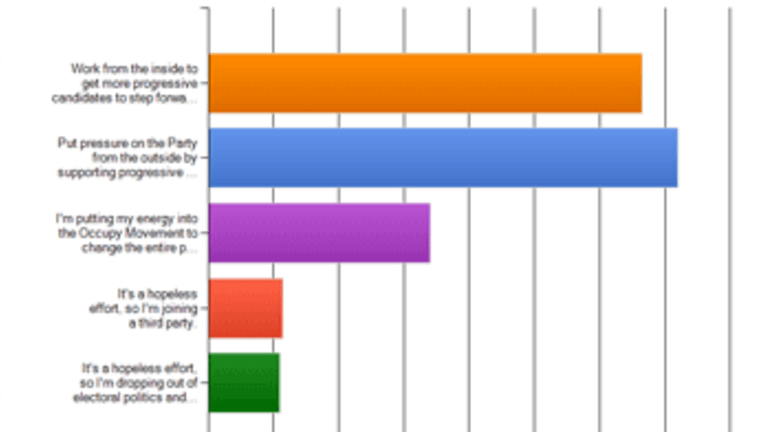 Obama and Leftists Survey — Question 3
How best can the progressive community move the Democratic Party leftward?
Q3 How best can the progressive community move the Democratic Party leftward? (Check all that apply)
In addition to those I checked, I am focusing more on art, music, photography.
STAY INFORMED & ENGAGED IN WHATEVER WAY WE CAN. NO TIME TO BE STUCK IN ILLUSION OR FANTASY.
Working to support alternative parties and independent candidates for congress, senate and for the presidency. The republican and democratic parties are one. There is little difference between the majority of the members. As someone recently put it - one party is bought, and the other is rented from time to time.
I would hope the progressive representatives would not take the same attitude and position that now occurs -
The Occupy Movement is the only chance We have to nullify Citizens United. The Democratic Party is a disgrace, not perhaps as completely out of touch with reality as fringe GOP fundamentalists, but close. They both work for the same corporate masters.
I'm tired of working so hard for Democrats that are merely Republican light. I want to see more fight in elected Democrats! They squandered the first 2 years of the Obama administration when Dems had a majority in both houses and the White House!
educate the public to support progressive thinking.
I will ultimately support Obama, but without the great passion from the last election, and will likely support more progressive federal and state candidates from around the country, while also working on the Death Penalty initiative.
I'm putting my energy into getting Democratic progressives (mainstream) on the ballot and elected.
The D's are bought and paid for liars and thieves, the R's are worse bought and paid for liars and thieves. America needs a third party.
Political corruption is thru & thru; a complete 360 turn toward Freedom, Justice & Equality must be effected!
Left, liberal, progressives have to run for local elected office from the school board up.
Support Occupy but don't try to subvert them
The Democratic Party has consistently been the graveyard of popular movements for social, economic and political transformation. Where is the nuclear freeze movement? Where is the labor "movement"? the environmental movement? Joining the Democrats and trying to move the party to the left is a fool's errand and would be the death knell of Occupy as well.
Support OWS without trying to take it over or affect it.
"Stop voting for Neo Cons with a D by their name. You can tell by their anti US Citizen voting records.
Doing the same thing over and over again expecting different results is insanity. Sorta like why remain a Democrat if we keep getting a Right leaning Republican instead of a far right republican.... I want a progressive, not evil lite."
I registered DTS to "register" my distaste with Democrats, especially after the deal-breaker NDAA legislation that Obama did not veto. I was particularly upset that liberal Dems--many of them Jewish as I am (Waxman, Sen. Carl Levin, etc etc etc) fully support(ed) this outrageous assault on the Bill of Rights and the basic right of habeus corpus.
AND I'M ONLY SUPPORTING COMMON CAUSE, THE FREE PRESS, THE CLEAN MONEY CAMPAIGN AND OUTSIDE ORGANIZATIONS THAT HAVE A HISTORY OF MAKING THINGS HAPPEN. DONATING TO DEMOCRATS IS THE SAME THING AS DONATING TO REPUBLICANS. THEY ARE PROTECTING THEIR JOBS, IT IS A MONIED INSIDE LOOP AND I'M DAMNED DISGUSTED WITH THEM ALL. I WISH WE COULD FIRE THEM ALL AND START OVER WITH A REGULATED DEMOCRACY, WITH SAFEGUARDS AND GOVERNMENT FOR ALL OF THE PEOPLE. . OUR SYSTEM IS CRACKED AND LEAKING. THERE IS NO REASON (BUT MONEY) FOR US NOT TO HAVE A FREE ELECTIONS CHANNEL TO KEEP THE BIG ADVERTISING MONEY OUT OF POLITICS. THERE IS NO REASON TO CONSIDER A CORPORATION A PERSON UNTIL YOU HANG A COUPLE , OR BETTER YET, THEIR CEO'S. THERE IS NO REASON TO COVER UP THE ACTIVITIES OF LOBBYISTS (EXCEPT MONEY). THE CURE IS MONEY OUT OF POLITICS. I'VE QUIT DONATING TO DEMOCRATS AND I NO LONGER READ THE NEWS IF I CAN HELP IT. ITS POLITICAL GARBAGE. THANKS FOR THE CHANCE TO RANT.
Take the issues of the Occupy movement and write about them, have interviews about them, try to bring them into the news as much as possible to have that be the main conversation - inequality. Is there a third party?
Stop thinking the Democrats can EVER be genuinely progressive. They NEVER have. They were formed to be a SEEMINGLY leftwing alternative to the clearly pro-business mainstream conservative party, and they have been useful to real progress and to real democracy only a very little bit. Look what they did to the genuine leftwing threat of the ACTUAL Progressives in the period 1890-1920, for example.
Support Ron Paul and push him hard to select a progressive running mate, which would help him defeat Obama
Also better educate rank and file Democrats on how more liberal policies help them and the country.
Be courageous - Have respectful conversations within your community - one neighbor at a time. We don't have to solve all the problems with each conversation, just let others know you are rational, concerned for our country and not afraid to look at what needs to be fixed, regardless of the consequences. Be open to everyone's input.
actual best is educating the public on how gevernment works and why things don't get done
If don't work to imporove the political environment in America for the 99%, then who will?
It is not a hopeless effort. The ambitious politicians and parties will move as social forces appear. To illustrate party ambition causing change, note that even some Republicans now call Mitt a "vulture capitalist" and differentiate between vulture capitalism and venture capitalism, using some of the Occupy perspective.
I'm focusing on my one big issue, no matter what - & not because matters are hopeless - in the long run there is hope. Top Issue: Reason and citizen democracy at all levels. Public decisions by deliberative citizen juries. No more adversarial circus voting, no more Roman-Republic-style oligarchy, no more political setup in which 'all are equal, but politicians--officials-lobbyists are more equal' .
Obama, Congress and the Republicans are all the same. More war, no more habeas corpus, more Wall St. bailouts, more corporate control of the courts and Congress. We are screwed by our own congressional representatives. How much more of DiFi or Pelosi can we take? About as much as we can take of Lindsy Graham, Mitch McConnell, John Boehner, Limbaugh, O'Riley, Hannity. The American public is uneducated.
It's very clear what's needed right now, and it's raising the consciousness of the bulk of American voters, that Left-Wing ideas and governance will give them a better life. Progressive candidates lose in Red States, so that's not the answer. And you can presspresspress all you want, but if you're not directly counter-acting the Right-Wing Lie Machine, then you're not pushing effectively.
I wish I knew
Emphasize limiting corporate personhood.
it's difficult. progressives have no media
It may be hopeless as the Democratic party is owned lock, stock and barrel by Wall St. If a viable Progressive third party candidate such as Bernie Sanders were to run, he'd have my vote in a heartbeat.
It's a hopeless effort, so I'm dropping out and not participating on any level.
Education. Education. Education. In the schools, online, through churches and youth groups. Wherever people gather. Knowledge and understanding are our best weapons against those who use the 5 second sound-bite and prey on people's fears to lie their way to the top.
Howard Dean's 50-tate strategy
Discredit corporate influence and all politicians who bow to it.
Please, more Occupods. The filthy, smelly, dumb Occupods are perfect to represent the left. They haven't a clue, but they have high self esteem.
I advocate statewide proportional elections as opposed to 53 separate district elections for Members of Congress. If (for example) the Green Party got 2% of the statewide vote for U.S. Congress, then one Green Party candidate gets to serve in U.S. Congress for the State of California. If the Democrats got 61% of the statewide vote, then the Democrats would get 32 (53 x 61% = 32) Members of Congress.
There is no way, since they are a capitalist party, and are just doing what is necessary to prolong the "life" of this system.
Get rid of the moderates, stop supporting the middle class and expose yourself as socialists
CAMPAIGN FUND REFORM. As long as the wealthy 1% can BUY GOVERNMENT, all other efforts are pointless.
We are too stuck in false religious & patriotic bull shit to change....
keep on keepin' on inside, outside, all around the town....
mentor student Democratic Party clubs at ALL public high schools and colleges/universities
Erode the fascist Democratic Party's power base by voting socialist.
Being a Democrat is just another side of the Capitalist Coin
Except I will support an extraordinarily good candidate who has a demonstrable good character and record.
We need to borrow a page from the Christian Right and Occupy the Democratic Party
Build the peoples constituences and link them from the bottom up and everywhere
We have to continue trying to coalesce as one movement (not jumping into Occupy yet, but it has possibilities). We have to continue to raise our opinions with the entire group of electeds.
I support Occupy, various progressive causes. But I'm open to a NEW 3rd party also.
Get rid of blue dog democrats.
Besides continuing the war in Afghanistan to prop up the biggest opium dealer in the world, he has sent the FBI and Grand Juries after leftists trying to meet with Hamas and FARC at international conferences. Any leftist who supports him is collaborating in their own persecution.
Both of the top two choices. I am currently registered as a Democrat. But I have also joined the Green Party without registering as a Green. However I may change my registration depending on what happens.
I thought the Occupy movement might be be the beginning of our move forward, but if they are rejecting electoral politics, they will not have a voice -- that is, unless they resort to rioting and "blood in the streets." All of the first three choices need to be combined to move forward.
Refuse to support those Democrats that have betrayed their constituencies. Support those candidates of whatever party that actually stand up for the aveerage citizen.
No Immigration Reform... no reelection
working both inside and outside: creating an identifiable (has a name) political current that champions a progressive agenda, runs candidates in the primaries, but unites with whom ever wins those prtimaries to defeat the Republicans.
forget moving him forward, like Ralph Nader said" he an Uncle Tom for Wall Street" Vote Green in 2012
Our best strategy is to work on republicans to be more moderate- otherwise we will have no real progress anyway!
Speak up at every opportunity.
united we stand divided we fall
Frankly, it seems hopeless.
create a third party
"Read George Lakoff -- and refuse to use right-wing language.
Elizabeth Warren has done a great job of using progressive language -- and NOT using ultra-right wing-fundamentalist diatribes."
Democratic candidates are accepting the same corporate bribes as the Republicans. We need a third party
Facts are stubborn things
I joined the Green Party when Clinton was President.
Support progressive running for congress
Get the voting siuation corrected so that it is fair and available to all who qualify!