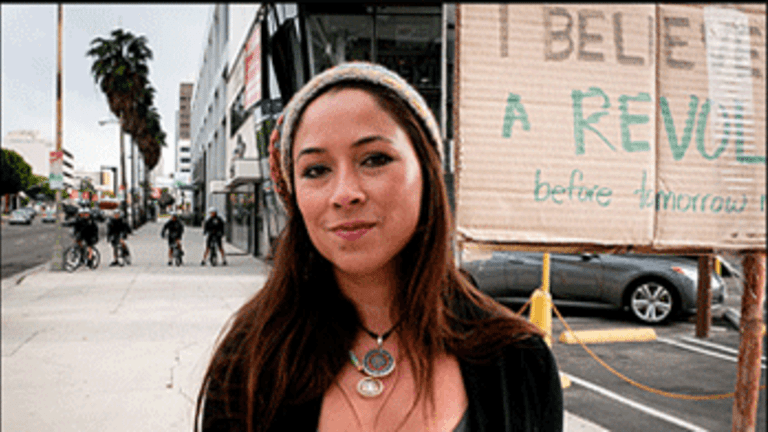 Obama and Leftists Survey -- Question 5
After the November election, how will America look in the coming four years?
Q5 After the November election, how will America look in the coming four years?
Want to be optimistic - so slowly - maybe even with Obama - things will get better.
even worse
It will probably not change very much, sadly.
Dem or Republican, we'll continue on path to fascism (described by Mussolini and the blending of corporate and political power.
I think Obama will win a close election, which initially will mean more gridlock from a rotten, corrupt Republican Party. However, I think things will get so bad that the public will start to wake up to what the GOP is doing to them and we will actually have a chance to start repairing the damage that the forces of conservatism have caused since the 1980s, but only if progressives stay in the Democratiac Party and help force the changes needed.
STILL IN RECOVERY AND ECONOMY OK IF OBAMA WINS
I am hoping for a multi-party America, ending Citizen United, more progressives in elected office. As a life long democrat, I cannot imagine voting for a democrat again for president, nor will I turn to republicans.
Bad. Worse. Probably no matter what happens. Barring miracles. If Obama is re-elected, I believe he'll fight for more BIG Causes and take more progressive risks. deeper in trouble
Depends on who gets elected.
pretty bad no matter who wins
Depends on how much participation there is from progressive voters
I don't have a crystal ball to predict that.
we will still struggle to move out of the economic environment we now find ourselves - it will not be the same a new paridigm will we needed
Depends upon who wins the election. Probably not too good.
We will continue down our path toward a second rate country former great power and join the Myans, and ancient Romans, Eygipions, Spanish,English , Etc. as former great powers.
Economic blight and inflation as the plutocratic corporatocracy continues its stranglehold on our government and our economy. No matter which side wins, things will continue to deteriorate and the discourse will get worse.
better if obama...worse with any republican
I believe ultimately that Obama will win reelection, in part because the country has become so aroused by income disparity and partly because the Republicans have gotten so good at shooting themselves in the foot. With an aroused electorate and his failed efforts at compromise over the past four years, I believe Obama will indeed begin backing more progressive legislation.
Not entirely clear but overall a continuation of whittling down of individual rights and freedoms in favor of Corporations and the wealthy.
Depends who wins the white house
If Obama & Democrats win - fine, given Europe & the Middle East/Iran messes. If Republican gain control - downhill fast.
4th amendment neutralized, business & finance richer, middle class decimated
depends on peoples struggles
Like Hitler's Germany.
It depends on who wins.
Continued stalemate on substantive issues as Republicans se Senate rules to obstruct. If the status quo remains; bank bail outs, 1% paying no taxes, collecting 99% of the profits, cuts to social safety-net, funding foreign wars & adventures, school to prison-pipe line, low-wage jobs, decreased job security, corp. greed, distortion of voting process, widening gap between rich & poor, inaction on climate change, global conflicts d.t. dminishing resources, lack of investment in renewables, etc. etc. etc.!!!
Incrementally better
With Obama... Progress... With Rep s disaster!
The contradictions will continue to heighten, the economy will continue to worsen, and the drive towards war with China will
continue to accelerate whichever party wins.
Probably more of the same
If the Tea Party if finally ejected we will rise from the chaos they have put us in.
Drying up and getting hot.
The empire will fall-as it should, and there wil arise a better, more responsible nation.
Useless speculation divorced from reality
A 3rd world Police state
Making Hitlers Germany look like the pretty Christain Democratic nation he sold it as.
There will be a light at the end of this Tunnel.
Obama for another 4 years, but no change in Wall Street capitalism – which is a disease, and no change in American Imperialism – which is a mistake.
Who knows?
If Dems stay, slightly better; if not--the rapture
We're pretty much messed up politically with the only hope being mass movements and protests to force change.
It depends on who gets elected president.
We can make progress if the Republicans are stopped.
Still divided
I have no clue. Too scary to consider
Inept.
Better
Fearfully wandering with little direction or purpose
hoping for better times
Up the creek, if either the Dems or Repubs win.
worse and worse, especially if Obama gets re-elected.
People slowly getting back towork and the economy improving.
I don't know.
I am not very optimistic about future of US politics. The democratic process has been bought by the one percent. Too many voters buy into the conservative rhetoric, it is creating grid lock in the process.
It depends on who is elected president and the makeup of congress.
Possibly much worse and scarier. More wars unless Ron paul wins
Depends who wins
Depends on the outcome and shift in Congressional balance of power (or not).
If we win .... slightly better. If the GOP wins ... then worse for 20 years. Most likely it will be a split so sort of the same.
Hopefully we will be moving toward a more respectful and compassionate world. Obama is by far the most intelligent, well spoken and compassionate President in recent memory. Former great Presidents did not have nearly the obstacles, the instant media, a unified party of 'no' to deal with, or a sense across our right wing religious citizens that intelligence or real qualifications don't matter. If you want to be elected, money can be produced to make that happen just so they can win on one or two idealogical issues, and to hell with everything and everyone else. People tend to get caught up in the hype of the political scene. They don't seem to understand the 'consequences' of their professed plan of action. It is many times akin to throwing the baby out with the bath water. We certainly have areas of our government and policies ripe for improvement. How we go about it is critical. We must be open to all input, respectful in our public dialog, and willing to compromise in order to make continued positive steps forward. The more we are inclusive of all citizen views and input, the better the product. When it comes time to vote, we will have come to a place of far more common ground, able to vote and move forward as communities, as a country.
live closer to day by day
slow improvement in cuts to defense and redistribution of income
Hope more progressive/ less Republican
With either party, movie toward bigger war and greater fascism.
If WE win, a lot of hard work but daylight at the end of the tunnel; if THEY win, we'll go backwards 50 years and sink even lower Depends on who controls congress
better and growing economically
much the same as in the previous four.
I am hopeful that America will embrace and support the 99%
That will depend on the outcome of the election. If the R's win, we are in serious trouble. If the D's win, I think we can make some remarkable progress in the next 4 years, which we will need to do in order to win again in '16, so that we can finally turn this country around. 4 years, 8 years - that is not enough time. We need to have at the very least 12 good Democratic controlled years to solve this crisis!!,
probably better
Obama will be relected, the House & Senate will be heavily Democratic, no matter how much the Koch Bros. spend, and our country will enjoy a growing economy with a new emphasis on green energy and technologies, as well as ne wConstitutional Amendments getting the money out of politics, a return to the Fairness Doctrine and a breaking up of the mega-monopolies running the world. Colleges and Health Care will be made part of our Social Security System.
grimsly uncertain
Better.
We will determine this by how much non-electoral work we do.
Beginning of increase in Democratic strength
Better
I hope Obama will have nothing to lose so he will really go after the coporate thugs and banksters. We will get Move to Amend passed and begin to reverse the horrible mess we are in. (Hope springs eternal!!)
hopeful if enough Dems win and they stand up against cronyism and Wall Street pandering
Likely more downhill- Obama will be in again, & even both Cong houses Dem, but O will continue to tilt ever more right or wacko, and Dems in Congress & states will still do nothing
Same as now only four years deeper. With fewer rights and fewer social services.
More partisan than ever
I thought everyone knew the rule of thumb: A Democratic President's 1st Term is spent cleaning-up his Republican predecessor's mess, and the 2nd Term is spent making broad bold advances, since there's no pressure to re-elect. But, evidently, everyone forgot this truism because they want everything now now now which is really stupid. For instance, I'm a Medical Cannabis Activist but can you imagine how fast a Republican would be voted President if Obama called for legalizing marijuana? So, in the coming four years, what we need is a huge Blue Wave so we can ignore the obstructionists.
Things will get worse before they get better if ever.
Still a rough road ahead
It depends on who wins. If health care reform and environmental improvements made by Obama stand, we will be a better country than if those measures are reversed.
if obama is elected it will look a whole lot better. if the rethuglicans are elected we can kiss america goodby.
Who could have predicted how America looks now at in the beginning of 2008?
The coming four years will be chaotic and difficult; with a Republican president, they would be disastrous. People need to understand where our country is headed and do their part to be involved. Stop whining and, for those who claim to love their country, do whatever you can to ensure and restore its welfare and freedoms.
I don't see anything improving until a true peoples advocate is allowed to run, and is elected to the white house. Third world country
Like Iraq under Saddam Hussein
Much depends on Obama's reelection, and one may hope that he'll be a bolder president in a second term, now that he realizes how little can be done by way of meeting the GOP halfway. He's already stepped leftward a bit. And much depends on the majorities in Congress and their composition. If there is more of a progressive hue to Congress, they and Obama, with a lot of prodding from the people, can get more done.
It will still be a police state no matter who wins.
depends on who's elected President
We'll see
My prediction: Obama wins, Tea Party defeated, more liberal policies than in the first term.
Third World Country.
If Obama wins, just fine.
if we get back our president and get liberals in
More war
If Obama wins, it will be hanging on by its fingernails until legislation is enacted to help people not profits. If the other guy
gets in, look for an accelerating brain drain to Canada, Europe and Australia as the US devolves into a relgious plutocracy like the
one Heinlein wrote about decades ago.
an even scarier place than it is now if we don't elect folks like Elizabeth Warren and relelect folks like Sherrod Brown.
Lots of PTSD and social problems from vets.
Vice President Clinton will gear up toward 2016 run
If Obama's re-elected, more compromises and muddying of the differences between Democratic and Republican ideas. If he loses, a
lurch to the right and a rebirth of progressive populism in response to it.
If Obama loses, better. If he wins, like a 3rd world country.
Think Germany circa 1932
a disaster no matter which Republican wins (Obama is a Republican)
No meaningful difference. Essentially more of the same.
It depends on who gets elected.
If the Republicans win, it will be worse. If the Dems win probably about the same as it has been, maybe a little better.
A continued fight for the democratic soul of our Nation.
Moving left, I hope.
Better with the re-election of President Obama
That depends on if there is a really broad, radical, human, labor and civil rights movement that grows out of this campaign cycle.
Who knows?
If it's a Republican a lot better
the empire will continue it's spiral into war and economic ruin
If the House Republicans who were roadblocks to American needs are removed, then the economy will be recovering and our freedoms will be more secure
either awful or hideous. There are not good options.
Unknown still too many fundamentalists controlling!
Depends on who wins. Republicans = Bush III = Recession & depression.
not much different except more polarized
messy
chaotic
Hopefully, better if we can elect Obama and more progressives to Congress,
If we elect Obama not so great, cause he is a kind gentle Corporatista, but at least not raped and pillaged like we would be if one of the Republican clownies gets it
If more "true" progressives aren't elected to Congress, we will continue to look at the same picture in Washington.
depends on if we can get Dems out to vote
Much worse than now.
Somewhat better
Not Good
progress over insurmountable odds
Probably more like fascist Japan or Germany, but still worth the fight
We're fucked regardless! Look at the last two Democratic Presidents and you will see the same corporate/ banker friendly agenda . either continuing to slowly crawl out of a hole and quickly returning to a robust war machine and corporatization
If Obama wins Better than if Romney Wins
It is unclear... Or is that murky?
Hungry for progressive change
NO problem,...I have terminal cancer !
I wish I knew!
broke and right wing - either way
Depends on who is elected POTUS.
the same
depressing
continuing wars and more unemployment
not if a repubilcan gets in
worse, unless the Justice Party comes to power
It will depend on the Supreme Court, congress, and the president, in that order.
Worse.
Moving closer and closer to full plutocracy...
I don't know about America, but the United States will grow and improve only after our governing bodies deal with poverty, hunger, schools and universal health care.
No real changes will occur. See Jeffrey Sachs excellent book, THE PRICE OF CIVILIZATION.
The big problems will not get solved without continued pressure from the outside.
Only Obama can save America. We look forward to that.
more aware, awake
Angry, isolationist, greedy, idvidualistic and civilaly unfair
with obama, more war, more insecurity, less education, less food
That depends. Much better if Dems take bake the House, achieve a filibuster proof majority in the Senate, and re-elect Obama. Failing any one of these, more gridlock.
deeply divided
Things are going to get worse before they get better
We will appear to be struggling, even if we were to achieve a Democrat majority House, a 60% Democrat Senate, a continuation of the Obama Presidency, and a hope to replace one of the five conservative Catholic U.S. Supreme Court Justices.
A lot like it does now: like an imperial power full of excess and inequality and under the control of a tiny wealth minority. dismal
Not at all in good shape in either foreign affairs or domestic. But it will be better with Obama than with any Republican like a fascist dictatorship
More struggle - class struggle, economic struggle, etc. We are in a time of change and the right wing is reacting like a cornered scorpion. But we're in for the long haul with a corrupt, evangelicized Supreme Court, morally bankrupt corporate-run government and lack of focus among Democrats. The future looks fuzzy.
Much worse.
Still continued huge gap between the haves and have-nots, too much unemployment, fewer services for poor/needy
Tentatively better.
less treachers, more poor people--more war
Depends on who the president is and which way congress goes, Demorcratic or Republican majority in both houses
Not much different
No one knows.
A continued, slow shift back to the left.
Go and read about Space Solar Power, we are the only country which can do it.
I'm hopeful that Obama will be President and have a WORKING Congress with filibuster-proof, real majorities in both houses! There will be no more blue-dogs like Ben Nelson, etc and no more teabaggers. We can begin REAL CHANGE.
we will have matured into problem solving
It couldn't look worse than it does now.
Not much different.
It depends on the results
Unless things change drastically, it will look like Utopia for corporations and hell on earth for everyday people. we have the chance now to push for the change that Obama promised and failed to deliver with the Occupy Movement, we need to seize it and elect people who will work for the 99%
If people fight for a change, then we have a chance. But if the corporations and big money win, then the country and the middle class are over.
hopefully the economy will get better and Obama will lead us out of a recession.
Just like the militaristic apartheid state that it is
Still a struggle, regardless. If Republicans prevail, total tragedy.
A long, slow climb out of George W/Dick Cheney financial disasters!
Very scary either way it goes
not sure. pretty dire if we don't reelect Obama
more corporate control
Good, but only if Obama wins.
Better. Maybe Obama will stop accommodating the bad guys, or having to.
Much the same as it does now. President Obama will win and most of the left will continue to sleep thinking that Obama will protect them as he continues to strip us all of our civil rights. It hasn't gotten bad enough for the majority yet for them to stand up.
Really bad if GOPers win Congress
Things will keep going to shit unless we break the stranglehold that corporations have on our electoral system. It almost doesn't matter who wins if they're beholden to the same corporate masters!
Back on track, I hope!!!!!!