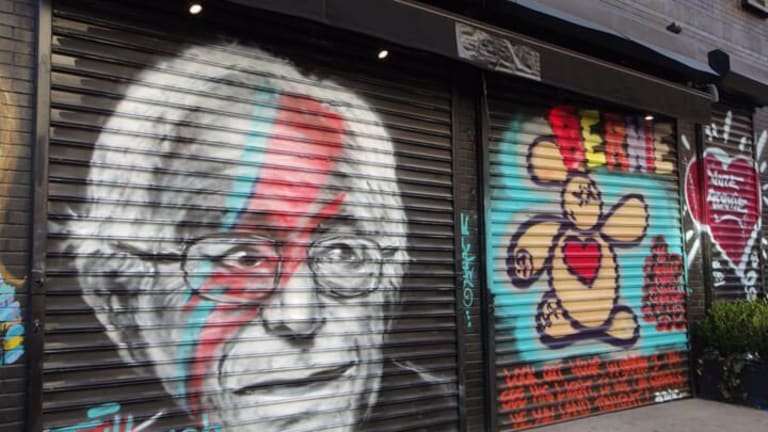 Our Revolution Strikes a Nerve
Dick Price: Rather than building upon existing organizations, Our Revolution launched itself as a brand new organization, just as others are launching Brand New Congress, Brand New City, and Bernie Delegate Network—and no doubt others in the hatchling stage.
With 281 responses and still counting to this week's survey, one thing we know is that LA Progressive readers are deeply interested in the "Our Revolution" launch last Wednesday and what it portends for the current presidential election—and, perhaps more importantly, for the future of progressive political movements.
What is harder to find in the survey-takers comments is where a consensus is forming around this new effort to leverage Bernie's startling successful primary challenge to a candidate who had all but been anointed by party insiders, much of the mainstream media, and battalions of Wall Street plutocrats who virtually own our political process.
Rather than attempt to forge a consensus that clearly isn't there, we'll let you scan through all the many responses yourself, if you wish, while we point out a few lessons learned we took from the effort. The survey results are shown here - Our Revolution 30August16
Why Yet Another Group?
Rather than building upon existing organizations, Our Revolution launched itself as a brand new organization, just as others are launching Brand New Congress, Brand New City, and Bernie Delegate Network—and no doubt others in the hatchling stage.
Said one commenter: "I am concerned that the idea of forming a new group further splinters the left. Why not support existing ones? Why not try uniting with others?"
Indeed, we've already got MoveOn, Progressive Democrats of America, DFA, and scads of others. The effort to start a new organization, even one built on Bernie's inspiring campaign, will be immense. Right out of the gate after launching Our Revolution, younger core staff members departed in protest when Jeff Weaver - Bernie Sanders long time campaign manager - took charge. Those kinds of difficulties in organization building are apparent, though likely not fatal.
In recent memory, the Obama campaign juggernaut attempted to transform the overwhelming, if a bit naïve, support he got from progressives to build Obama for America into Organize for America and then back to Obama for America. Whatever it was called, it always seemed a top-down effort to advance the newly seated president's agenda around a watered-down healthcare reform package and an investor-friendly economic recovery plan, rather than an effort to foment grassroots activism.
But certainly Bernie Sanders sings a different, purer tune—and throughout the survey were expressions of genuine gratitude for his efforts. Possibly an effort to harness the passion that propelled Sanders to such historic heights could be turned into something really good at the grassroots level…
But People Are Impatient
More than a year ago, when Sharon and I had our Internet radio program, right after we joined 27,000 zealous Bernie Sanders supporters at the Los Angeles Sports Arena for a mega rally, our show's producer demanded to know if I was going to vote for Hillary, on-air, repeatedly.
Richard, the producer, could see the Bernie button I was wearing, pinned to my Bernie t-shirt (I would have had a Bernie baseball cap on, too, but my grandmother taught me not to wear a hat indoors). I sputtered that the election was a long, long way off. "If Bernie doesn't get the nomination," I said, "then we'll see. I've got a long time to decide."
Some of the survey responses had the same feeling. Even though there were 2,600 "Our Revolution" house parties around the country with  200,000 Facebook Live viewers—including Sharon and I—and has been viewed another 200,000 times on Youtube, a few respondents found fault with some aspect of the evening's execution and immediately washed their hands of the whole thing.
"Seemed like a lot of fluff. Wondered if they are launching a super PAC. When Bernie didn't give Canova a shout out, I was crushed and taken aback. Turned off after Bernie spoke."
But overall, most participants were either inspired by the event (34%) or generally liked it (also 34%), with only 15% very disappointed.
If you read the entire survey response, you'll find upbeat comments like these sprinkled throughout:
"I had been feeling very depressed about our political outlook given I don't like Clinton at all, but am forced to vote for her to defeat Trump. Attending the event with our local group, Ventura County Activists for Bernie Sanders, renewed my faith that we can effect a difference in our nation."
"Bernie Sanders continued to promote the Progressive Agenda that helped to inspire a new generation of activists. The "Our Revolution" event re-energized some to stay active. This is a positive thing regardless of the staff controversy."
Dark Money a Real Concern
Respondents were generally quite concerned about the effect corporate contributions—so-called "dark money"—will have on Our Revolution. This comment was typical of those concerns:
"This makes movement without difference to HRC and open to intervention by those causing most damage to country. Not compatible with goals."
But others took a longer view:
"We need an organized and effective 3rd choice. I don't know how else a progressive can effect a win without resources. As long as whomever buys in is buying into principles that aren't for sale, take the money. If dark money wants in, shine some light on it. Accept it. Accrue interest while it sits in a review board. And send it back less fees for administrative purposes of there are strings. Sounds like the American way to do business to me."
For me, one of the most profound aspects of Bernie's campaign was his dogged reliance on $27 donations from workaday voters, his refusal to take corporate contributions, and the freedom that stance gave him to attack the plutocrats who have taken such control of our political process.
I've been in the room with elected officials who bemoan the fact that the current electoral system virtually demands that they spend inordinate amounts of their time on the phone or attending events with fat cats who can write big checks in return for something.
And I wager their heads have been turned by what Sanders was able to do with small-dollar donors. Just like the current progressive movement itself, Bernie didn't invent this funding approach but he made it "run smoother than Crisco," as my Uncle Rich would say.
That, and his willingness or courage or whatever to talk about the kind of socialist programs so many Americans want—free college education, Medicare for All—could well alter our elections for years to come and put him in the history books.
Didn't Touch All the Bases
Ending America's endless wars and utter fascination with warfare didn't get a mention. Tim Canova didn't get a nod. Perhaps most importantly, from my perspective, the event was "white, white, white," as one survey-taker said—making it not "feel 'for us, by us' unless you're white." Until progressive movements can bridge that racial gap, they're doomed to fail, frankly.
And just as frankly, there seemed to be an understandable thread of anger and even despair in the comments:
"If Clinton is elected we will see eight more years of business—and War—as usual. I am the eleventh generation to operate my family's Farm here in New England. Since the Democratic Convention ended my Farm has been for sale, and my partner and I are headed for either New Zealand or Canada. Jefferson's and Lincoln's vision of a United States Democracy is over."
As someone elsewhere commented: "For now, though, all is bleak. The crook keeps proving more unabashedly crooked and the flake just keeps getting flakier."
But Wednesday night, for all its faults, was just one night. Faced with current threats, and having a daughter just coming into her prime, I will need to give "Our Revolution" a longer look.
Dick Price, Editor