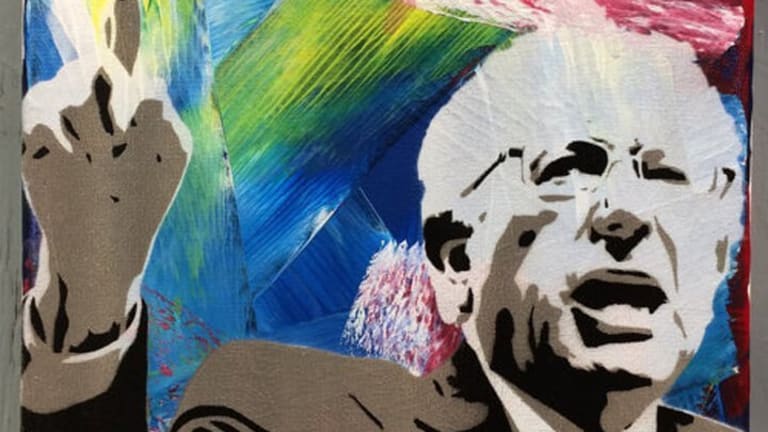 Responses to "Our Revolution" from Survey Respondents-Part I
Gene Rothman: This report examines critical responses from the survey done by the L.A. Progressive on the "Our Revolution" launch by Bernie Sanders on August 24th.
Introduction and Background: This report examines critical responses from the survey done by the L.A. Progressive on the "Our Revolution" launch by Bernie Sanders on August 24th. (A later report will address favorable responses.) A link to the survey is here: Our Revolution—Really?
Which of the following best describes your response to the "Our Revolution" event? (Q3).
Editor's note: Some feedback was received that the survey was seen as biased against "Our Revolution" (OR) due to its over emphasis on the issue of dark money. A sample reply from the survey: "I feel that your so-called "poll" is really push poll. You are more interested in discrediting Our Revolution than finding out what I think." #56. (This number refers to the respondent comment number in the survey cited above.) However, the first survey item above from which these comments are used (N=144) is an open-ended question that was designed precisely to elicit any and all views of those in the sample.
Some critics had a fundamental concern about the OR launch, feeling that the Democratic party and/or Hillary Clinton herself were too corrupt to be redeemable. Similarly, some argued that the OR was created as a vehicle to co-opt the Left to the exclusive benefit of the Democratic Party, rather than to create opportunities to appeal to independents, disaffected Trump supporters, or Green party advocates.
(Five respondents indicated they would vote for Jill Stein of the Green party.)
It also bears noting that four respondents considered the possibility of Sanders being threatened as an explanation for his actions.
Has Bernie been "turned" by a "horses head in his bed" or an "offer he couldn`t refuse?" #68
Data on Responses of Those Rejecting the Democrats
The Democratic Party is Flawed Beyond Repair (8)
Sample Quotation: The Dem/Oligarchy is what it is. It cannot be reformed. I think the "Our Revolution" is meant to be a distraction and holding pen for people who are followers looking for leaders - #1
Cannot Accept Endorsement of Hillary or Bernie giving in to her too much (6)
Sample Quotation: The capitulation at the Dem convention was stunning and unexplained. He left Bernie delegates twisting slowly in the wind. It was a punch to the solar plexus. We need an explanation… #44
"Our Revolution" is a vehicle to co-opt our movement (4)
Sample Quotation: I have reservations that the Dems will co-opt this group whether directly or indirectly. I do NOT trust that info and membership in this group will be kept away from them. #94
#2 General Issues About Event Organization, Vision, and Leadership.
Many respondents commented that the OR launch left them unable to "feel the Bern" due to its presentation and/or the absence of Bernie himself. Above all, there was a sense that a vision was lacking and that there was inadequate clarity about the specific goals and agenda presented by the OR spokespeople. In addition, it was seen by some as duplicating already existing organizations such as MoveOn, Democracy for America, and others.
Sample Quote: I did not think enough time was given at the event for the leaders of the new organization to explain their agenda. #104
#3. Specific Issues and Concerns Related to this Launch
Many respondents were very concerned about a number of specific issues, especially the potential role of "dark money" in the 501c4 in the organizational structure. They were distressed that Florida candidate Tim Canova, who campaigned against their nemesis Debbie Wasserman-Schultz, had not been mentioned. Another issue included mistrust of Jeff Weaver as the leader of OR and the resignation of key staff members from the Bernie campaign prior to the launch. Some also decried the lack of a focus on issues of war and peace, as well as the 'optic 'of three older white males presenting at this event; or, to put it another way, the absence of people of color and youth who represent the future of the nation if there is to be fundamental change.
Potential Misuse of 501c4 (dark money) N= 17
No mention of Tim Canova N=13
Dislike/Mistrust of Jeff Weaver N=11
Issue of War Not Addressed N= 8
Concern over staff resignations N= 6
"All Older White Males" N=4
Conclusion and Interpretation: Going Forward
The data considered here concentrated on concerns and criticisms of the OR launch. A following piece will be devoted in more detail with a focus on favorable views of the launch, as well as suggestions for moving forward.
There are several themes that emerged, even from OR critics, that provide a more positive perspective. First, a struggle for fundamental change is a difficult task that requires a more long-term view.
"…is it really surprising that anything such as "Our Revolution" would be allowed to progress without a hitch?... The oligarchy will not be going quietly. " #21
"We have to be willing to struggle together for as much as we can realistically accomplish, understanding that some things may take longer to achieve… We must be careful not to throw the whole movement under the bus because one person's top concern isn't the first to be addressed." #5
The latter quote also addresses an issue that many recognized as important: the need to keep the movement and its momentum going and to prevent the Left from fracturing. Solidarity, being willing to listen to others and to compromise is going to be essential for continued progress and these concerns were also cited.
Finally, almost 70% of the respondents were either inspired by (34%) or liked (34.4%) the launch, albeit with reservations. Somewhat less than a third were either disappointed (16.4%) or very disappointed (15%). (See Dick Price, "Our Revolution Strikes a Nerve")
In a follow up piece analyzing the individual comments, the focus will be exclusively on positive responses as well as suggestions for how to best move forward.
Gene Rothman
Gene Rothman, D.S.W., L.C.S.W., is a retired social worker who worked with homeless veterans on Skid Row. He now active with interfaith groups and with Clergy and Laity United for Economic Justice (C.L.U.E.) supporting low-wage workers. He is also active with the California National Association of Social Workers (NASW) Social Action/Social Justice Council.