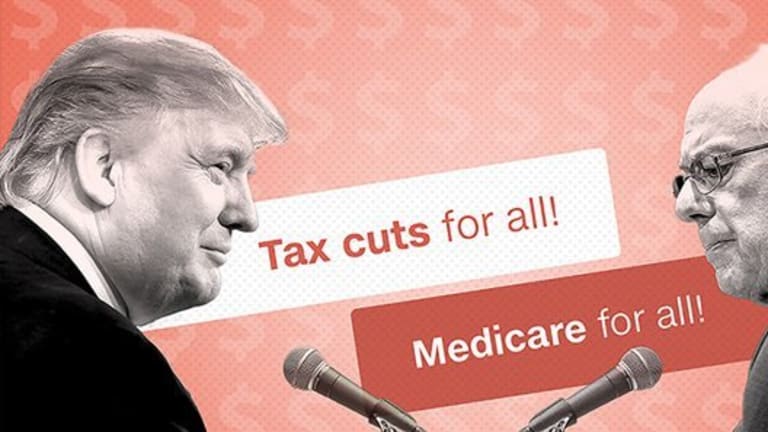 Sanders-Trump Debate — Good Idea? Take the Poll
Trump-Sanders Debate -- Even the mere possibility of a Trump-Sanders debate has electrified the Internet.
Sanders-Trump Debate
Social media has been ablaze with rumors of a possible Trump-Sanders debate. In case you missed it, Donald Trump appeared on Jimmy Kimmel's late night talk show last night. There, he was asked if he'd consider debating Bernie Sanders.
Of course, he answered yes.
Earlier today, staffers in the Trump camp issued statements that seemed to suggest that The Donald might be bailing on the idea, but then later today at a press conference Donald Trump once again stated that he is considering the idea.
In a piece we ran earlier, Seth Abramson wrote:
With whispers of a Trump-Sanders debate growing on the internet, some are saying it could be the Debate of the Century — a brief taste of the only alternative left to a dreary, historically nasty general election between two widely disliked politicians. But would the two candidates now being contemplated for a primetime debate accept, given that one has secured his party's nomination and the other is still in second place in his? Would their respective parties kick up dust over the possibility of a Trump-Sanders debate in a way they did not two months ago?
Even the mere possibility of a Trump-Sanders debate has electrified the Internet.
Over the last 24 hours, Twitter's polling application managed a poll that returned the following results: in response to the query, "Should @FoxNews air a primetime debate between @BernieSanders and @realDonaldTrump, now that Hillary won't go?", 87% of respondents answered "Yes," and 13% answered "No."
So now the LA Progressive is asking its readers to weigh in. We've created a single question survey. Please complete the following survey and then add comments below. We'd love to hear from you. PLEASE SHARE - the social media icons are above Thank you.
[poll id="63"]