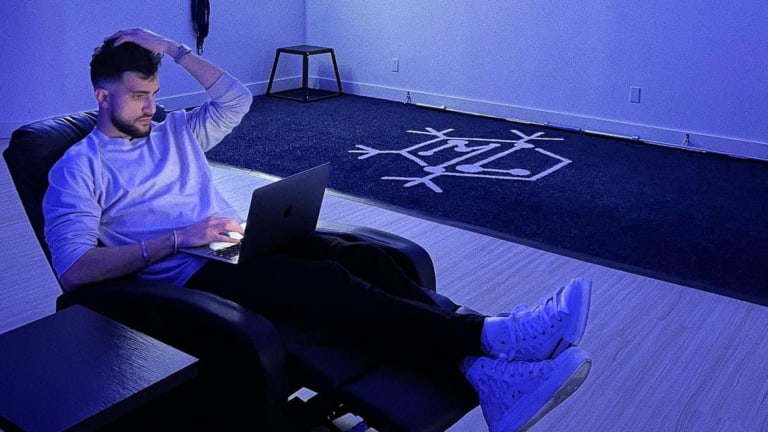 Andy Treys: From Dropout to Dynamo
As good as he was—and as great as he might become—with a basketball, Andy quickly saw that he might even be better at a computer keyboard.
As early as he can remember, Andy Treys had his heart set on making his mark in the National Basketball Association, following in the gilded footsteps of his idol, Los Angeles Laker all-time great, Kobe Bryant. Something of a phenom himself on high school basketball courts, Andy demonstrated early on the drive, discipline, and even skill needed to make that fabulous dream come true. So good was he that one of his full-court buzzer beater shots got featured on ESPN SportsCenter, a feat few prep school athletes can claim.
Growing up in Pasadena—an upscale city of 140,000 a dozen miles up the Arroyo Seco Freeway from downtown Los Angeles—Andy was supported every step of the way by his tight-knit Armenian-American family, which made sure he had everything he would need to be a standout basketball player.
"My dad instilled a hard work ethic in me that carried over from basketball to other areas of my life," Andy says. "I would get trained five, six days a week in the backyard and then I would go inside, open up my computer, and start working on whatever I was building at the time, whether it was a new website or app."
To give his son an extra boost, Andy's dad converted the family's entire backyard into a full-scale basketball court, complete with a shooting machine that rebounds for shooters—something college teams then were only just beginning to get. "I had everything I needed to thrive and it showed," Andy says.
While honing his own skills on the court, Andy followed his beloved NBA team with a passion. "I never missed a game and would cry when the Lakers would lose."
Andy focused intently on Bryant, the Lakers extraordinary shooting guard, who had adopted the nickname "Black Mamba" in leading the Lakers to five NBA championships.
With his dad's help, Andy even managed to meet his idol at the second year of the Kobe Camp, held up the coast in Santa Barbara.
Unfortunately, he got his heart broken for a moment there when Kobe was picking players for a demonstration and turned to Andy, saying, "I didn't pick you. Sit your ass down."
But being the take-no-prisoners Armenian woman she is, Andy's mom soon read Kobe the riot act, telling him, "You know, you really hurt my son." Regretting his flippant remark, the 18-time NBA All Star apologized and offered to make it up to Andy by putting him in another demonstration the next day. And even if Bryant mistakenly picked Andy's lookalike best friend—another Armenian kid with a big Afro sitting nearby—Andy was thrilled by the interaction, especially after Kobe made time to meet Andy later.
"Kobe Bryant meant the world to me," says Treys. "Anyone who knows me can tell you that."
But as much as he admired the Lakers, idolized Kobe, and dreamed of hitting buzzer beaters in prime time, Andy was also conflicted. As good as he was—and as great as he might become—with a basketball, Andy quickly saw that he might even be better at a computer keyboard.
As a youngster, when he wasn't in the backyard perfecting his jump shot, Andy would be inside developing apps and creating communities on his computer. Andy always knew he had a special flair for creating inner circles and expanding the global influence of others as he cultivated and grew niche social media networks via Ning, the world's largest community-building platform.
Through high school, Andy had been able to balance his two great passions, bouncing from court to keyboard and back again. But operating at the highest levels in both athletics and computing requires a singular focus—and Andy had two. Something had to give.
At his second college and two years into his career as a student-athlete, Andy had to face a harsh reality.
"I needed to decide if I wanted to be a student athlete or get a head start on creating a social media empire," Andy says. "It was either attend meetings in New York or show up for calculus class."
Calculus lost.
"Everyone told me that it would be the biggest mistake of my life and I would be considered a failure," he reports. "The decision to drop out was not easy."
Andy quickly showed his detractors—and the world—how wrong they were. In 2016, shortly after leaving school, Andy grew his social media empire to an astounding 300 million followers, soon afterwards launching Getmefamous, a social media agency that stitches together a network of influencers, athletes, and celebrities—including well-known partnerships with Alissa Violet and Bella Thorne.
Andy was more than on his way, with bigger leaps ahead.
With Vatche Ourishian, Andy founded Muscle Lab in hometown Pasadena, a recovery and wellness lounge that leverages Andy's marketing expertise with his partner's health community knowledge. Quickly transforming itself into a celebrity hotspot, Muscle Lab attracted such Hollywood darlings as Zedd, ASAP Ferg, DJ Mustard, Carnage, Ben Simmons, Harry Jowsey, Jake Paul, and Oscar De La Hoya.
Seeing yet another opportunity, Andy dove next into the NFT world, launching Cereal Club, an NFT collection with 10,000 unique cereal bowls, each with its own unique flavor and attributes, which sold out within 24 hours at public auction. The Cereal Club Twitter page already has 140,000 followers. As part of those developments, Andy also acquired Cereal.com and the physical AR- and Web3-integrated Cereal line.
So popular is this latest venture that Kim Kardasian teased on Twitter that she might come out with her own dedicated cereal bowl.
How's that for a slam dunk?