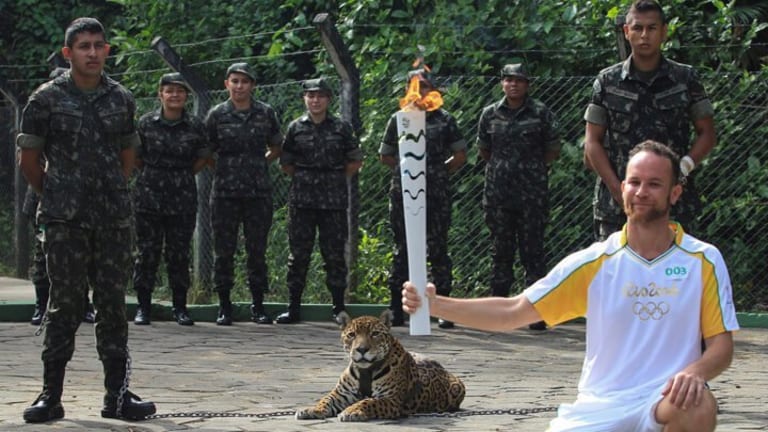 The Effing Olympics Kills People, Crumbles Hope, Immolates Social Contracts
Paul Haeder: Make no bones about it, the 92 percent of the world's wealth is held by 20 percent of folk, and a few hundred billionaires in that group have sucked the futures of humanity with controlling 40 percent of the take.
When It Comes to Framing How Quickly the Ship of Green Fools are Sinking the World
This is part two of my greenwashing piece that was looked at, commented upon, but never accepted for publication in a book geared for college students to think outside the box, question the vanguard, doubt the "next new thing," in this case, the Point One Percent and One Percent scarfing up more and more of their corporate welfare checks from us, the world, the people.
Imagine the pricks with the absurd shit-storm idea about Google Glass or Google Car. These are white, Spielberg-bred trash who have as much power to effect social change for the good as a Bezos Amazon dot com prick and those dildos and shade-tree mochas drone-delivered to the pathetic balconies of the One Percent and 10 percenters.
Make no bones about it, the 92 percent of the world's wealth is held by 20 percent of folk, and a few hundred billionaires in that group have sucked the futures of humanity with controlling 40 percent of the take.
Makes Tarump look small time and multimillionaire Clintons look like Sam's Club gawkers (shit, they are, they are, I forget they both are on the board of Walmart).
Emblematic of how warped and perverted humanity has become, how twisted our Consumopithecus Sapiens has evolved into, is the daily nano-second by nano-second crap that defines the elite, bourgeois, the rulers and the supplicants. The billions upon billions of money thrown at the one percent, the developers, the networks, the suppliers, all those shimsham artists who are of the corporate and business class.
So, this Super Bowl/World Cup Hollywood crap spills into the torch run at Rio. The Israeli-American bred army shoot and kills a jaguar the putzes used to bring on the Rip-Off-Olympics?
This is the sickness of the times, of the times...
For some coverage of the insanity of the One Percenters Olympics, go no further than Counterpunch.
Or read Dave Zirin's book, here, something from the Nation:
Rio has had 77,000 people internally displaced since they were granted the Olympics in 2009. The most high-profile evictions went down mere yards from the Olympics in the community of Vila Autódromo, which only this week finished evicting the last holdouts. As I have met many of the families of Vila Autódromo who have faced down violence and heard their stories, I find that first line by Bach to be borderline obscene.
Read it again: "These refugees have no home, no team, no flag, no national anthem. We will offer them a home in the Olympic Village." A temporary home is offered for 10 people, while hundreds of families are displaced from their actual homes. The stories from Vila Autódromo may not inspire journalists in the same way, but they are no less harrowing: accounts of elderly people being threatened, doors knocked down by police with guns drawn, and neighbors severed from one another. It's not a feel-good story, but the villagers' bravery is no less a testament to the human spirit, and you better believe it is an Olympic story.
I will never forget meeting Sandra in May. One of the few who refused to be be bullied or bought off, Sandra said that she was holding out because "it's important to have a place for working people to live in Rio." She then said, "They should give out Olympic medals for taking people from their homes."
We all have heard the phrases "greenwashing" when a company or government hostile to environmental issues puts up a phony front to win undeserved public support. I don't know if "refugee-washing" is a word but maybe it should be.
His latest is, Brazil's Dance with the Devil: The World Cup, The Olympics, and the Struggle for Democracy Paperback – May 27, 2014
Dog-Eat-Dog in a Big Pond with Piranhas
Survival of the fittest, dressed in a new edgy emperor's clothes, Urban Outfitters and Doc Martins. We know that "20th century thinkers such as Friedrich Hayek, Ludwig von Mises, Milton Friedman and Ayn Rand expanded on and popularized Spencer's ideas, while politicians such as Ronald Reagan and Margaret Thatcher enacted them into law" (Wikipedia). These are people like Schultz of Starbucks who play all sides of the table to get anyone and everyone to saddle up to his Frappuccino bar.
To make my point on the new Turks and how they pencil in creative class and pencil out working class, I look at Richard Florida as one of many, considered gurus in some circles. He and his wife Rana Florida advise organizations, corporations, agencies, even governments (translated: high-paid speaking tours, leading charrettes, mouse-and-microphone high-tech presentations concerning, namely, all these movers and shakers' bottom line, profit over people). Outfits like BMW, Air Canada, IBM, Genetech, even Southwest Ohio Council on Higher Education. I bring him up only because his creative class and exceptionalist strategies and prognostications have infected many in the sustainability field, many in planning, and while most don't buy totally his holographic propositions, many still see the creative class, or knowledge worker, or high tech Coder-Engineer as the salvation for city life, and I include many I've talked with in Vancouver and associated with the Sustainable Leadership Institute who think High Tech is the natural replacement for work, for city life.
Michael Crawford, philosopher and motorcycle mechanic, tackles this knowledge worker mentality that is driving cities and pushing out the people who work with their hands and brains, shunting them into suburbs without adequate public transportation while their lives and children's lives are spent commuting from job to job to make ends meet, in order to feed the lifestyles of the knowledge worker and Coder and their managers and CEOs. His book, Shop Class as Soul Craft: An Inquiry into the Value of Work (2010) is in line with what Wendell Berry sees as the "17 Rules for a Sustainable Economy."
Crawford:
The degradation of work in the last century is often tied to the evils of technology in one way or another. And it is certainly true that "technical progress has multiplied the number of simplified jobs," as one French sociologist wrote in the 1950s. This writer pointed out a resemblance between the Soviet bloc and the Western bloc with regard to work; both rival civilizations were developing "that separation between planning and execution which seems to be in our day a common denominator linking all industrial societies together."
Yet while technology plays a role in facilitating this separation of planning and execution, the basic logic that drives the separation rests not on technological progress, but rather on a certain mode of economic relations, as Harry Braverman has shown in his masterpiece of economic reflection, Labor and Monopoly Capital: The Degradation of Work in the Twentieth Century.
Braverman was an avowed Marxist, writing in 1974. With the Cold War now safely decided, we may consider anew, without defensive ire, the Marxian account of alienated labor. Braverman gives a richly descriptive account of the degradation of many different kinds of work. In doing so, he offers nothing less than an explanation of why we are getting more stupid with every passing year — which is to say, the degradation of work is ultimately a cognitive matter.
This Coder and Computer Engineering mentality has created false thinking, or magical thinking, and the architecture and land use planning emanating these people who are now front and center tied to planning departments and planning consultancies reflect that sort of aspiration for everything to be easily managed, designed and built into a Sim City sort of way.
Here, Chris Williams points out sort of the root of the problem I see manifesting this unsustainable thinking tied to fancy buildings, big pots of money going to entrepreneurs, all financed and backed by the marionettes of Transnational Financiers or Capitalists. However, he does this through the auspices of the environmental movement and its lack of social justice framing – again this denigration around culture, class, race:
Williams: They fear antagonizing their funding sources and losing millions of dollars, should they become associated with more radical ideas, ones that center on discussing the nature of capitalism itself and the relationship between our economic and social system to the ecological and climate crisis. A fearful prospect which threatens not only specific tactics, but their entire raison d'être.
 Invoking the word justice, as activists of color did when they formed organizations in the late 1970s and early '80s focused on environmental justice to tackle virulent and pervasive institutionalized environmental racism, this debate actually goes back, as Naomi Klein referenced, to controversies that first emerged with the rise to prominence of the modern US environmental movement in the late 1960s.
 The movement effectively split; on one side, a predominantly white mainstream movement which dismissed or downplayed questions of race, class or gender and chiefly focused on wilderness issues, preservation and conservation. On the other, a more localized, more often than not African-American-led environmental justice movement focused on the human environment affected by environmental racism, poverty and inequality in urban and rural settings. Rather than being able to work in partnership with the power structure, the concept of justice implies a power relationship and opposing sides with distinct interests.
Meanwhile, it's coming to America's home theaters and smart phones this new messaging – for instance, how the US Air Force is working on algae-based (young fossil fuel, har-har) research for their fleets, or how the US Army is coming up with a lead-free bullet to "save money and the environment" (Hallelujah, no more lead leaking into the rivers and waterways they, err, we bomb). Or, get this, the Environmental Protection Agency awards all these Climate Leadership Awards to the CocaCola's of the world and, of course, to the new green drone-ready Raytheon. Read: "Raytheon, a diverse company now as the world's premier missile maker, providing defensive and offensive weapons for air, land, sea and space."
In presenting the award, EPA chief Gina McCarthy said:
"Our Climate Leadership Award winners are leading by example with their outstanding actions to reduce carbon pollution…These organizations are tacklingthe challenge of climate change with practical, common-sense, and cost-saving solutions to improve efficiency and cut waste."
You can't make this up, as we see oh the socially-just, socially-responsible good citizens and just grand arbitrators of human decency in this EPA awards group for 2012 and 2013 (sarcasm emphasized):
Boulder County, Colorado City of Austin, Texas
Intel Corporation Port of San Diego
Sonoma County Water Agency Cisco Systems, Inc.
IBM San Diego Gas & Electric Co.
Abbott CSX Transportation, Inc.
Limited Brands, Inc. Office Depot
Raytheon Company Staples, Inc.
Tiffany & Co. Turner Construction Company
Bank of America Lockheed Martin Corporation
Science Applications International Corporation (SAIC)
SC Johnson & Son, Inc. Wells Fargo & Company
Campbell Soup Company Casella Waste Systems
Conservation Services Group Cummins Inc.
Fairchild Semiconductor Genzyme
Hasbro Intel Corporation
International Paper SC Johnson
Avaya Bentley Prince Street
Campbell Soup Company Ford Motor Company
Gap Inc. Ingersoll Rand
Yep, just fabulous, gals and gals and CEOs and socially-responsible investments for one and all. Do an internet search on these groups and see where the money trail leads you. That intersection of class, culture and race, uh, around their projects?
Birds of a Feather
With those two talismans firmly in my palms, figuratively – ecopornography and sado-monetarism – I went into the classroom and along the field trips with an open heart and mind at the UBC Summer Sustainability Leadership course.
The two big birds (above) that were icons for the televised portion of the Olympics stick out here at Southeast False Creek, the site of the Vancouver Olympic Village, which is a LEED-certified Platinum neighborhood, the largest in North America. The developers and City of Vancouver are trying to sell this place to a "build-out" of 16,000 people, with 250 affordable housing units.
That ornithological public art-commissioned for the 2010 Olympics and Paralympics- speaks volumes about the state of the planet, the current spin and marketing around sustainability, and the role cities have in capping greenhouse emissions. More importantly, bird statues speak to the balancing of needs of the majority struggling citizens with the economic machinations of movers and shakers playing ball with the captains of industry. These captains are Fortune 500 companies, and the inside track of organizations like the US Chamber of Commerce and the American Legislative Exchange Council (ALEC).
Green is in, but green washing reigns, or that's as nice as I can put it in an academic collection. Friend and colleague, James Howard Kunstler (1994; 2005) of Geography of Nowhere fame, and with a much more doomsday-esque book, The Long Emergency, puts it this way:
"We have an awful lot to sort out about our future living arrangements. Since the changes we face are so severe, including an economy that has to contract massively and all the systems that have to be reconfigured – food production, commerce, transportation, etc. I don't think the extent of these changes are even dimly comprehended. The 'green' campaign has largely become a money-grubbing project based on extremely unrealistic wishful thinking about technology, along with a sort of therapy campaign to make us feel better."
When I talked with Kunstler, he was working on a new book, centered around the theme of wishful thinking and technology—Too Much Magic: Wishful Thinking, Technology, and the Fate of the Nation (2012). The title says it all, and luckily the Naomi Kleins and Chris Williamses of the world discuss much about this magical and delusional thinking.
In many ways, Vancouver and other cities given the six rings of the Olympic committee are in a sense full of magical thinkers, privatizing the profits and socializing the costs of that sort of ethos and financing schema. We all know about the Olympics, and how that massive infusion of public funds and continuous eminent domain and displacement of people is a planner's and mayor's and banker's and architect's and engineer's dream. Pat Hartman discusses this in a piece on House the Homeless web site:
Hartman: The "Olympic effect" is notoriously destructive. In any city preparing to host a major event, old neighborhoods are obliterated and people are displaced. Less than 10 years after the Democratic Convention, the poor of Atlanta were hit again as the city geared up for the 1996 games. About 30,000 residents were displaced by construction work. In an Olympics-ready city, what isn't torn down increases in value, as landlords evict longtime tenants to make room for wealthy visitors. And, of course, the people who were already homeless before all this started have to be dealt with.
Planned extinction of classes of people.
Vancouver artist Myfanwy MacLeod's "The Birds" has been shaped by this city's focus on sustainability. While Alfred Hitchcock would have gotten the pun, her work needs some explication to the average tourist or native.
The beauty of birds (European sparrows) here in Olympic Village masks their very threat to the biodiversity of the Canadian nation's variety of unique biodomes.
Eight pairs were first released in the spring of 1851 on this continent, in Brooklyn, New York. They are one of the most common birds on this continent, though the European starling, 60 of which were introduced (again in New York, Central Park) in 1890, is coming on strong as a non-native species interloper.
"My work for the Olympic Village tries to infuse the ordinary and commonplace sparrow with a touch of the ridiculous and the sublime. The Birds is a pair of sparrows (male and a female) that, through their large scale – they stand 18 feet tall (5.5 meters) – inverts the normal relationship existing between these typically small birds and the human population," MacLeod states.
Her goal is to engender a "great sense of shared responsibility and caring," and at one level that ethos is almost lost in the sustainability movement many world cities are undertaking.
Community Building 101
My role at the Sustainability Leadership class is to take the pulse of a province, city and university known as the most advanced green and greening places on earth. I go in looking for a chance to frame the concept called "green washing," or sustainability lite, as Judy Layzer from the urban planning program at MIT has coined it throughout her work.
I find out quickly that many of the leaders in sustainable city movements, across Canada and in the USA, duck the really tough questions easily posed by a critical thinker, by a planner, and seasoned journalist, no less:
Don't we have to "do" deep sustainability at the municipal and regional levels to truly affect change?
How has the planning profession helped move away from real sustainability and promote greenwashing.
If the poor have no safety nets and the middle class is being decimated and communities rich with diverse groups become gentrified because of the high-end so-called green, transportation-oriented and densifying retrofits of once engaging, broadly egalitarian 'hoods and inner cities, what is the point of LEED Platinum-certified communities?
There are many superficial fixes called for in Sustainability Action Plans or Peak Oil Resiliency readiness drills cities have already adopted. Every city has a Cool Cities dust-collecting plan, and many use urban design tweaks to gain interest in DEVELOPMENT, which many call green or sustainable, but they have zero connection to people – people of varying colors, ethnicities, ages, mobilities, and, of course, economic levels. The city of San Francisco and others like Seattle are examples of the new Titans, the youngish Turks of Technology, the Coders, coming into town – err, moe specifically, Intel, Google or Amazon – and scarfing up property, bulldozing not just the charm of old neighborhoods, but razing and burning cultures and displacing and moving out communities of color and diverse ethnicities.
Here's what columnist for the soon-to-be-dead San Francico Chronicle says about his native city, and the prospect of the Googlization of Silicon Valley, specifically these future inhabitants of 22,000 high-priced apartments under construction:
Chronicle: "These new apartment dwellers will all be new San Franciscans, with different values. In a couple of years we'll think of the progressive politicians, circa 2012, as quaint antiques, like the old waterfront Commies your grandfather used to worry about. This is already a high-tech city, an expensive city, a city where middle-class families can't afford to live. It is a city where the African American population has dropped precipitously, where the Latino Mission District is gentrifying more every day. You think it's expensive here now? Just you wait. These are the good old days, but it won't last. We are at a tipping point."
I knew that attacking sacred cows like Amazon, Walmart (it's a green company, whoopee) and Google (Sergey Brin, founder of the spying agency, err, Google-YouTube-Motorola-Maps'r Us, should be brought up on global charges, and put in the San Francisco's public blocks – except there is no city center anymore to throw rotten tomatoes at his gleeful billionaire's face) would be one of my rhetorical tools in my planner's tool chest, but I never realized that the 40 or so participants as summer fellows would be so, what, bamboozled, and way low on the learning curve around all things sustainability-lite/sustainability-inequitable.
Vancouver, the city, is not that impressive in the overall scheme of things, and it's a playground for the rich, famous and the ones scratching to get part of the limited pie. The following should be graffiti scrawled outside every planning commission, inside every city and county boardroom, on all the on-line Mission Statements for all chapters of the chamber of commerce:
Baby steps are the best steps for transforming a city – incremental change is in, massive Apollo and Marshall Programs for the Poor, the Environment, for People Other than the One Percent, well, never worked, never will. Just give the financiers and big developers and paving and framing and cement lobbies the mullah.
I beg to differ, and my credo in response to my own planning professors in a graduate urban planning program who think "baby steps is all we can do to change politics and people" is simply: "Baby steps are for infants, crawlers, the drooling, diaper-laden rug rats that are so-so cute in their pinafores and cribs."
Boy, are there lots of babies and babes in the woods around goofy sustainability policies, big and small.
"Local policies such as plastic bag bans, restricting lawn watering and tree-planting must be evaluated to judge their actual outcomes in terms of reducing greenhouse gas emissions and improving the quality of city life," Anthony Flint, director of public affairs at the Lincoln Institute of Land Policy, tells me after I attended and graduated from the Summer Institute.
"Metropolitan regions also need to be guided through the maze of grants, rebates and tax credits available for renewable energy and energy efficiency projects. In the midst of the current economic tumult, green leases and green loan documents will become central to development financing, requiring sure-footed modeling that shows the savings of going green over the long term," he continues.
Chicago's doing it, and so is Phoenix (how many people have said that place should have never been settled by white man's culture?). So has the Emerald City, Seattle, embraced it (oh, blue city, but not the friend of people of "color" or working class classes). Rough and tumble Portland also leads the pack (jumping through the hoops of the IT Kings and Queens and absolutely a testament to youth with graduate degrees pulling shots of fair trade coffee and living the four-people-to-an-efficiency high life). Many cities on earth it seems are on the bandwagon: Tearing down old buildings and putting up new-fangled green dreams, the silver, gold, platinum and beyond platinum of the Leadership in Energy and Environmental Design architecture administrated through the US Green Building Council. And, well, the schools get shuttered and the middle class, well, sayonara.
But there are nifty trolleys and mid-rise condos at a half a million a pop for 1,100 square feet of Zip Car living. Our mayors, city councils and those backroom dealers direct the police forces to play it heavy with panhandlers, transients, migrants, people of color, youth hanging out too late or at the wrong New Urbanist corner. These towns have some of the toughest, meanest police departments, some of which have the feds investigating abuse and police killings. With their green-washing mayors in full support of the police.
Sound familiar? National Guardsmen shooting down tobacco growers or hard rock miners in the name of protecting the cartels, or monopolies?
Who in their right mind would think green points – remember Green Stamps? – are the answer to global warming?
"All rating systems are flawed and completely depend on the assumptions and inputs used to get the output. And once you have them, what do they really tell us?" asks Mike Lydon, CNU-A Principal for the Street Plans Collaborative and Tactical Urbanism proponent, while speaking with me.
"Take LEED, for example," Lydon presses. "The new urbanists and other like-minded people helped awaken the world to the fact that a LEED Platinum building is really not as great an accomplishment as a fully walkable, transit served neighborhood. So, while we can rate buildings, it's critically important to look holistically at their context and how people access them."
How do these buildings perform? Joseph Lstiburek in the Journal of the American Society of Heating, Refrigerating and Air-Conditioning Engineers calls to task architects and engineers who go after the platinum-brass ring imbedded in those LEED "points." He calls these "green motives" that have little to do with long-term energy savings. Some of these designs absorb more energy.
Henry Gifford, owner of Gifford Fuel Saving, has hands on experience with buildings and their energy systems. He makes money helping people save money on fuel. In March 2008, Gifford tore through the veneer of some sustainability claims by the USGBC, showing that the energy performance claims of the buildings USGBC are certifying as "green" are empty or overreaching. He's now suing USGBC on its LEED scoring.
A much larger question grows out of this sustainability and green washing discourse:
What is a sustainable city anyways?
"Cities are at their core consumptive networks," Todd Reisz, an architect and writer currently focusing on the cities of the Persian Gulf region, from both historical and contemporary perspectives, explains. "They consume the most energy, not only in terms of fuels but also in terms of food, and natural and manufactured materials."
It's clear that off-shoring carbon (emissions, AKA Global Greenhouse Gases) is a common practice in the US, Canada and Germany, and oh how the politicians and grand masters of sustainable design tout those "drops in total carbon dioxide burning" when the mega-ships made in Korea – now so big they can hold 9,000 containers we see pulled across America by 18-wheelers – head to China for the American consumer pipeline.
Forget about embedded energy. Think about the energy to move the junk across land and ocean and land. Then, think about the human toil, the economic hardships, the environmental Hiroshimas (oh, Fukushima Daihatsu was all about, what – electricity for manufacturing of goods for that blood, sweat and tears pipeline of consumer goods for US markets?) created by all that manufacturing for the" story of all that stuff" the West uses and now developing countries are coveting.
Manufacturing has left great old cities, and large commercial and resident swaths are taking over many American cities. "Suddenly cities seem cleaner," Reisz tells me. "We now talk about them as centers of culture when all anyone wanted to do was leave them in the previous century. Manufacturing and other unappealing uses have been moved elsewhere, either to an industrial park beyond the public's eye or to another continent altogether. When making those rankings do the calculators include the CO2 emissions required to manufacture that city's computers in China . . . the energy required to grow its bananas in Costa Rica?"
The bananas, right. What about that banana monoculture monotony, the mind-numbing labor for people who once lived and worked off the land, rather sustainably? And the pesticides used in banana growing? New studies show caimans, the alligator-like amphibian in our neck of the jungle down river from the Chiquita and Dole banana plantations are sick.
What about the people and all that bioaccumulated toxins?
Kunstler calls this movement's leaders the "green skyscraper gang" in an "Age of Narcissistic Techno Gadgetry." Steve Mouzon calls this the Thermostat Age. Paul Crutzen calls this the "Age of Anthropocene."
Lydon continues: "You see green washing everywhere, across all sectors of the economy. In some way, it's somewhat encouraging to see toilet paper coming without cardboard rolls and water bottles with thinner plastic, but it's just so far removed from the larger systemic problems that aren't being addressed across sectors and industries."
Many planners, analysts and thinkers I speak with bring up architect and designer Steve Mouzon who has defined what real sustainability means in the built and natural environment. His book, The Original Green, is a must read, and in it he coins the term "gizmo green." This is a case in point – relying on technological solutions to our global warming crisis.
"Again, we need to make places worth caring deeply about, and that require far more than aggregating net zero building, bullet trains, or bike lanes. Indeed, a million net zero homes that require their inhabitants to drive 30 miles a day probably aren't as ecological as a million homes that aren't net zero, but which are in places that don't require driving," Lydon continues.
So, how can we in this sustainability movement start looking at sustainability on a much more holistic socially just and deep ecological frame? One leader does not skirt this question:
"This is a good question and a challenge," says Moura Quayle, former chair of Vancouver's Urban Landscape Task Force, which gave birth to the city's Greenways program. "We are facing it in Vancouver as we talk 'greenest city' and mean much more than environmental sustainability. At the Greenest City Action Team table we talked a lot about how social/cultural fit into the concept of 'green.' My take on this is that we are making progress. It isn't perfect. I think we are in the process of redefining 'green' to mean much more than environment. Perhaps I am just old -- but I was trying to save the world in 1970-74 when I was in landscape architecture school. It was so frustrating that people just didn't get the environmental issues -- never mind the social ones. So for me, with that benefit of time, we are finally making some progress."
Ahh, Moura is like many in the academic realm – there is a thesis, a probability, a mythically well-designed proposition about what a "social-cultural-poverty component" in a large sustainability plan or vision should be, but practice and political expediency go out the window.
Even in her midst, at these tables set up with all the gluten-free option snacks and all the local garden food, her own Canadians (I was the only US citizen in the program) play nice, even those who came to me during breaks and lager sessions complaining about the lack of forethought, money and attention to poverty issues in their Province's cities.
The planning and architectural professionals are just way too beholding to the money, the schemers and the developers. Of course, rich people want plug-ins for their Priuses and low flow toilets installed in their five-bathroom bungalows. Of course they want xeriscaped sidewalk swales and politically-correct, err, biologically-appropriate lawns, trees and landscaping forbs and flowers.
Here's something ironic and pretty headline gathering in a Huffington Post kind of way: Vancouver had these high tech, low hydrocarbon-emitting street sweepers, all nifty and primed for great green awards, but in some parts of the city, where drug addicts struggle to find shelter and fixes, the needles actually clogged the machines. So, a high-tech and expensive machine designed to get rid of more labor failed, and the city had to deploy human labor to deal with the needles.
So many in the sustainability field are sell-outs, and they scoff at any criticism of them around the great sucking sound of lost jobs, lost souls, and the withering heart of communities – people of color (odd term, to be sure) and diverse people outside the new normal: white male Coders and IT professionals and male and female middle managers of the computer planning fields.
Part Three – Coming up.
Note: As is the case in Terminal Velocity – A Man Lost of Tribe, the going gets tough, and the tough get skedaddling. I am trying to frame my life around the very lives and cultural morass that has pigeonholed me as too this, too that, and not-enough-of this/that. Daily, I am stuck in PC hell, sad cases of men and women totally blanked out, totally dead to the real solutions to this planet's steam engine into genocide – America-Israel-Australia-Europe collusions. I am overqualified for everything I now get as a wage slaver, and my precarious nature is ever-more apparent as I run into people who think that all human and civil rights are checked at the door when working, especially in non-profits profitting from the very ugly but real process of Poverty Pimping. The blight of human thought in Western society (sic)/ civilization (sic) is perpetuated daily by the inbreeding of the echo chambers of Capital-Marketing-Privatizing-Dumbdowning-Genocide. The Green is the New Black as Orange is the New Dead!
I am writing about the prison population, for my magazine gig: how Legal Financial Obligations are killing people, pushing them into homelessness, running them into the dead-end job market of $12 an hour warehousing. Count that 100,000,000 Americans wrangled somehow by LFOs and prison experience and jail time and arrest records. These Green Effetes have no idea what this all means to their green Soylent Green solution of killing anything but what they consider human in their own eyes.
And, what way to end this chapter in a topsy-turvy autobiography/anti-memoir, is to cite my friend, John Steppling, from Hollywood to Norway, and a whole lot of corners and alleys back:
John: The mass culture of culture industry for Adorno and Horkheimer was clearly a creation of the owners of the cultural apparatus. The audience were the object of marketing schemes and testing and manipulation. But even so, there remained the residue of dissent and disruptive thought. I continue to return to the current electoral spectacle because it has been a period of revealing, rather than hiding. The liberal white bourgeoisie …as Jutel in his brief very good essay cites…is suffering a kind of sickness, a libidinal lack, that demands a sense of participation in the spectacle. Except they know well that have no role to play beyond voting. And this is segues in terms of psychological need, with the new Malthusian Greens who hysterically raise the evil of overpopulation. The longing for lost control and administration is expressed by a need to control the reproductive capacities of the global poor. The African and Asian and Latin American countries who disobey, tacitly, by having too many babies. This exterminationist dream is disguised under pseudo scientific graphs and statistical analysis. The carrying capacity of earth is at the breaking point, etc. etc. etc. The very language of the new colonialist greens is one of pop psychology mixed with TED Talks and business school. The criticism of Adorno and Horkheimer is often quite telling in that they are sited for excessive negativity. And such criticism is itself an expression of the same libidinal lack that Jutel notes. This false optimism is one that self congratulates for its sober science based reason. The same reason that is used to justify sanctions against Iraq that killed millions of children. Maddie Albright famously said it was worth it. What she meant was that the calculus was correct. Suffering is incidental to calculus. Albright, and the rest of the US administration, were not being anything but optimistic. The green insistence on over population is a disguised desire for sterility masked as a love of Mother Nature.
"America is about to choose a president from the two most unpopular politicians in modern history. The Democrats have chided the Left and the 'Bernie or Bust' crowd for still not being 'with her' in the existential struggle against fascism. But it is worth considering how liberalism's anti-fascism covers a libidinal lack. That is, an inability to define or, in Lacanian terms, 'enjoy' their political identity but through this fascist threat. Liberals are clearly not principled anti-fascists, the geopolitical compromises are too numerous to count, and there is an obvious cynical PR/fundraising logic to the fascist threat: 'Can you spare $5 to defeat fascism?' However, liberals are emotionally invested in the idea that they are the ones who can beat back the scourge of fascism. They construct anti-fascism as a class project but self-identify as the class of elites and experts that fascism uses to obfuscate actual class struggle." – Olivier Jutel
Paul Haeder