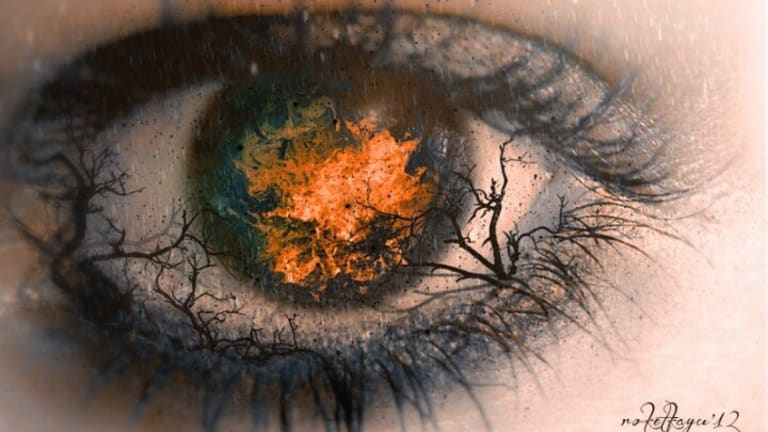 The Face of Whiteness, Face of a World Burning
Paul Haeder: I just get tanked out sometimes, working my ass off as a social worker, getting food stamp wages while spinning my intellectual and emotional gearwork to save people, and then to be surrounded by checked out white folk.
Pineal Gland: A Cognitive Advantage for Africans
I don't know how many of my former colleagues in the "profession" of teaching at the college level who have tenure and are retired really have any sense of what it means to be ground-truthing the America project of white supremacy from the trenches of struggle? I just get tanked out sometimes, working my ass off as a social worker, getting food stamp wages while spinning my intellectual and emotional gearwork to save people, and then to be surrounded by checked out white folk. No brothers and sisters here, though I get patted on the back a million times a year, called brother, told I am doing the good work, god's work, amazing work.
In a quick strike of the tongue, it would be easy to say, Screw You. I don't, though, wanting to engage, to traverse those cobwebby caverns these people many times call their minds. So many people are working to not work, to find some hitching post or slip on a beach or palm-roofed cabana on an island or some forested area to, well, check out of the human race, the rat race.
While all this shit hits the fan. Shit the world has to eat, pick up, and live with largely because of the White Man Burdening the Globe with Paranoia, Pollution, Penury, and Propaganda.
Daily, saving people, I suppose I am doing. Saving from what, I know, but where do they go from here? Those deplorables Clinton spewed out with her fucked-up white racist venom. Deplorables a hog Trump propagandizes as "my people" in his fourth-grade populism dog and pony show, all apparent lies, yet hook-line-sinker a good swath of Americanos take the bait and get splayed. Real white pigs, the lot of them, from alt-Right to gushy left, as they eat the children of the people they have put under the thumb of the White Capitalist Crime of Debt-Usury-Taxpayer Theft-Lies-Extortion-Outright Racism.
I sense that disease, that white American disease, even going to a fiction reading at the famous Powell's Books carried forth by a friend of mine who has gussied up his high end retirement from high paying/high tuition private college American Studies instruction, into writing books and giving readings . . . to white audiences . . . books that will never rattle the cages . . . books so steeped in American Lit. Professorial Politeness that listening to him read was like being in front of three State Farm insurance underwriters.
Twenty white kids from Cleveland High School in Portland were in attendance, there to fulfill extra credit. A few old white couples also sitting there to support the staid writer. And me, fucking revolutionary, radical, in every breath taken and every moment lived . . . even at a tepid book reading.
I tried to stir up more than polite remarks by asking this fellow (I reviewed one of his books, a kindness of mine which was published in a Pacific Northwest literary journal) how these young people can even get interested in a life pursuing the creative arts (writing) when we live in a world of faculty caving in, with colleges catering to the corporations, and school boards/governors ripping ethics, philosophy, classics, film studies, literature and creative writing out of the curriculum? Or, how we can shift the old time religion of "sage on the stage" (my friend has that same continence of lecturing even at a reading) into something more vital in education? Or, how we can bring something bigger, more radical, more relevant to youth tied to poetry and fiction other than the same old deconstructiveness of many of today's educational camps.
Engage youth to think and to stop working those slave jobs. Teach them to squat, ruckus, fly below the radar. If they are going to mess with coding, teach them to hack everything, from wedding party killing drones, to CCTV systems, to bank accounts of the rich and famous.
Finally, that old white shit that is America came waddling through at the reading – the dreaded white man's/ white woman's clock: time to wrap things up. Imagine, we came to this reading in Portland from all over the place (the writer lives in Salem hours away) and the timekeeper rushes us off. Is there nothing the white race hasn't messed with? As if we can't get all messy and linger longer to actually discuss and argue things after a staid and prim and proper reading.
This is minor stuff in the scheme of things, I know I know, but it's the little shit that adds to the big shit that reverberates around how messed up American culture (sic) and in general white culture is.
Every stinking morning when I open up this white man's computer and sign onto the white man's Google Gulag, I get T-boned by that Bing or Yahoo news feed – "Trending on Bing."
Every stinking morning when I open up this white man's computer and sign onto the white man's Google Gulag, I get T-boned by that Bing or Yahoo news feed – "Trending on Bing." It's an hour by hour virtual tour of how messed up the white race and white world are, as we have Trump plastered on the ticker-tape, and Jeff Sessions, or someone from Fox News or Sinclair Broadcasting, or the Koch Brothers, or any number of criminals in congress-senate-administration. The daily crimes of Israel murdering peaceful demonstrators, or journalists. Or White Man's ICE rounding up immigrants. Or James Mattis breaking Posse Comitatas and sending "his" White troops and "Trump's White army" to the US-Mexico White border.
The white man/white woman shit show, as #MeToo goes after the white Nobel literature academy. Or white Flint officials stopping bottled water for the black residents. Another white politicians resigning for illicit and ill-gained affairs. GOP lawmakers pulling out loaded guns at constituent meeting. Or the White Pentagon telling the White Lockheed Martin to cut the White $1.1 trillion budget for the White F-35 budget.
This is the face of White Supremacy, really, captured in so many gigabytes of news (sic) about the White man's burden – Gates, Google, Zuckerberg, this or that White pro-athletic team owner, this or that White billionaire.
Texans owner Bob McNair hasn't had a very good few months, what with his decision to refer to NFL players as "inmates" and then later sticking up for embattled and investigated Panthers owner Jerry Richardson.
McNair apologized for his "inmates" comment, but now is walking that apology back, telling the Wall Street Journal he regrets apologizing in the first place.
"The main thing I regret is apologizing," McNair said.
According to Michael David Smith of Pro Football Talk, McNair was referring not to players but to league executives and now believes, "I really didn't have anything to apologize for."
Remember those Facebook messages you received years ago? Check back far enough in your inbox and you'll probably find they're still there
Unless, that is, they were from CEO Mark Zuckerberg
Facebook deleted messages Zuckerberg sent on the platform from the inboxes of people who received them, according to TechCrunch. The news site said it has seen the receipts in the form of one-sided dregs of conversations and email notifications alerting some users that the Facebook CEO had been in touch
Most of us can only delete messages from our own inboxes in what today is known as Facebook Messenger. Missives sent to others will remain in recipients' inboxes until they're deleted. Facebook admitted retracting its CEO's messages for security reasons. It deployed a Snapchat-esque effect, by which messages self-combusted after a certain length of time

Fourteen states filed suit on Thursday accusing the U.S. Environmental Protection Agency of failing to issue regulations for curbing emissions of methane, a potent greenhouse pollutant, from existing oil and gas operations as required under the Clean Air Act

Taxes are dumb, explains a new Koch-funded "financial guide" for millennials
US tax deadline day is approaching, and no one enjoys submitting those forms. They're arduous, dull, and head-spinningly confusing
Thankfully, this year, the Koch brothers are here to help millennials get their heads around how to pay up—by telling them how stupid taxes are. The Generation Opportunity Institute, an organization that gets funding from the two fossil-fuels billionaires' network, has launched what it calls a "digital paystub tool." It's just like one of those helpful how-to guides
Except it doesn't tell you how to do anything

Trying to predict the gender and race of a member of Congress is like trying to predict who would win a basketball game between the 1996 Chicago Bulls and the 2015 New York Knicks. Which is to say: It is like trying to predict who would win in an arithmetic competition between you and a talking horse. Which is to say: It is like trying to guess how many jellybeans are in a glass jar that contains two jellybeans. Which is to say: It is easy
The 114th Congress, which gets to "work" on Tuesday, is one of the most diverse in American history, comprised of nearly 20 percent women and just over 17 percent of which is non-white. Which means, of course, that four out of five members of Congress are white and four out of five are men. Ergo, given the name of a member of Congress (at random: Oregon GOP Rep. Greg Walden), you can probably guess his or her gender and race. (In case you want to see if you were right about Walden: here.)
According to a break-down from our colleague Reid Wilson, here are the demographics of the incoming crew

It was another record year for the wealthiest people in America, as the price of admission to the country's most exclusive club jumped nearly 18% to $2 billion. Even at these new heights, entrepreneurs are breaking into the ranks for the first time as they mint fortunes in everything from telecom to booze to fishing. There were 22 newcomers, 14 of whom are self-made entrepreneurs. Among the most notable: Arizona iced tea co-founder Don Vultaggio; Netflix co-founder Reed Hastings; Tito Beveridge, the creator of Tito's Handmade Vodka; Chuck Bundrant, whose Trident Seafoods sells his fish to places like McDonald's and Burger King; and Rocco Commisso, founder of cable TV and broadband firm Mediacom and owner of the New York Cosmos, a soccer club based in Brooklyn
The most notable loser was President Donald Trump, whose fortune fell $600 million to $3.1 billion. A tough New York real estate market, particularly for retail locations; a costly lawsuit and an expensive presidential campaign all contributed to the declining fortune of the 45th president
The 165 Jewish billionaires around the world have $812 billion in joint wealth, Forbes Israel reported on Thursday

The richest Jew in the world is Oracle CEO Larry Ellison, with a net worth of $43 billion, according to Forbes, up $7 billion from last year. Ellison was fifth on the Forbes 2013 world billionaires list
New York Mayor Michael Bloomberg is in second place with $27 billion, up $5 billion from 2012. He appeared 13th on the world list. Casino mogul and Republican Party political donor Sheldon Adelson is in third place with $26.5 billion and was 15th on the world list
The billionaires' club isn't as exclusive as it used to be.
On Monday Forbes released its 29th annual list of every billionaire on the planet, and it features a record 1,826 people, or 181 more than last year
As in previous years, Jews are disproportionately represented on the roster of the world's wealthiest, with 10 Jews among the top 50. (The list, topped by Bill Gates, ranks from richest to slightly less rich.)
The statistic shows the distribution of U.S. millionaires in 2013, by race and ethnicity. As of 2013, about 76 percent of U.S. millionaires were White/Caucasian
Additional information on racial income inequality
The issue of racial inequality in regards to income and wealth has been a problem through the entirety of the history of the United States. The statistic above demonstrates how the percentage of millionaires that identify as Black/African Americans is disproportionate to the share of the population overall. While the disproportionate number of millionaires demonstrates an undesirable degree of income inequality it is at the bottom of the wealth ladder within American society that the issue is most pressing. The over representation of African Americans in contrast to the population in unemployment statistics are cause for concern on the part of the government and society as a whole. In 2014, nearly 25 percent of surveyed families who placed themselves in the income bracket of under ten thousand dollars identified as black

Richest 80 people in the world revealed… and 35 of them are American citizens
The combined wealth of the 80 richest billionaires is the same amount as that of the bottom 50% of the Earth's population, Oxfam said in a new report
Eight of the top ten wealthiest billionaires are American
Oxfam found a steep drop and that 388 billionaires had the same amount of money as the bottom 50% of the Earth's population in 2010
The charity's report also said that the richest 1 percent of the population will own more than half the world's wealth by 2016
It begs the question, after conceptualizing that all these White men ruling the world, "Is this a slip of fate, some Elon Musk aberration, Martian Fairy Tale, some Bill Gates dropout design, some Mark Facebook datamining magic?
Or, is it the real cultures, the fabric of glue that is us, million years of tribal culture and bipedal elegance evolved, now derailed by the calcifying pineal gland of the Caucasian running amok on planet earth:
The pineal gland is responsible for the production of melatonin, a hormone that is secreted in response to darkness, and is also the site in the brain where the highest levels of Serotonin can be found (Sun et al, 2001). In the pineal, 5-HT (Serotonin) concentration displays a remarkable diurnal pattern, with day levels much higher than night levels. Serotonin plays an important role in sleep, perception, memory, cardiovascular activity, respiratory activity, motor output, sensory and neuroendocrine function
Racial differences have been noted in the rate of pineal calcification as seen in plain skull radiographs. In Caucasians, calcified pineal is visualized in about 50% of adult skull radiographs after the age of 40 years (Wurtman et al, 1964); other scholars argue that Caucasians, in general, may have rates of pineal gland calcification as high as ­60-80% (King, 2001). Murphy (1968) reported a radiological pineal calcification rate of 2% from Uganda, while Daramola and Olowu (1972) in Lagos, Nigeria found a rate of 5%. Adeloye and Felson (1974) found that calcified pineal was twice as common in White Americans as in Blacks in the same city, strengthening a suspicion that there may be a true racial difference with respect to this apparatus
— Bernie Douglas, January 17, 2008
This screed loops around back to how our cities are planned (chaos, anti-worker, anti-people of color, anti-bottom-up organizing); how our schools are drawn pedagogically (anti-learning, anti-land ethic, anti-community); how our financial systems are set-up (pro-One.point.One Percent, sociopathic); how our villages and towns are constructed (fence line against polluters for the poor, the rich get clean air, water, soil).
I have had many conversations with whites, and unsurprisingly, they go "all Anne Frank" on me if I point out some of the stats above about Jews holding a large volume of the purse, or if I point out Jews in Israel showing themselves as no better than racists in Dixieland or Third Reich adherents, then and now.
Really, millennials have been brainwashed with Diary of AnneFrank absurdity in secondary school, and have been seduced by every sort of Schindler's List entertainment, and the unending Netflix propaganda of those poor persecuted Jews (and no one else ever ever persecuted like Jews); that when you point out the crimes of Israel, they deny, deflect and defend that Original Holy-land of the Chosen People.
As Palestinians continue to struggle under the heavy, deadly hand of U.S.-sponsored Israeli oppression, the world's governments mainly ignore them. This is business as usual for most governments, including U.S. officials, many of whom are 'PEP' – Progressive Except for Palestine
March 30 is Land Day in Palestine, a day commemorated annually to mark events first held in 1976, in response to a major land theft announced by Israel. This year, tens of thousands of peaceful demonstrators camped and marched on the Palestinian side of the Palestine – Israel border, once again demanding the basic human rights that the world community has refused them. In response, Israeli snipers killed at least 18 unarmed Palestinians

These millennials and Baby-Boomers or What-Have-You's see this mortally wounded Yasser Murtaja, 31, as collateral damage, and some think he put himself in harm knowing (member of the press) he could be killed (murdered) by Israeli troops at the Israel-Gaza border, in the southern Gaza Strip.
And this speaks to the dead soul of the White race, the unraveling of tribal dignity, the cancer that it is, as Susan Sontag so clearly stated, and forever needs repeating:
If America is the culmination of Western white civilization, as everyone from the Left to the Right declares, then there must be something terribly wrong with Western white civilization. This is a painful truth; few of us want to go that far. … The truth is that Mozart, Pascal, Boolean algebra, Shakespeare, parliamentary government, baroque churches, Newton, the emancipation of women, Kant, Marx, Balanchine ballets, et al., don't redeem what this particular civilization has wrought upon the world. The white race is the cancer of human history; it is the white race and it alone—its ideologies and inventions—which eradicates autonomous civilizations wherever it spreads, which has upset the ecological balance of the planet, which now threatens the very existence of life itself
Now, 2018, we have a country of relativists. I meet people who are into this quasi-Eastern thinking, fantastical, mysticism way of ameliorating the good and the bad, equating bad and good as choices, or destinies, or, in many cases — "we do not know why the Jews in Israel hate the Ethiopians, or the other blacks . . . how can I judge Hitler without being in his shoes or you know Trump, how can we say he is bad when we all have bad inside us . . . ."
This is the White race, man, and I see this delusion embodied in the clients I work with, on the streets, homeless, thrown in jail for jaywalking, pushed into decades of debt to pay the criminal injustice system for the bureaucracy's crime, no universal healthcare, no universal housing, no universal food safety nets or decent public transportation . . . yet these people can think that even a Trump or Obama (or the reader please put down any number of elites in the blank) is not to be judged because we all are flawed and broken people, and we all deserve God's love and the White Man's understanding.
Religion is the opium of the people is one of the most frequently quoted statements of German economist Karl Marx. It was translated from the German original, Die Religion … ist das Opium des Volkes.
The colonialist bourgeoisie is aided and abetted in the pacification of the colonized by the inescapable powers of religion. All the saints who turned the other cheek, who forgave those who trespassed against them, who, without flinching, were spat upon and insulted, are championed and shown as an example. — Frantz Fanon, The Wretched of the Earth (1961), as translated by Richard Philcox (2004), p. 28
We have used the Bible as if it were a mere special constable's hand book, an opium dose for keeping beasts of burden patient while they were being overloaded, a mere book to keep the poor in order. — Charles Kingsley, Leaders Of The Church 1800-1900 (1907), pp. 65-6
Optimism is the opium of the people. — Milan Kundera, The Joke (1967)
In this delusional America, hyper-consumer America, the one where work is servicing the billionaires' schemes at capturing total wealth, where we just line up for our one-hour to two-hour one-way trips to those warehouses to be the beasts of burden for those Jeff Bezos types — and don't get fooled with fourth-grader Trump pounding away at Bezos and Amazon — we are denuded of any community sense of justice or tribal justice. These people — Trump et al and Bezos et al are in the same boat that is sinking us, people:
When in December 2012 the Ver.Di representatives in Leipzig called on the management of Amazon's local center to open negotiations on wage rates and an improvement of working conditions, and especially for temporary workers who are badly exploited at Amazon, management refused on the grounds that employees should be "thinking about their customers" and not about their own selfish interests. This was treated with derision on the union side, but at all Amazon's centers, and especially those in the United States and the United Kingdom, the cult of the customer is a serious matter and provides the rationale for the extreme variant of scientific management whose purpose, as at Walmart, is to keep pushing up employee productivity while keeping hourly wages at or near poverty levels
As at Walmart, Amazon achieves this with a regime of workplace pressure, in which targets for the unpacking, movement, and repackaging of goods are relentlessly increased to levels where employees have to struggle to meet their targets and where older and less dextrous employees will begin to fail. As at Walmart, there is a pervasive "three strikes and you're out" culture, and when these marginal employees acquire too many demerits ("points"), they are fired
Amazon's system of employee monitoring is the most oppressive I have ever come across and combines state-of-the-art surveillance technology with the system of "functional foreman," introduced by Taylor in the workshops of the Pennsylvania machine-tool industry in the 1890s. In a fine piece of investigative reporting for the London Financial Times, economics correspondent Sarah O'Connor describes how, at Amazon's center at Rugeley, England, Amazon tags its employees with personal sat-nav (satellite navigation) computers that tell them the route they must travel to shelve consignments of goods, but also set target times for their warehouse journeys and then measure whether targets are met
I am 61 years old, foundering big time, in Portland. Social worker, man, the only gig I can land. I've tried to get hired onto places where my background is more fitting: journalist, urban planner, educator, environmental worker, communications wizard, events planner, at least a manager for any number of projects. I have been in those interviews, and the sinking feeling of being in the same room with colonized minds, every one of them, doesn't overtake me until I leave the grilling and realize that White people, or Americans/ Consumers/Religious Followers/Capitalists/anti-Socialists, are my worst enemy. It isn't Me, Myself and I derailing my chances to suck on a bigger piece of the pie, but this country's mass propagandizing, and even those I call friends, as I started this piece with — literary guy, retired, 65-year-old-ish tenured professor — they want to hide inside their projects, or their silo of affirmations. It is the White Race's way of control.
Oh goddammit, so many people around me are angel believers, too, and equivocators, as well as false balance lovers, and, in the end, we radicals looking to push for solutions, we are derailed entirely in this society where no matter how Naomi Klien or Bill McKibbeon or Ajamu Baraka one wants to get, the power is not held by them, of by us, but the Media Controls the Message, and the Message is Consumer Survival, Us Against Us, and, Resetting the Button ain't going to happen in a world addicted to war, oil, accumulation, subjugation, mass incarceration/infotainment/distraction.
Yet, words and the impetus behind them are powerful, so, Ajamu states:
The task for those of us who have historically been the victims during this 522-year-old nightmare of Western colonial/capitalist exploitation and systematic dehumanization is to make sure that we don't confuse our interests and realities with the interests and agenda of the U.S./EU/NATO axis of domination. For the black liberation movement, we must be clear about our friends and our interests but even clearer about who our enemies are and their interests
In just the last few weeks, the Trump administration has threatened military intervention in Venezuela; committed the U.S. to a never-ending war in Afghanistan; declared an escalation of the War on Black America with the lifting of the restrictions on select military equipment to domestic law enforcement agencies; and escalated tensions with North Korea (and by extension with China)
For the black left and broader black social movements it is important that we recognize
• that the liberatory agenda of the black working class and poor is in direct opposition to the agenda of the white supremacist ruling class and the U.S. state no matter which one of the bourgeois parties is occupying the executive office;
• that internationalism is at the center of the black radical tradition and that we have historically identified the U.S. as an oppressor nation and opposed imperialist moves against oppressed nations, and that we must continue to do so;
• that the commitment of the U.S. war machine to maintain white ruling class power abroad mirrors the domestic war apparatus used to enforce the continued imprisonment of colonized peoples, including the national oppression of black people and the black working class and poor; and
• that U.S. imperialist wars are always fought by the working class and poor and that we have a responsibility to make sure that our young people, and indeed no other group of young working class people, are tricked into believing that these wars are somehow honorable and reflect more than the naked greed of a rapacious, racist, parasitic oligarchy
Paul Haeder