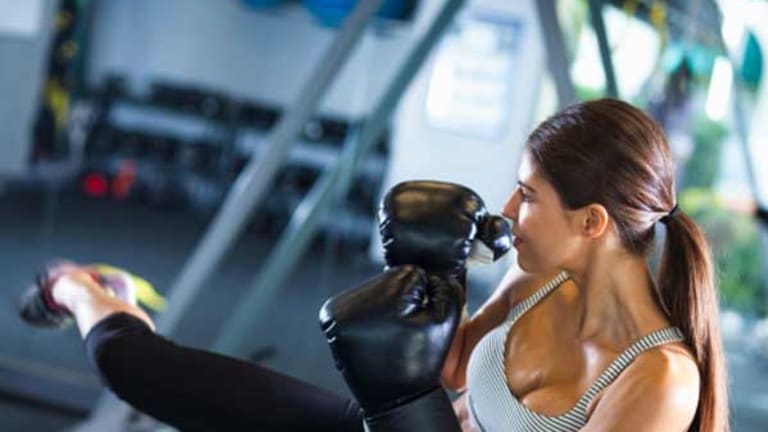 The Body Politic: Don't Get Fat, Get Mad!
Treva Brandon: Can't get your engine started? Can't find the drive to drive to the gym? Is your mojo low and blood pressure high? If your goal is getting healthy, you may want to consider getting pissed off first.
Can't get your engine started? Can't find the drive to drive to the gym? Is your mojo low and blood pressure high? If your goal is getting healthy, you may want to consider getting pissed off first.
That's right. Don't get fat, get mad.
As a peace-loving liberal, I hate to say this but research has shown that a little channeled rage, a little aggression, and some healthy hostility can come in handy when you're short on exercise motivation.
Paul A. Davis, a sports psychologist at the University of Wolverhampton in England, along with colleagues from Bangor University in Wales, discovered that "People who are more easily angered exert the most energy while working out. Additionally, angry people can not only exercise harder, they also work out longer than their calm, cool and collected peers."
Davis doesn't advocate becoming a rage-a-holic, but he does suggest engaging in some emotionally stimulating activity before working out, something that could easily be achieved with an Anytime Fitness gym membership.
My suggestion? Watch Fox News.
If Fox News doesn't get your blood boiling, your heart pumping, and your lactic acid burning, I don't know what will. Watch it with a cup of coffee before going to the gym, or at the gym while on a Stairmaster, stationary bike, or elliptical machine (assuming your gym has TV's attached to their cardio machines). The key is, you must watch while exercising for the full benefit.
WARNING: Coffee + Fox News = acid reflux. Check with your doctor before watching.
Whether it's "Fox & Friends" at 6am, or "Outnumbered" at 12noon, "The Five" at 5pm, or "The O'Reilly Factor" at 8pm, there's a program for everyone at any time. Just don't watch too late at night or else you'll have bad dreams or be tempted to late-night binge eat from the stress of it all.
And if you really want to dial up the intensity levels on your workout, I have one word for you: HANNITY.
Now, if getting your aggressions out on a piece of equipment at the gym isn't enough and you just need to punch something, there's a ton of other options to release the beast:
Kickboxing: There are no less than 505 Los Angeles-area kickboxing classes listed on Yelp the last time I checked. They range from "Foxy & Fierce Women's Kickboxing Boot Camp" in Hollywood, to "Zero To Hero" in Koreatown. I can't endorse them since I've never been, but they've gotten good reviews and that counts for a lot.
Boxing: There are 789 boxing classes in and around LA listed on Yelp with names "Box 'N Burn" in Santa Monica, "Boxing Works" in Hermosa Beach, plus a bunch more in the Valley. A new boxing gym is born every minute in this town, so do the research and read the reviews. And just remember, with any gym/studio/outdoor exercise program, it's location, location, location: the more conveniently located, the better the chances you'll go and stick with it. You always want to keep exercise as "excuse-free" as possible.
Krav Maga: This is the official self-defense system of the Israeli Defense Forces. If you're not already a badass, this will definitely turn you into one after a few cardio boxing classes. Their own unique program focuses on fitness, combat, instinctive movements, and practical techniques. It's used by law enforcement agencies and military personnel, which should tell you it ain't for sissies. There are several locations around LA.
Muay Thai, Karate, Jiu-Jitsu, the list of martial arts and MMA (mixed martial arts) classes are endless. Find one you like that gets the job done.
Whatever course of action you take, just remember not to keep your anger bottled up inside. Repressing your emotions can lead to "cognitive and physiological strain that will lead to fatigue." In other words, getting worked up and NOT working out can make you cranky. But we already knew that.
So get pumped up and go kick some ass. And if anger isn't your motivating force, don't worry, there's always meditation – which we will discuss next time.
Got some great suggestions or ideas of your own you'd like to share? We'd like to hear 'em! Remember, you are with friends here, and we're all pissed off.
Treva Brandon Scharf