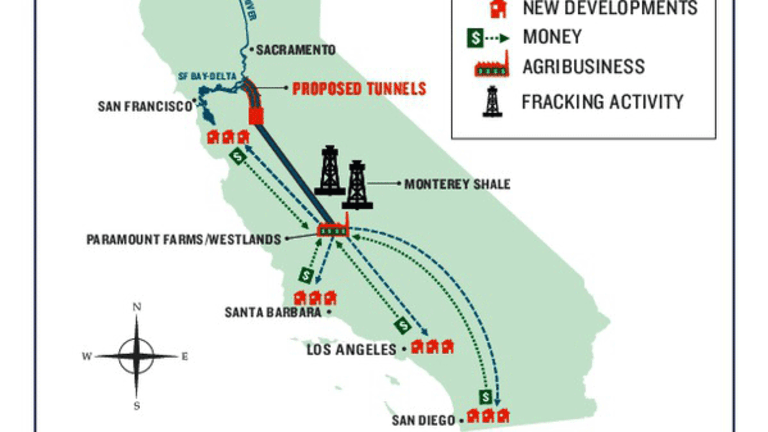 Will California "Green Light" Fracking?
Dan Bacher: You know that this legislation won't protect the land, water, fish, wildlife and people of California from the expansion of fracking in California when a big oil lobbyist praises the draft regulations.
The California Department of Conservation (DOC) will hold five scoping meetings throughout the state in December and January on the scope and content of an Environmental Impact Report (EIR) for statewide "well stimulation activities," including hydraulic fracturing (fracking) and acidizing.
The EIR is mandated by SB 4, dubbed the "green light to fracking" bill by conservation, consumer and environmental justice groups. Over 100 organizations, including the California Water Impact Network (C-WIN), Food and Water Watch, CREDO Action and the Center for Biological Diversity, opposed the legislation because it will result in the expansion of the environmentally destructive practice of fracking in oil and gas production in California.
The potential contamination of groundwater supplies and streams by expanded fracking and acidizing operations poses a huge threat to salmon, steelhead and other fish populations and human health throughout the state.
Once in draft form, the EIR will be circulated for specific comments on its analysis and conclusions, according to DOC. The revised schedule of dates and other details about the scoping meetings follows:
Oakland, 4 to 8 p.m. Tuesday, December 10, Oakland Convention Center, 550 10th St..
Sacramento, 4 to 8 p.m. Wednesday, December 11, Tsakopoulos Library Galleria, 828 I Street.
Bakersfield, 4 to 8 p.m., Thursday, December 12, Kern County Library Beale Memorial Auditorium, 701 Truxtun Avenue.
Ventura, 4 to 8 p.m., Wednesday, January 8, Ventura College Performing Arts Center, 4700 Loma Vista Road.
Long Beach, 4 to 8 p.m., Thursday, January 9, Long Beach Convention Center, 300 E. Ocean Boulevard.
The Department has also sent out public notice of proposed regulations for the use of well stimulation in oil and gas production. The public notice begins the formal rulemaking process and marks the beginning of a 60-day public comment period.
The agency claims the regulations, which are to go into effect on January 1, 2015, are "designed to protect health, safety, and the environment, and supplement existing strong well construction standards. They address a comprehensive list of issues, including testing, monitoring, public notice, and permitting."
DOC also said it will have emergency regulations in place by January 1, 2014 to "ensure that the major requirements of SB 4 are addressed in the interim."
Comments regarding the proposed regulations will be taken at five public hearings around the state:
Sacramento -- January 6, Sierra Room, California Environmental Protection Agency Building, 10th & I streets, 3-7 p.m.
Long Beach -- January 6, California State University-Long Beach auditorium, 1212 Bellflower Boulevard, 3-7 p.m.
Bakersfield -- January 8, Kern County Administrative Center, first floor board chambers, 1115 Truxtun Avenue, 3-7 p.m.
Salinas -- January 8, National Steinbeck Center, One Main Street, 3-7 p.m.
Santa Maria -- January 13, Santa Barbara County supervisors hearing room, 511 East Lakeside Parkway, 3-7 p.m.
Governor Jerry Brown, a big supporter of the expansion of fracking in California, signed the widely-contested legislation on September 20. The already weak legislation was eviscerated at the last minute with oil industry-friendly amendments under pressure by the Western States Petroleum Association and oil companies.
You know that this legislation won't protect the land, water, fish, wildlife and people of California from the expansion of fracking in California when a big oil lobbyist praises the draft regulations.
Catherine Reheis-Boyd, President of the Western States Petroleum Association (WSPA) and former Chair of the Marine Life Protection Act (MLPA) Initiative Blue Ribbon Task Force to create alleged "marine protected areas" in Southern California, said she was "pleased" that the Department of Conservation and the Division of Oil, Gas, and Geothermal Resources have been able to "promptly release" draft hydraulic fracturing regulations.
"Governor Brown signed SB 4 less than two months ago, and the state has worked expeditiously to implement this new comprehensive law," gushed Reheis-Boyd. "These regulations are extensive but strike the right balance that will result in an environmental platform which will ensure that the potential energy resources contained in the Monterey Shale formation can be responsibly developed."
Then in her latest blog on the WSPA website, she further praised the legislation, along with lauding Senator Fran Pavley and Governor Jerry Brown for their "environmental leadership."
"This September, California adopted the nation's strictest regulations for the oil extraction process known as hydraulic fracturing," Reheis-Boyd claimed. "The landmark bill, SB 4, was authored by one of our state's preeminent environmental leaders, Senator Fran Pavley, and signed by Jerry Brown, one of the nation's greenest governors."
In contrast, the Center for Biological Diversity said the regulations fall "far short" of protecting California's air, water, communities and climate from fracking, a "dangerously polluting" practice that involves blasting chemical-laden water into the earth to fracture rock formations.
"Gov. Brown's fracking regulations would leave California's environment and public health horribly exposed to fracking pollution," said Kassie Siegel of the Center for Biological Diversity. "These rules mostly take the narrowest, most oil industry-friendly approach to fracking that's possible under state law. They will permit fracking to spread across the state, endangering our air, water, communities and climate. The only safe way forward for California is a halt to this inherently dangerous process."
The pollution resulting from fracking threatens already contaminated groundwater and surface water supplies in the Central Valley and coastal areas - and much of the water to be used to expand fracking is expected to come from the Delta via the proposed twin tunnels.
Caleen Sisk, Chief of the Winnemem Wintu Tribe, a key leader in the fight to stop the raising of Shasta Dam and the construction of the peripheral tunnels and to restore winter run chinook salmon to the McCloud River above Shasta Dam, urges people to support a ban on fracking in California.
"California's new draft fracking rules Are BAD," she said. "Tell Governor Brown that weak regulations won't cut it. We need a ban!"
"Regulations don't make fracking any safer - no water for fracking at the expense of the Tribal ceremonies and salmon habitat," Sisk stated.
Sisk, Food and Water Watch and anti-fracking activists are urging people to submit public comments on the draft rules. To take action, go to the Food and Water Watch website.
Brown's support of expanded fracking in California occurs as the Governor continues and expands the worst environmental policies of the Schwarzenegger administration. Brown is rushing the Bay Delta Conservation Plan BDCP to build the peripheral tunnels, has presided over record fish kills and water exports at the Delta pumps and completed the creation of a statewide network of so-called "marine protected areas" under Schwarzenegger's widely contested Marine Life Protection Act (MLPA) Initiative in December 2012.
The construction of the peripheral tunnels will hasten the extinction of Central Valley Chinook salmon and steelhead, Delta smelt, longfin smelt and green sturgeon, as well as threaten the steelhead and salmon populations of the Trinity and Klamath rivers.
For more information on Jerry Brown's abysmal environmental record, go here.
Dan Bacher
The Fish Sniffer