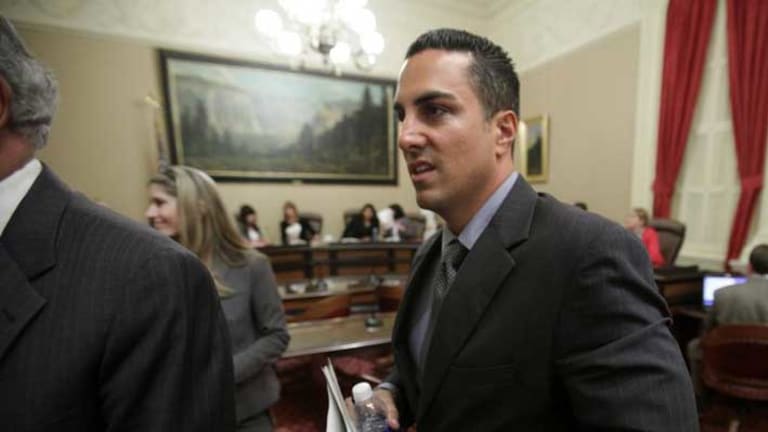 Will Mike Gatto Fail Us on the Plastic Bag Ban?
Richard Corral: But the pressure from plastic bag-makers that make money from pollution isn't only from inside Sacramento. The far-right policy kingpin Grover Norquist has weighed in with Mike Gatto from Washington, D.C.
For seven years, California has been moving steadily toward stopping pollution from single-use plastic bags. Cities and counties, now more than 100 across the state -- including L.A. City, L.A. County, Glendale, and Pasadena -- have crafted local bans to reduce blight and enormous cleanup costs from more than 10 billion bags that litter communities, rivers, and the ocean.
But progress could stall again at the state level this week because of one bottleneck in the policy process. The Assembly Appropriations Committee, chaired by Silver Lake Democrat Mike Gatto, is set to vote this Thursday, August 14, on SB 270. The bill would finally enact a uniform statewide policy banning single-use plastic grocery bags.
Such bags don't break down in nature. They pose a number of hazards, from suffocation of small children to ingestion by mammals and sea creatures that kill many species. SB 270 would be the biggest step yet in saving state taxpayers some of the nearly $500 million that local governments pay out for trash removal from storm drains and waterways.
Only 3 percent of such polluting bags get recycled. The sponsor of the bill years ago to improve bag recycling in California calls our state's program "absolutely pathetic." He now supports a statewide bag ban.
Residents of Silver Lake, Los Feliz, and Glendale, all of which have local bans on single-use plastic bags, might believe that approving the statewide policy would be an easy call for our representative in the legislature.
But that ignores the influence industry that has courted him over the past 18 months as the bill gained momentum in Sacramento. Gatto has not said how he will vote. I take that as a very ominous sign.
In May 2013, Gatto accepted a $3,000 contribution from a South Carolina company, Hilex Poly, a major producer of plastic bags that substantially profits from California consumers. Hilex has 15 locations in the U.S., but none of them is in California.
Hilex Poly is spending heavily in gifts to California lawmakers in clear hopes of maintaining its profits from plastic bags, and the resulting pollution, throughout the Golden State. In 2013 alone, the company spent more than $90,000 on campaign contributions to state lawmakers. At least ten of those gifts were to members of the Assembly Appropriations Committee, including Gatto, where the fate of the bill now hangs in limbo.
Of the many political donations from the out-of-state plastic bag-maker, one is particularly noteworthy. It's the $6,800 Hilex gave to now-disgraced state senator Leland Yee in August 2013. The donation followed Yee's vote in May 2013 to kill the prior version of the bag ban, SB 405, on the floor of the Senate. A now unsealed federal indictment shows that Yee was susceptible to contributions in exchange for his vote on some issues.
How could a plastic bag manufacturer in South Carolina position itself to know how to reach, or reward, state lawmakers in California? That's where its political arm, the American Progressive Bag Alliance, comes in, and its hiring of two different lobbyists in Sacramento.
But the pressure from plastic bag-makers that make money from pollution isn't only from inside Sacramento. The far-right policy kingpin Grover Norquist has weighed in with Mike Gatto from Washington, D.C.
To reject the bag ban bill, or to let it fail as committee chair, Gatto would go against the state Democratic Party's expressed supportfor the policy. As the letter by Norquist makes clear, sinking the bill would hand the right wing and polluters a major victory.
Meanwhile, supporters of the statewide bag ban have mounted a wide-ranging campaign. Last week, the Silver Lake Neighborhood Council, where Gatto lives, approved a resolution urging passage of the bill. Several local Democratic clubs, like the East Area Progressive Democrats, have pushed for the bill. Advocates for SB 270 range from the grocery workers' union to the grocery industry and all mainstream environmental organizations, as well as the statewide Latino coalition for stopping plastic pollution and stimulating jobs in the growing reusable bag business, which is centered in California.
Gatto has put local voters like me who care about passing the bill very much in doubt. This clouds his political future. If he wins re-election this November to his last of three full terms in the Assembly, he may then look to the 25th District state Senate seat, which Carol Liu is due to leave in 2016.
To win that post, he would go up against Anthony Portantino, a Democrat from La Cañada Flintridge, who has courted a wide range of Democrats, including progressives, for that race. Portantino boasts a 2010 vote in the Assembly in favor of a statewide ban on polluting plastic bags.
We deserve leaders who can bring to completion state legislation that builds on local priorities. These include stopping plastic bag pollution that still plagues our state.
Richard Corral