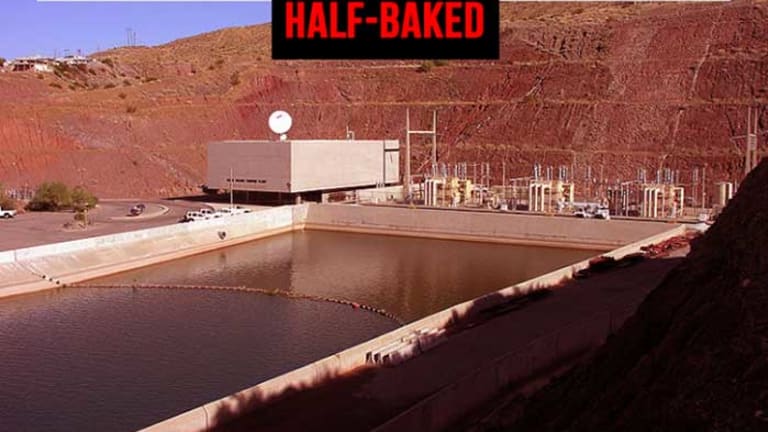 Bechtel-Funded Water Storage Study 'Half-Baked'
Dan Bacher: Reservoir storage does not equate to water supply," said Jay Lund, lead author of the report and director of the UC Davis Center for Watershed Sciences. "Reservoirs cannot supply water without a water supply to fill them first."
A Bechtel Foundation-funded water storage study released by U.C. Davis on November 20 promotes Governor Jerry Brown's peripheral tunnels and links the construction of new dams to tunnels, according to Restore the Delta (RTD).
Opponents of Governor Jerry Brown's Bay Delta Conservation Plan (BDCP) to build two massive water diversion tunnels under the Sacramento-San Joaquin River Delta, recently released their critical responses to the study, entitled "Integrating Storage in California's Changing Water System."
The study comes as the California Water Commission begins developing rules for allocating investments in storage projects from funds recently approved by California voters through the passage of Proposition 1. This water bond was a deceptive measure funded by billionaires, agribusiness tycoons, timber company and sweatshop barons, Big Tobacco and Big Oil that amounted to little more than a huge water grab for corporate agribusiness interests, Southern California developers and oil companies.
The UC Davis Center for Watershed Sciences, funded by the S.D. Bechtel Jr. Foundation, claims, "California's approval of a $7.5 billion water bond has bolstered prospects for expanding reservoirs and groundwater storage, but the drought-prone state can effectively use no more than a 15 percent increase in surface water storage capacity because of lack of water to fill it, according to a new analysis released Nov. 20."
The report by water engineers and scientists with the University of California, Davis, the Nature Conservancy, who contributed over $500,000 to pass the water bond, and "three prominent water consultants," says California could potentially use up to 6 million acre-feet in combined additional surface and groundwater storage. They say this is about a third more capacity than Shasta Reservoir. Exceeding this expansion runs into limits of available precipitation and the ability to transport water.
"Reservoir storage does not equate to water supply," said Jay Lund, lead author of the report and director of the UC Davis Center for Watershed Sciences. "Reservoirs cannot supply water without a water supply to fill them first."
"Reservoir storage does not equate to water supply," said Jay Lund, lead author of the report and director of the UC Davis Center for Watershed Sciences. "Reservoirs cannot supply water without a water supply to fill them first."
The report, "Integrating Storage in California's Changing Water System," evaluates the possibilities of increasing water storage capacity in the semi-arid state. The study does not encompass economic or environmental analysis to determine whether additional storage is justified. Rather, they determined the maximum that could be used, both with and without coordination with other parts of California's water system.
Restore the Delta disagrees with UC Davis that the study represents an "integrated" approach to solving California's water problems.
"The study promises a new 'integrated approach' to evaluating storage projects (surface and groundwater), but fails to deliver on that promise," according to a statement from RTD. "The study leaves out who depends on which water sources and how much, and what water rights are involved. Yet, it makes the link between new dam projects and Governor Brown's Delta tunnels project, which would destroy the San Francsico Bay-Delta estuary—the largest estuary on the West Coast of the Americas."
RTD said the study's authors fail to integrate the system fully: they omit from their analysis any place for in stream flows - flows that benefit fish and other aquatic organisms and ecosystems along rivers below dams. Under California Fish & Game Code Section 5937, dam owners in California are required to keep fish populations below their dams in good condition.
"There are many unanswered questions for which the authors want more money (most likely from Bechtel yet again) to do more studies of how to have new storage approaches integrate with the Delta Tunnels project, to maximize water supply deliveries to SWP water contractors, either through wet-year storage or dry-year water transfers," said Barbara Barrigan-Parilla, Executive Director of Restore the Delta.
"This study does not consider reoperation of existing facilities, water demand management, changes in prioritization of water uses or rights, or other policy or regulatory actions that might change the ability to supply water demands using existing water storage capabilities. In other words, it is half-baked," she said.
The S.D. Bechtel Jr. Foundation is funded by the Bechtel Corporation, which has a direct financial self-interest in building "conveyance" and "storage" facilities.
"We really worry about the framing of research, and the pollution of its intent and findings, when it is wholly funded by those with a massive financial stake in the outcome," she noted.
"We also find it equally disturbing that academic leaders in water spend such little time studying, developing, and creating plans for implementing water technologies that could help alleviate problems with drought. Instead, they continue to promote nineteenth-century solutions that appease funders, rather than creating plans for a viable California water future," she concluded.
Foundation Greenwashes Bechtel's Terrible Environmental Policies
Stephen D. Bechtel, Jr. is the son of Stephen David Bechtel, Sr. and grandson of Warren A. Bechtel who founded the Bechtel Corporation. His San Francisco-based foundation, the S.D. Bechtel Jr. Foundation, has as its overall mission, "to support well-managed non-profit organizations that provide quality programs and create significant sustained benefits in areas of special interest to the Founders and Directors."
However, its real mission appears to be the greenwashing of one of the most environmentally destructive corporations on the planet. The Bechtel Corporation, one of the world's largest engineering and construction firms that was instrumental in the "reconstruction" of Iraq, is a leading advocate throughout the world of the privatization of water systems. It was Bechtel that sued the country of Bolivia for canceling a contract there sponsored by the World Bank.
A CorpWatch report, "Profiting from Destruction," provides case studies from Bechtel's history of operating in the water, nuclear, energy and public works sectors. These case studies reveal a legacy of unsustainable and destructive practices that have reaped permanent human, environmental and community devastation around the globe. Letters from "Bechtel affected communities" included in the report provide first-hand descriptions of these impacts, from Bolivia to Native American lands in Nevada.
The report reveals a 100-year history spent capitalizing on the most brutal technologies, reaping immense profits and ignoring the social and environmental costs.
The Dark Alliance Between U.C. Davis and Bechtel
The U.C. Davis Center for Watershed Sciences (https://watershed.ucdavis.edu/about/partners) received a "gift" of $10 million from the Bechtel Foundation in September 2013 "to expand its scientific research and public engagement capabilities on the state's increasingly difficult water problems."
"The University of California, Davis, will build on its success as a center for problem-solving research on California's critical water issues thanks to a $10 million gift to the Center for Watershed Sciences," according to a UC Davis news release.
Chancellor Linda P.B. Katehi, who will be forever remembered as the "Pepper Spray Chancellor" for her role in suppressing Occupy protests at U.C. Davis in 2011 and 2012, claimed, "UC Davis has a long history of providing vital scientific and policy support for addressing water problems critical to the health and prosperity of Californians. This support will enable the university to expand this important work and further scientific discovery of this precious and limited resource."
Jay Lund, director of the Center for Watershed Sciences, and Jeffrey Mount, center co-founder, are strong advocates for the construction of the peripheral tunnels. In an Associated Press interview on Dec. 9, 2013, Lund claimed the goal of the state's Bay Delta Conservation Plan is not to increase the amount of water being sent to cities and Central Valley farms, but to make the conveyance "less environmentally damaging."
"This is really not about taking additional water from other water users ... it's just shifting the place of diversion," Lund said. "You can never have no impact when doing (something like this), but you're changing the impacts and transforming them for something that's less bad for the native fish."
Restore the Delta is a 15,000-member grassroots organization committed to making the Sacramento-San Joaquin Delta fishable, swimmable, drinkable, and farmable to benefit all of California. Restore the Delta works to improve water quality so that fisheries and farming can thrive together again in the Sacramento-San Joaquin Delta.
Contact: Steve Hopcraft 916/457-5546; steve@hopcraft.com; Twitter: @shopcraft; @MrSandHillCrane; Barbara Barrigan-Parrilla 209/479-2053 barbara@restorethedelta.org; Twitter: @RestoretheDelta
Dan Bacher
Fish Sniffer