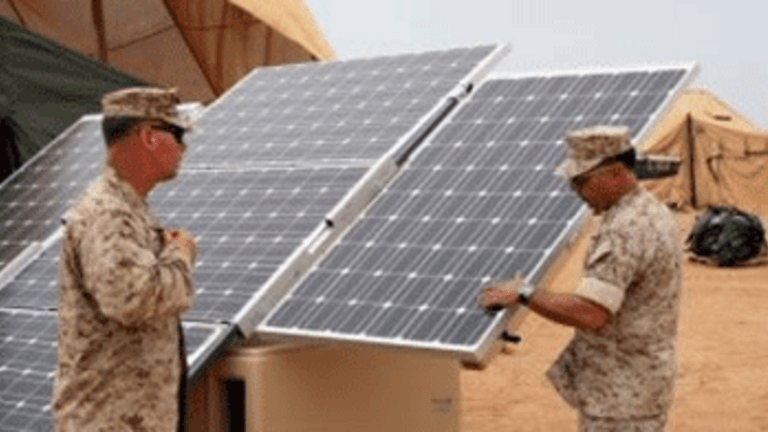 New Military Specialty: 99xx Alternative Energy Specialist
Mario Rivas: The Department of Defense has sighted military bases as potential clean energy producers. Military bases could produce as much energy as large-scale nuclear reactors.
As an Iraq War Veteran, I'm pleased that the Department of Defense is actively seeking an alternative to costly fossil fuels. Recently, the DoD has sighted military bases as potential clean energy producers. Military bases could produce as much energy as large-scale nuclear reactors, according to a study conducted by ICF International.
The amount of energy that could be produced is truly monumental. Estimates of at least 7,000 megawatts are possible and are minuscule considering the amount of land that the Department owns. Currently, the DoD's inventory of 6 million acres could be prime real estate for solar, wind or geothermal energy. Building vast amounts of solar or wind arrays could spark the creation of jobs, while potentially creating a new military specialty.
Currently, all military branches train personnel in careers like mechanical engineering, generator maintenance, and other fields requiring maintenance of fossil fuel-based motors and machines. A new military occupational specialty, or MOS, in alternative energy will require training, certification, and could usher in a new era in warfare operations and military skill. The Soldier, Sailor, or Marine trained in strategic energy alternatives will be a highly trained technician that could offer energy alternative solutions to forward operating bases in the battlefield.
No matter how cost effective private business could offer these services, the fact will always be putting boots on the ground where it matters the most. Personnel working on alternative energy on military bases will need to be screened and will need to have active security clearances not unlike communication specialties in the military today. Security is imperative considering the history of warfare and the cost of securing energy sources.
One of the DoD's most expensive operating cost is in energy, specifically fossil fuels. In fact, fossil fuel has been the cause of hundreds of thousands of deaths in the battlefield going back to earliest wars of the 20th century and continues to be costly and dangerous. This latest DoD energy study goes to the heart of the military problem in terms of cost and sustainability. While many on the right say that cuts in the military will have a destructive consequence, cuts have also forced the largest department in the government to rethink the way is does business.
This study also shows that the military can no longer afford to wait for a decision from politicians on whether clean energy or dirty fossil fuels are the answer. The energy debate from the right centers on building new oil pipelines or going nuclear. Both those forms of energy, including natural gas from fracking, have potential negative consequences and are controversial. The DoD will likely place an emphasize into creating new cleaner forms of energy and clearly shows that clean alternative energy makes strategic sense.
While the DoD may not create an alternative energy specialty, it should consider all alternatives to securing, maintaining and training personnel in this area of energy. The DoD cannot afford to leave it to private business to understand all needs of military units. It will take military personnel in uniform who clearly and strategically think of ways of using and employing alternative energy hardware wherever it is needed in the battlefield to be truly successful.
Mario Rivas
Mario Rivas is a former Marine and veteran of the Iraq War. He is an environmentalist and member of the Vets Voice Foundation, Operation Free, the Truman National Security Project, and the Veterans Caucus of the California Democratic Party. Mario is currently serving in the Californa Army National Guard.