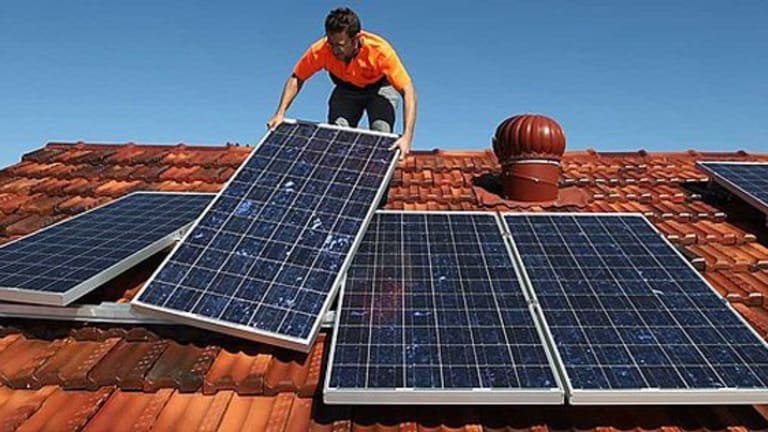 Los Angeles Victory for Community Solar…But
Rosemary Jenkins: The target of the program will be in areas within Los Angeles where installation of solar panels on homes and businesses is much lower than in many other parts of the District.
The agony and the ecstasy! It has been a long, hard-fought battle to achieve the victory we did last Tuesday, November 15, 2016, at the Los Angeles Department of Water & Power Commissioners' Meeting.
A pilot program, which will be inaugurated in 2017, was approved by a 3-2 vote. After a year, there will be a review by experts in the field to determine how effective the program has been and how it can be tweaked to make it better. The target of the program will be in areas within Los Angeles where installation of solar panels on homes and businesses is much lower than in many other parts of the District. One objective of the pilot project, therefore, is to offer solar to those who would otherwise not qualify or be eligible.
The target of the program will be in areas within Los Angeles where installation of solar panels on homes and businesses is much lower than in many other parts of the District.
Looking at a map, the disparity between the haves and have-nots (with regard to solar) is really quite startling. Many homeowners or renters are not financially in a place to get solar installed on their own--poor credit, lack of income. Others live in areas that have tree canopies that block the sun or have roof-tops not conducive for installation or are renters who depend on the largesse of the landlords or reside in areas where the weather is generally too cool on average throughout the year to make solar a logical option.
Not only will this program increase career employment for local workers but it will also encourage private business (old and new) to develop competitive products that will be up for the bidding process by the LADWP. Such materials would include the panels themselves but also connectors and other infrastructure devices.
In addition, through the Department's UPCT (Utility Pre-Craft Training) Program, hundreds of people (from all walks of life, including second-chance beneficiaries) will be trained to become part of the DWP family and will eventually be responsible for installing solar panels under the pilot program (just approved) that will be inaugurated in 2017.
Many customers might also decide to get new roofs, such as cool roofs, before solar installation is initiated, something for which DWP is currently offering a generous rebate. In this way, the customer can get both tax deductions for the panels as well as for energy-reducing roofs.
These energy-efficient streams will add to the economic health and well-being of all those who reside in the District. At the same time and very importantly, we shall eventually and entirely be off coal. The result will produce cleaner air to breathe, cutting down on a wide variety of illnesses (such as asthma, other bronchial, heart, and migraine problems) with their concomitant costs, a situation exemplified by the Aliso Canyon fiasco (the gas explosion that put many families out of their homes, shifted students to other schools, and produced a negative impact on local businesses).
Currently, there are three methods by which customers can obtain solar panels--outright purchase, lease, and PPAs (power-purchase agreements or pay as you use, not currently offered here). The DWPs pilot program is a fourth method by which Los Angeles can offer solar, would require no cost for the customers, and would provide a reduction in energy bills--especially as success of the pilot program would assure us that expanding the program would be beneficial to all.
Four hundred homes will be selected from a pool of those who have applied for the for HEIP--the Home Energy Improvement Program. The Department will lease the panels for $360 a year--an amount to be deducted from customer energy bills. The energy produced at these homes will be stored in the grid for use by all members of the greater Los Angeles community.
For more than a year, many coalitions (such as LAANEs Repower LA along with the DWP itself) have been reaching out to a wide variety of communities, offering workshops (such as Green the Block and a series of town hall meetings) and sign-up programs. During this time, we have begun to see a significant change in public policy which will produce increased energy-efficiency over the next few years [with 100% efficiency as the ultimate goal--something which means we would eventually be off dirty coal (there is no such thing as clean coal) and instead use solar, geothermal, and other means to produce all our energy].
Though delighted with the ultimate outcome of the vote, many of us in the audience were chagrinned with some of the discussion that transpired among the commissioners before that vote.
Ostensibly and in reality, the charge of the 5-member commission is to represent the interests of the ratepayers (the customers--you and me). Thus, out of necessity, the members must give an inordinate amount of their own time and energy in order to represent DWP customers in the best way possible. In so doing, the Commission itself has often recognized the wisdom in RePower LAs initiatives and, thus, has generally supported those policies--while sometimes modifying them to make them even better. The rate-payer advocate himself, whom I have criticized in the past, now seems to be on board with the community solar policies that many of us have been advocating for a long time (bless him).
Despite the wise counsel emanating from the Commission as a whole, one member in particular at this last meeting was especially and repeatedly insistent on asking questions that reflected a clear lack of compassion for the least-advantaged among us and, shockingly, a lack of support for our own DWP workers who have been doing such an outstanding job in providing free energy-efficiency programs in the homes of all those who have applied. This commissioner was perceived by many as being just plain obnoxious in refusing to "hear" what was being explained and to accept information that provided factual answers to her many queries.
At length, Commissioner Funderburk expressed his impatience with that line of incessant questioning by his cohort. He was "pissed"--to quote him--that the truths provided by a variety of experts were not enough to put an end to the offensive outbursts. What many of us in the audience appreciated was his discussion of historical redlining, a situation about which many people are still unaware. He introduced this insight in order to provide context to what should not have been controversial in the first place. Redlining was a legal policy by which people of color were not allowed to live in certain areas or obtain loans to purchase homes or cars or to create businesses. Such practice was technically outlawed only a few years back--toward the end of the last century.
However, he went on to point out how a new type of redlining is again being advanced by many people who want to deprive the poor and disadvantaged among us of the ability to benefit from the community solar project in question. By approving this pilot program, the City will be offering solar to those residents who have frequently been neglected in the past and would otherwise have been overlooked in the present and future.
Michelle Alexander speaks of the New Jim Crow in her eponymous book (about today's mass incarcerations of minorities in a manner that had been practiced through Convict Laws after Reconstruction). She points out, just as Mr. Funderburk did, that unless we conscientiously work to do otherwise, our communities will revert to and/or perpetuate pervasive and pernicious segregation by ethnicity and economic status that, morally speaking, is simply no longer acceptable. It's all about equity.
In the meantime, we must be grateful for the positive and continued input and wisdom expressed by Commissioners Levine, Funderburk, and Banks Barad.
Ultimately, when the vote was in, a victory for community solar was won. This accomplishment should also serve as a reminder that we must continue to work in a concerted way to rectify the disparities in our communities--that there should be no underclass and that what we do for even one will benefit us all.
Rosemary Jenkins