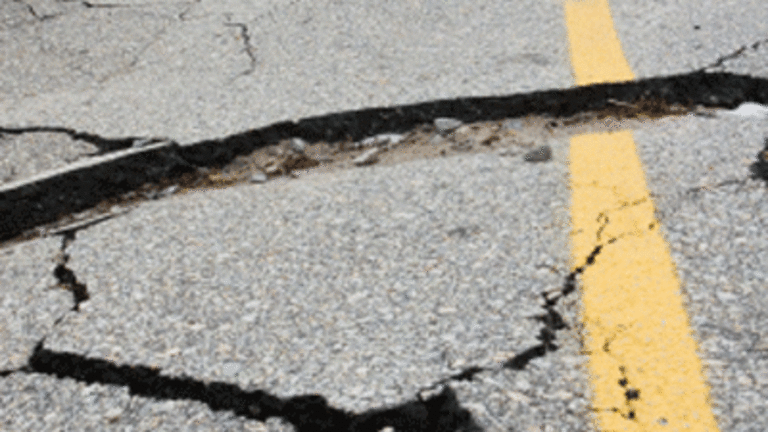 Economic Recovery Must Include Transit
Congress is poised to vote on a massive "Economic Recovery" proposal to invest billions in new transportation infrastructure.
At a time when roads and bridges across the country are crumbling and public transportation systems are scrambling to keep up with booming demand, Congress is right to recognize the need for investment that will increase our quality of life as well as jobs. But it is critically important how infrastructure money gets spent. It is not enough to simply spend money.
Congress and the incoming Obama administration should not assume that more transportation is always better. America's transportation system isn't just broke; it's also broken. In fact, transportation contributes to many of America's most pressing problems. Consider:
Each year, Americans waste billions of dollars and millions of hours stuck in traffic – a problem that is often made worse by construction of new highways.
As driving has increased over the decades, transportation has become the second-biggest expense for the average household – even more than health care and just behind housing.
Our transportation system is the chief source of our nation's addiction to oil, consuming two out of every three barrels, and leaving America vulnerable to volatile prices and hostile foreign regimes.
Cars and trucks are the biggest end-user source of global warming pollution, contributing to a third of emissions.
Finally, too many transportation projects such as Alaska's infamous "Bridge to Nowhere" have been embarrassing boondoggles that erode confidence in government and divert dollars from more productive uses.
Clearly, not every infrastructure dollar is equally good for the public interest. Yet state departments of transportation are eagerly offering lists of favored projects, which include hundreds of millions in proposed spending for more of the same types of highway construction projects that got us where we are today.
The question we must ask, then, is whether Congress and state departments of transportation will prioritize much-needed repair of crumbling roads and bridges or be squandered on wasteful superhighways and lane expansions
Congress must commit to spend for results rather than simply to inject dollars into the economy. The need for a major overhaul of our national transportation system is almost universally recognized because the current system just doesn't make sense. It primarily collects gas taxes from the states and then pumps those dollars back based on outdated formulas forged by political compromises that had nothing to do with achieving national goals. We cannot afford to pour piles of money into that same broken machine.
Rather than spend more money toward continuing failure, the Obama Administration and Congress should take a cue from the bailout plan for the auto industry. In that plan, the funds were expressly tied to a fundamental shift in the business model and in the mix of vehicles that get produced. No less substantive change should be demanded from an infrastructure stimulus package.
Where should the money go? Federal transportation money should be spent only on projects that advance long-term national goals, by reducing our dependence on oil, curbing global warming pollution, alleviating congestion, improving safety, and supporting healthy, sustainable communities.
To reach these goals, emphasis should be placed on expanding light rail, commuter rail, rapid bus service, high-speed intercity rail and other forms of modern public transportation. At least as much money should be allocated to these transportation modes as to roads and highways.
Here in Contra Costa County, smart transportation funding is essential to keeping up with an increased demand for services. AC Transit serves nearly 67 million passenger trips annually, and BART accommodates another 103 million passenger trips annually. Voters here in the county recognized the importance of transit when they passed Measure VV last fall to maintain transit service. Consistent funding for transit operations is critical, especially when the California legislature has severely cut funding for transit services. Additionally, smart infrastructural investment will be necessary to accommodate the estimated population increase of nearly 19,000 people by 2015.
Beyond simply providing convenient service in Contra Costa County, investments in transit would create a wealth of employment opportunities in the short and the long run. Transit system construction leads to an impressive level of short-term job creation, and once the systems are finished, a long-term source of high-quality jobs and development. Studies show transit investments create nearly 20 percent more jobs than new highways for the same amount of spending.
Also, any new spending for roads and bridges must prioritize fixing our current system. It is irresponsible to spend massive amounts on new interchanges and lane expansions when our existing roadways suffer from long-deferred repair and maintenance needs. Fixing existing assets will not require complex and expensive impact analysis or new right-of-ways, so the funds will go directly toward putting people to work.
To ensure accountability, the California Department of Transportation (CalTrans) should report back on the effectiveness of their spending relative to job creation, energy security, carbon dioxide emissions and vehicle miles traveled. Perhaps the second installment of a two-year package would be allocated according to how well states advance national goals with the first installment.
The Obama Administration and the Congress have a tremendous opportunity to turn the economy around by putting millions to work rebuilding and reshaping our country. A bad deal could do more harm than good, but a good deal could help us meet many of America's most important challenges while setting us on the path to a better, more sustainable 21st century transportation system.
Erin Steva & Kevin J. Powers
Steva is the Transportation Associate for CALPIRG, the California Public Interest Research Group, and Powers serves as the organization's State Field Organizer. CALPIRG is a non-profit, non-partisan consumer advocacy organization that stands up for the health and well being of all Californians.
Republished with permission from the California Progress Report.