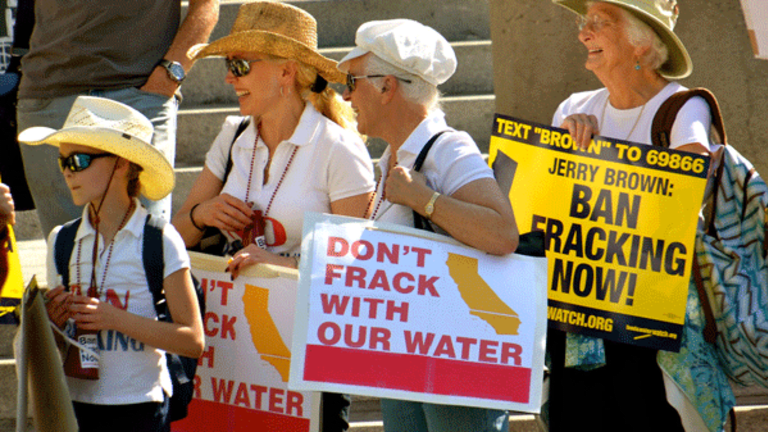 Fracking Activists Gain Traction in Los Angeles
Fracking Activists: The unanimous adoption of the LA ordinance comes of the eve of the state Democratic Party convention in LA.
Propelled by passionate grass-roots environmentalists, the Los Angeles City Council unanimously passed an anti-fracking moratorium on February 28, finally landing the issue in the center of California politics.
Unlike New York or Pennsylvania, where active fracking has triggered a widespread protest, the issue in California is more a potential threat than an in-your-backyard reality. The exception is Kern County, the long center of California's drilling operations. Massive fracking operations are predicted, however, across the vast Monterey Shale region, which encompasses the Central Valley and reaches parts of the Los Angeles basin and Santa Barbara. Some experts project the Monterey Shale formation to contain fifteen billion barrels of oil.
Governor Jerry Brown, State Senator Fran Pavley and the Legislature have adopted pre-emptive regulatory procedures drafted by experts from the Natural Resources Defense Council (NRDC) while rejecting a ban as advocated by groups like Environment California or even a moratorium as adopted in New York state. Meanwhile, tens of thousands of Californians have signed petitions calling for action. The LA action may change the dynamic.
Recently citizens in the historic West Adams district of LA were stirred to action by drilling operations by Freeport-McMoRan using hydrochloric acid, which is one of the carcinogens banned from poisoning ground water under the state's Safe Drinking Water Act (Prop 65, 1986). After protest from the area's local elected officials, the drilling of three new wells was terminated. Meanwhile, LA City Council members Paul Koretz and Mike Bonin were drafting their detailed proposal for a moratorium. Before a packed Council chamber, the proposal sailed through committee and full council in less than one week.
For the first time in the official fracking debate, the Council included compliance with Proposition 65 as a standard the industry must meet, along with the Clean Air and Clean Water acts. The Council measure calls for a moratorium until protective mitigations are assured, which will be a difficult threshold to meet. The city of LA has 1,880 active oil wells pumping 15,000 barrels per day. It remains to be seen whether the more-lethargic Board of Supervisors will copy the city council's initiative, which would vastly expand the moratorium's impact. Cities like Long Beach, Inglewood, and Beverly Hills pump another 40,000 barrels of oil per day.
The LA council action is similar to local fracking moratoriums and bans enacted this year in four Colorado cities. Governor John Hickenlooper is proposing new limits on hydraulic fracturing and regulations on methane emissions. Current federal rules apply mainly to new wells, and don't require companies to monitor and repair leaks at their sites.
Gov. Brown, known globally as a leading environmentalist, so far has adopted a gradual approach to fracking, starting with tighter state regulations. In response, the governor often faces lines of anti-fracking protestors wherever he appears in public.
The unanimous adoption of the LA ordinance comes of the eve of the state Democratic Party convention in LA where Brown is scheduled to unveil his platform for re-election. The emboldened anti-fracking demonstrators are sure to be there.
Tom Hayden
The Peace Exchange