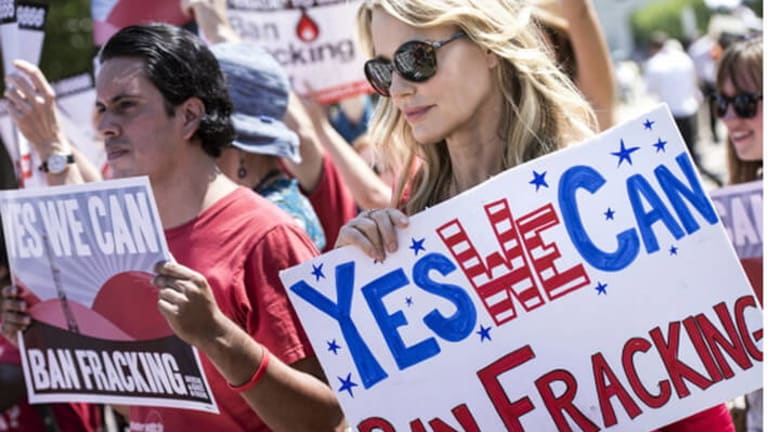 The Fracking Boom Is a Fracking Bubble
Walter Brasch: Had the state imposed an extraction tax on each well, instead of a much-lower impact tax, there would have been enough money to fund road and bridge repair without additional taxes for motorists. Every state with shale oil but Pennsylvania has an extraction tax.
Gas prices have plunged to the low $2 range—except in Pennsylvania.
In Pennsylvania, the prices at the pump are in the mid-$2 range.
That's because Gov. Tom Corbett and the legislature imposed a 28-cent per gallon surcharge tax. Until 2019, Pennsylvanians will be paying an additional $2.3 billion a year in taxes and fees—$11.5 billion total—to improve the state's infrastructure. In addition to the increased tax on gas at the pumps, Pennsylvania motorists will also be spending more for license registrations, renewals, and title certificates.
For far too many years, the state's politicians of both major parties, preaching fiscal austerity—and hoping to be re-elected by taxpayers upset with government spending—neglected the roads, bridges, and other critical problems.
What the state government doesn't readily acknowledge is that much of the damage to roads and bridges has come from increased truck traffic from the fracking industry.
The state roads, especially the section of I-80 that bisects the northern and southern halves of the state, were already in disrepair, as any long-haul trucker can attest. The addition of 40-ton fracking trucks on two-lane roads, highways and the Interstates, has added to the problem.
"The damage caused by this additional truck traffic rapidly deteriorates from minor surface damage to completely undermining the roadway base [and] caused deterioration of several of our weaker bridge structures," Scott Christie, Pennsylvania's deputy secretary of the Department of Transportation, told a legislative committee in 2010. Since then, the damage has increased in proportion to the number of wells drilled into the state. There are about 7,100 active gas wells in the state, with the cost of road repair estimated at about $13,000 to $25,000 per well. The fracking truck traffic to each well is the equivalent of about 3.5 million cars on the road, says Christie.
Had the state imposed an extraction tax on each well, instead of a much-lower impact tax, there would have been enough money to fund road and bridge repair without additional taxes for motorists. Every state with shale oil but Pennsylvania has an extraction tax.
Although corporations drilling into Pennsylvania have agreed to fund repairs of roads they travel that have less than two inches depth of asphalt on them, the fees don't cover the full cost of repair. Had the state imposed an extraction tax on each well, instead of a much-lower impact tax, there would have been enough money to fund road and bridge repair without additional taxes for motorists. Every state with shale oil but Pennsylvania has an extraction tax.
Gov.-elect Tom Wolf, who supports fracking, says he wants the state to begin to impose those extraction taxes. The politicians, who benefitted from campaign contributions from the oil and gas industry, claim the industry—and all its jobs—will leave the state if the taxes are too high.
There are several realities the oil/gas industry knows, but the politicians, chambers of commerce, and those who believe everything politicians and corporations tell them don't know or won't publicly admit knowing.
First—As long as it's economical to mine the gas, the industry won't leave the state, even if they have to pay a 5 percent extraction tax, which is at the low end of taxes charged by other states.
Second—Tthe expected $1 billion in extraction tax per year, even if the legislature approves, should not be expected. The industry has already found most of the "sweet spots," and production will likely fall off in 2015, leading to less income to the state and to leaseholders.
Third—Like a five-year-old in a candy shop, the industry salivated at the newly-found technology and gas availability and overdrilled the past four years, leading to a glut and falling prices. End of the year prices are about $3.17 per million cubic feet, down almost 30 percent from November.
Fourth—Falling prices have led to drilling not being as profitable as it could be.
Fifth—The OPEC countries have not lowered their own production of oil, and the reason for the lower gas prices at the pumps is not because of the shale gas boom, but because of the plunging price of oil per barrel, which has declined by about 40 percent since Summer. Once oil prices fell beneath about $70–73 per barrel, American shale frackers found themselves unable to compete economically.
Sixth—To compensate for lower prices in the United States, the megacorporate drilling corporations have begun to find alternative ways to make money. One way is to build a massive maze of pipelines, and send natural gas to refineries in Philadelphia and the Gulf Coast, changing the gas into the extremely volatile liquefied natural gas (LNG), putting it onto ships, and exporting it to countries that are willing to pay more than three times what Americans are paying for natural gas. However, there is an unexpected twist. The OPEC low-cost oil has led to a severe drop in Russia's economy and value of the ruble. Gazprom, the Russian-owned world's largest gas supplier, is now forced to drop its own prices to be competitive, and has been developing plans to provide gas to Europe and Asia, especially China where American gas is headed, at a price that makes it uneconomical to do long-term contracts.
Seventh—The banks and investment lenders are getting testy. Because of overdrilling, combined with inflated estimates of how much gas really is in the Marcellus Shale, corporations have found themselves in trouble. Many corporations have begun cutting their drilling operations; others have already left the state, burdened by debt to the lending institutions; some corporations have sold parts of their operations or declared bankruptcy.
Eighth—The jobs promised by the politicians, the various chambers of commerce, and the industry never met the expectations. Gov. Tom Corbett claimed 240,000 additional jobs. The reality is the increase in jobs is about one-tenth of that; more important, most of the full-time jobs on the rigs and well pads are taken by workers from Texas and Oklahoma who have extensive experience in drilling; most of the other jobs are temporary, and layoffs have already begun.
Ninth—The fracking boom for Pennsylvania is more like the housing bubble. At first, the availability of mortgages looked like a boom. However, a combination of greedy investors and lending institutions with almost no governmental oversight, combined by a client base of ordinary people who were lured into buying houses with inflated prices they couldn't afford, led to the Great Recession. Those who didn't learn from the housing bubble guaranteed the fracking boom would become a fracking bubble.
Tenth—The continued push for fossil fuel development, and more than $4 billion in governmental subsidies, slows the development of renewable energy, while escalating the problems associated with climate change and brings the world closer to a time when global warming is irreversible.
Finally, but most important—The fracking industry doesn't acknowledge that this newer process to extract gas, which has been viable less than a decade, is destroying the environment, leading to increased climate change, and putting public health at risk, something that dozens of independent scientific studies are starting to reveal. It was a 154-page analysis of public health implications, conducted by the New York Department of Health, and based upon scientific and medical studies, that led New York this month to ban all drilling—and infuriate many politicians and some landowners who were expecting to make extraordinary wealth by leasing mineral rights beneath their land to the gas companies. Of course, they didn't look to their neighbor to the south to learn the wealth promised was never as much as the royalties delivered and that many landowners now say they should never have given up their mineral rights and the destruction of the land and farms that came with it.
Until prices stabilize, Americans are paying lower prices for gas at the pump; Pennsylvanians are also paying lower prices, but not as low as the rest of the country.
And the politicians and industry front groups continue to foolishly claim there are no environmental or health effects from horizontal fracking, only blue sky and rainbows of riches.
Walter Brasch
Wanderings