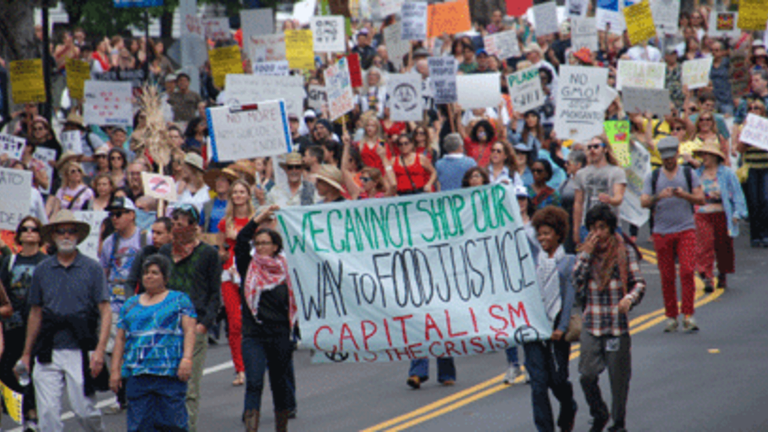 LA Protests Monsanto, Genetically Modified Food
Dan Bluemel: Protesters dished out tough rhetoric toward Monsanto, linking the company and its GM foods to allergies, cancer, autism and many other maladies.
Over 1,000 protesters marched and rallied in Los Angeles Saturday, May 25, decrying Monsanto Co., a global biotechnology firm that produces genetically engineered and genetically modified crops. Demonstrators accused the company of endangering public health, hindering small farmers, threatening the environment and corrupting government.
The demonstration was fueled in part by recent outrage over federal legislation passed in March that heavily favored biotechnology companies. Dubbed "The Monsanto Protection Act" by critics, section 735 of the Consolidated and Further Continuing Appropriations Act of 2013 allows companies like Monsanto to continue to sell GM crops despite any legal actions taken against them.
Senator Roy Blunt (R-Missouri) told Politico that he co-authored the provision with the help of Monsanto. According to OpenSecrets.org, Monsanto is one of Blunt's top campaign contributors, having paid the senator over $70,000 since 2007. Blunt said the provision was only a one-year protection to ensure the harvest of any legally planted crop.
Monsanto has a close relationship with government. Supreme Court Justice Clarence Thomas is a former Monsanto attorney. Since his appointment to the high court, Thomas has ruled in favor of the biotech company. Other former Monsanto employees have held positions in Congress, the Food and Drug Administration and the Environmental Protection Agency. In 2009, President Obama appointed Michael Taylor, a former Monsanto employee, as "food safety czar."
"We have a revolving-door policy in our political system for executives to freely go between Monsanto and the FDA and USDA," said Julia Mann, a demonstrator who spoke at yesterday's rally.
Mann said that despite Monsanto's influence in government, the people were powerful enough to overcome this.
"Our best weapon is non-compliance," she said. "You can protest; you can grow your own food."
Protesters dished out tough rhetoric toward Monsanto, linking the company and its GM foods to allergies, cancer, autism and many other maladies. However, the science on the issue is not so clear.
Many scientists do not see anything wrong with genetically altering crops because humans have been doing just that through selection and crossbreeding for thousands of years. However, that kind of genetic manipulation involved only crossing related plants. GM foods, on the other hand, can have genes from other life forms, and that has never been done before in human history. These newly human-made genetic manipulations, which have quickly swept the globe, has many unnerved about the state of their food supply.
The anti-GM movement has been called an anti-science movement by its critics. One such critic, Mark Lynas, is an apostate of the movement. As an environmental activist, Lynas helped build the anti-GM movement in the mid-1990s. However, while speaking at the Oxford Farming Conference in January, he publicly apologized for his role in the movement, saying it had been a "counterproductive path."
"You are entitled to your views. But you must know by now that they are not supported by science," he said, referring to the "anti-GM lobby" in his closing. "We are coming to a crunch point, and for the sake of both people and the planet, now is the time for you to get out of the way and let the rest of us get on with feeding the world sustainably."
Yet many remain unconvinced by science, often citing unintended consequences of having released GM crops into the environment. For instance, one particular strain of GM corn with infused insecticides had been found to be lethal to the larvae of monarch butterflies. Fortunately, that strain was not widely planted.
"The monarch story illustrates serious weaknesses in the U.S. regulatory system," wrote Margaret Mellon and Jane Rissler for the Union of Concerned Scientists. "The kinds of studies that were published … should be done before products are released, not after."
One reaction to this unprecedented form of agriculture is to save non-GM seeds. David King, who is the founder and chair of the Seed Library of Los Angeles, spoke to protesters. The library acts as a depository of seeds for home-growers.
It is important to keep seeds pure and unaltered, said King, which he urged others to do by growing their own fruits and vegetables. He also asked for the help of activists to make Los Angeles GM-free.
"We need your help," he said. "You have got to use just more than your voice and your presence, but be a part of a movement to keep [genetically modified organisms] out of our food supply, because our government is not doing it for us."
Yesterday's demonstration was held in concert with similar actions across the country, as well as in 51 other countries in six continents. Organizers with March Against Monsanto originally estimated that over 200,000 activists would participate globally. However, the Associated Press reportedthat as many as two million protested against Monsanto Saturday.
In Los Angeles, organic farming and food were promoted at the rally. Under the banner of "Occupy Sustainability," members of Occupy LApromoted urban gardening and farmer's markets. They also raffled off non-GM seeds.
Jamie Jones, an organic farmer from Niland, California, spoke to protesters, calling GM foods a "world-wide disaster waiting to happen." He took particular issue with patents which give Monsanto and other biotech companies exclusive rights and controls over their seeds as intellectual property.
Monsanto has won more than $23 million in court cases against small farmers accused of replanting their GM seeds, according to Russia Today. The biotech giant argues that these patent rights extend to circumstances where farmers are sold their GM seeds by a third party or if the seeds are descendants of a Monsanto GM seed.
Earlier this month, The Supreme Court ruled in favor of Monsanto in their case against a 75-year-old farmer from Indiana. The court ruled unanimously that farmers should not be allowed to create new seeds from patented GM seeds without first paying a fee to the seed's creator, according to The New York Times.
[dc]"f[/dc]armers growing GM crops are denied their traditional right to save their own seeds for replanting," said Jones. "What if there is a war, a natural disaster or economic collapse that disrupts the flow of seeds from the corporations to the farmers? You are talking about a lot of hungry people."
Dan Bluemel
LA Activist
Tuesday, 28 May 2013