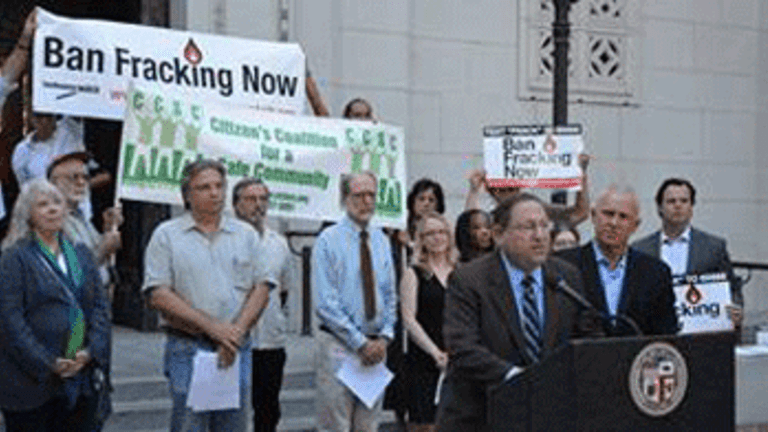 LA City Council Members Call for Fracking Moratorium
Dan Bacher: LA City Council members Paul Koretz and Mike Bonin on Wednesday, September 4 called for a fracking moratorium in Los Angeles at a press conference on the steps of City Hall.
LA City Council members Paul Koretz and Mike Bonin on Wednesday, September 4 called for a fracking moratorium in Los Angeles at a press conference on the steps of City Hall.
"Oil companies have already begun fracking in the Los Angeles region, and residents near confirmed activity have experienced severe property damage and a spike in serious health concerns," according to a statement from the Council members and environmental and consumer groups. "Oil companies have targeted the LA region for expanded fracking - a major threat to L.A.'s water supply, air quality, and private property."
Council members Koretz and Bonin discussed a proposed moratorium on fracking within the City of Los Angeles and along the City's water supply route.
They also called on Governor Jerry Brown to listen to the majority of Californians who oppose the inherently dangerous process of fracking and impose an immediate statewide moratorium on fracking.
"If a group of people poisoned millions of gallons of California's water while no one was looking we would label it terrorism and call out the troops,'' Koretz said. "Yet that what's happening with fracking right now in California."
Koretz noted that "fracking is happening all over the state, and the United States Geological Survey says fracking-related activity has definitively caused earthquakes in Ohio, Texas, Oklahoma and Arkansas. As a state, we have to decide which it is, are we protecting our water supply, or not?"
"The quality of our water and the safety of our neighborhoods comes first," said Council member Mike Bonin. "The threat fracking poses to families in L.A. is serious and I am proud to join Council member Koretz in proposing a moratorium on fracking in the City of Los Angeles and along our water supply route."
Koretz and Bonin's measure would outlaw fracking by changing the city's zoning laws. The measure went to the Council's Planning and Land Use Management Committee for review and public hearings.
Representatives of consumer and environmental groups, including Food and Water Watch, Physicians for Social Responsibility-Los Angeles, Citizens Coalition for a Safe Community and the Sierra Club spoke in support of the ban at the event.
"As Governor Brown has failed to act, cities like Los Angeles are stepping up to protect residents," said Brenna Norton, Southern California Organizer for Food & Water Watch. "Nationwide the evidence is clear: No amount of regulation can make this fundamentally destructive and toxic drilling safe."
"The health impacts of the chemicals used in fracking, acidization and gravel packing are clear," said Angela Johnson Meszaros, general counsel for Physicians for Social Responsibility-Los Angeles. "Introducing these chemicals into a densely populated city like Los Angeles exposes people to unnecessary threats in both the short term and over the long term."
Actor and environmental champion Ed Begley, who narrated Restore the Delta's documentary film "Over Troubled Waters," and actor Esai Morales also spoke out against the environmentally destructive practice of fracking.
"It is very important that we realize the potential risks that others around the country have already been dealing with and make sure that we do not expose Californians to those risks," said Begley. "There are just too many unknowns and our citizens cannot afford foolish experimentation with our water, air, health, earthquakes and climate."
The press conference took place at a critical time for California's fish, water and environment. Documents obtained under the Freedom of Information Act by truthout.org and the Associated Press recently revealed that oil companies conducted fracking operations at least 12 times in Southern California coastal waters without any public notice or environmental impact reports.
The California Coastal Commission and other state officials expressed "surprise" after they read the Associated Press report documenting fracking operations conducted in the Santa Barbara Channel in recent years. Under pressure from legislators lead by Assemblyman Das Williams, they called for an investigation into fracking operations off the California coast.
Dan Bacher
The Fish Sniffer
Friday, 6 September 2013