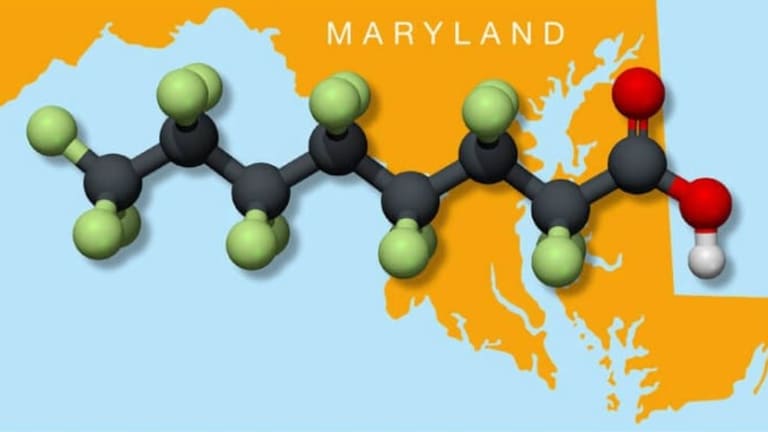 Maryland Plays Catch Up on PFAS
Pat Elder: Sixteen military installations in Maryland are believed to have used the "forever chemicals" while several bases have contaminated the state's aquifers and surface waters with massive amounts of the deadly substances.
While most of the states have taken steps toward regulating drinking water for PFAS, Maryland has not acted until now. The Maryland Department of the Environment, (MDE) has been asleep at the switch under Secretary Ben Grumbles.
Sixteen military installations in Maryland are believed to have used the "forever chemicals" while several bases have contaminated the state's aquifers and surface waters with massive amounts of the deadly substances. For instance, the U.S. Naval Research Laboratory at Chesapeake Beach has contaminated local groundwater with PFAS chemicals at a staggering level of 241,000 parts per trillion. It's front page news, although it doesn't make it in the paper.
​PFAS chemicals are linked to several types of cancer and cause abnormalities in the developing fetus. They poison our bodies, flood our waters, and contaminate our soils. Blame the Department of Defense and the EPA first. Then blame Maryland Governor Larry Hogan and Secretary Grumbles for not taking steps earlier to protect Marylanders from the scourge of PFAS. 
Now, the eyes of the state are on the MDE to do the right thing by testing the water we drink and the food we eat and establishing stringent maximum contaminant levels (MCL's) to protect human health.
It's instructive to examine U.S. state policies for PFAS in Drinking Water published by the American Water Works Association. 27 states have either proposed or enacted drinking water standards for PFAS contamination. Maryland is not one of them.
Grumbles was nominated by Governor Hogan and confirmed by the Maryland Senate in 2015. He served previously as President of the U.S. Water Alliance, a pro-industry lobby group, and held the position of Assistant Administrator for Water at the U.S. Environmental Protection Agency.
Examine Grumbles' record in Maryland on natural gas, the market's role in burning coal, and greenhouse gases. It's important to understand this record as we prepare to apply pressure on Grumbles and this administration on PFAS.
Think Progress on Secretary Ben Grumbles:
"Grumbles was heavily involved with fracking while serving as an EPA administrator under Bush, most notably overseeing the release of a 2004 report that determined the controversial process was safe for drinking water. That report was eventually used by the Bush administration to pass a law that prohibited the EPA from regulating fracking under the Safe Drinking Water Act."
Grumbles says natural gas in Maryland is "a bridge fuel to a clean-energy future," reflecting a pro-fossil fuel stance. 
Grumbles insists Maryland must rely on "market-based" solutions to "phase out" the six coal-fired plants we still have. Here's an exchange during a hearing in February on Hogan's Clean and Renewable Energy Standard legislation fromMaryland Matters:
"Ben Grumbles, Maryland's Secretary of the Environment, frequently asserted that the bill is a "market-based, balanced approach" to developing and utilizing clean energy. But most of the testimony came from critics.
Environmentalists and some lawmakers don't like the bill because it still envisions an energy portfolio that relies on fossil fuels for several years. "There's no mention of a plan to ultimately phase out coal-fired power plants in the state, of which we still have six," said Sen. Brian J. Feldman (D-Montgomery), the committee vice chairman and chief Senate sponsor of last year's energy legislation. Grumbles replied that "the marketplace is absolutely going to move to the phase-out of those coal plants."
Greenhouse gases - Read this exchange between progressive Senator Paul Pinsky and Secretary Grumbles over greenhouse gas emissions in January of 2020. Pinsky said Grumbles' plan to cut Maryland greenhouse gas emissions by 40% by 2030 is "truly vague,"
From Greenwire January 17, 2020 (edited for brevity)State Sen. Paul Pinsky (D), who chairs the Senate's Education, Health and Environmental Affairs Committee, said he was not confident the plan, "with all its vagaries and lack of quantifiable reductions," would reach the target set into law by the General Assembly.
"I don't have the confidence from reading this or some of your answers on the components that I'm going to sleep better tonight knowing that we're on a trajectory to actually do this," Pinsky told Grumbles.But Grumbles took issue with Pinsky's criticism. "I would respectfully say that I don't agree with your characterization in any way, shape or form," Grumbles said.Pinsky, a Prince George's County Democrat, said he expected to see strategies in the draft with quantifiable reductions in the state's greenhouse gas emissions, so lawmakers would be able to see how the state is progressing over the next decade. Instead, he spotted projections he found hard to believe.For example, Pinsky said the plan projects that the state will have 600,000 electric vehicles on the road by 2030. Now, he said, Maryland has only about 20,000. He asked Grumbles if he still maintained the state would reach that goal. "My understanding is that this plan, with the bold provisions in it, can get us to over 40% — even if we fall short on one or two specific areas, but we're hoping that we're not," Grumbles said. "It's too early to give up."Pinsky also took issue with the draft plan for attributing further greenhouse gas reduction to a proposal to add lanes on the Beltway near the nation's capital and Interstate 270. Grumbles said the greenhouse gas reductions would come from less idling of vehicles in traffic jams."
Lack of Attention to PFAS
OK. Great. We know what we're dealing with.
It's not surprising that the state is bowing to its military and corporate underwriters regarding its response to PFAS contamination. Maryland is following the script from other states that have refused to take measures to protect the health of its citizens from PFAS chemicals. Getting tough with polluters may entail liability in Maryland that exceeds $1 Billion.
Sound like a stretch? Consider Orange County in California.
​
Maryland is 13 times larger than Orange County, and has twice its population, and many more military installations known to have dumped the toxins, especially along the shores of the Chesapeake. California recently enacted a measure that requires water utilities to shut down or provide expensive water treatment measures if water exceeds 40 ppt for PFOS and 10 ppt for PFOA. By conservative estimates, the water service providers are faced with a $1 billion clean-up bill. 71 of the 195 wells in Orange County's primary groundwater basin will likely be forced to close by the end of this year. The water utilities are contemplating a massive lawsuit against the manufacturers of PFAS, while not prosecuting the DOD.
The military and the chemical industry are dictating environmental policy in Maryland. It becomes a little more clear from reading the report by the Bay Journal on the high levels of PFAS found in St. Inigoes Creek:"Ira May, who oversees federal site cleanups for the MDE, suggested that contamination in the creek, if it exists, could have another source. The chemicals are often found in landfills, he noted, as well as in biosolids and at sites where civilian fire departments sprayed foam.
"So, there are multiple potential sources," May said. "We're just at the beginning of looking at all of those."
"It is a priority for us," said MDE Secretary Ben Grumbles. He noted that he had formed an internal agencywide task force to deal with PFAS, which are among the most widely used and persistent chemicals in the world. They have increasingly turned up as a contaminant practically everywhere — in air, water, soil, food and even people's bodies."
Maryland's top official charged with overseeing federal contamination cleanups seems intent on diverting the public's attention from the Navy base as the source of the contamination in St. Inigoes Creek - and he seems to be borrowing time for a long, complex process - engineered to cause the public to forget all about it. It aint gonna happen.
PFOS-laden foam was regularly discharged at Webster Field Annex of the Patuxent River NAS, approximately 2,400 feet from the test site where the PFAS was found in the creek. It is unlikely the contamination originated from the closest fire station, located five miles away in Valley Lee, or from the St. Andrews Landfill, 11 miles away.
We don't have time for May's obfuscation. Public health is in the balance. Grumbles' comments above follow the same script being played out by environmental officials in many states. It sure sounds like they're on it!
The State of Maryland has lagged far behind many states in taking measures to protect the public from PFAS contamination in the environment. Vermont, for instance, has tested water systems throughout the state and established an MCL for five PFAS in drinking water: PFOA, PFOS PFHxS, PFHpA, and PFNA. The sum of these five PFAS cannot exceed 20 ppt. New Jersey, New Hampshire, Michigan, Pennsylvania, California, and others have conducted sampling and made the results public. Maryland has a lot of catching up to do. 
This is what doing nothing looks like.
A letter sent by MDE to water systems throughout the state in December, 2019 reflects the agency's inaction on PFAS.
>Maryland's MDE:"Highlighting the attention that PFAS commands, EPA made a commitment in its Action Plan to make a regulatory determination on whether or not to establish a Maximum Contaminant Level (MCL) for PFOA and PFOS.However, a few states that have experienced significant PFAS detections in water supplies such as New Jersey and New Hampshire have established MCLs for PFAS, and other states like Pennsylvania, have initiated their own process for establishing an MCL. The work being done in these states is on a fast-track and could benefit Maryland by leveraging their administrative and scientific work on this topic."The letter continues:
EPA's Action Plan is taking a pro-active, cross-agency approach to address the PFAS contamination problem."
Reality check: 27 states have either proposed or enacted drinking water standards for PFAS contamination. Maryland is not one of them. What is the state waiting for? (Sure, the General Assembly passed a measure banning the use of PFAS during fire training exercises at municipal fire stations, but what they should have done is ban the use of PFAS in the foams, period. There are excellent, environmentally-friendly fire-fighting foams on the market that don't contain PFAS.)
This memo from the MDE praises the EPA for doing nothing! The EPA's Action Plan fails to regulate PFAS. Regulating the stuff would mandate that it is cleaned up and the water is made pure. This would be done by subjecting PFAS to the Comprehensive Environmental Response, Compensation, and Liability Act, (CERCLA), also known as Superfund. That's not going to happen anytime soon because it would mean the Pentagon would be stuck with a multi-billion-dollar bill for cleanup in Maryland, across the country, and around the world.
Maryland has a massive PFAS problem from military-caused contamination throughout the state. Grumbles knows the feds aren't in a regulating mood and he isn't either. The letter cites significant PFAS detections in water supplies in New Jersey and New Hampshire because those states have implemented testing regimes while Maryland has not! It's like testing for COVID-19. The problem appears to be non-existent if jurisdictions don't test.
Hopefully, this is changing now, although we must be vigilant.
The letter from the MDE lists 8 military bases that have contaminated the environment with PFAS as a result of reckless fire-fighting exercises using toxic foams laced with PFAS:
Two military facilities in the Annapolis Area
Fort Meade Army Base
U.S. Naval Research Laboratory at Chesapeake Beach
The former U.S. Naval Surface Warfare Center at White Oak
Aberdeen Proving Ground
Naval Air Station Patuxent River
Andrews Air Force Base
Former Brandywine Defense Reutilization and Marketing Office
There are another 8 basesthat are believed to have used PFAS that the MDE omitted in its letter:
Bainbridge Naval Training Center
Bethesda Naval Support Activity
Indian Head Naval Surface Warfare Center
Solomons Island Navy Recreation Center
Webster Field Annex of the Patuxent River NAS
Air Force ANG - Martin State
Naval Surface Warfare Center, Carderock
Walter Reed National Military Medical Center
Maryland officials say they plan to target areas around firefighter training sites, the site of aviation-related fires, and current and past military installation sites. It sounds good, but we must demand the state tests drinking water, groundwater, surface water, sewage sludge, sediment, and soils at the 16 military installations.
The Baltimore Sun recently reported MDE is developing plans for PFAS testing which includes collecting "hundreds of samples" from drinking water sources around the state. MDE has also indicated it may re-sample some of the 40 of the largest water systems in Maryland that were initially tested by the EPA during the period of 2012-2015. Testing technology has vastly improved since 2015.
Already, the MDE is off to a poor start. Maryland has 3,653 public water systems and they all need to be tested for PFAS, not just a few hundred. Private wells, especially near military sites - like the homes with wells on Karen Drive in Chesapeake Beach, just a few thousand feet from the burn pit at the Chesapeake Beach Navy Lab - all must be tested. Some states, like New Hampshire have been testing private wells near known releases of PFAS.
Baltimore City has 410,000 water customers, but the City Department of Public Works doesn't test for PFAS. A spokeswoman for the agency said, "Once standards for PFAS are set, we will test for them." Wake up, Maryland, and smell the PFAS in your coffee - just don't drink it until you know it's free of PFAS.