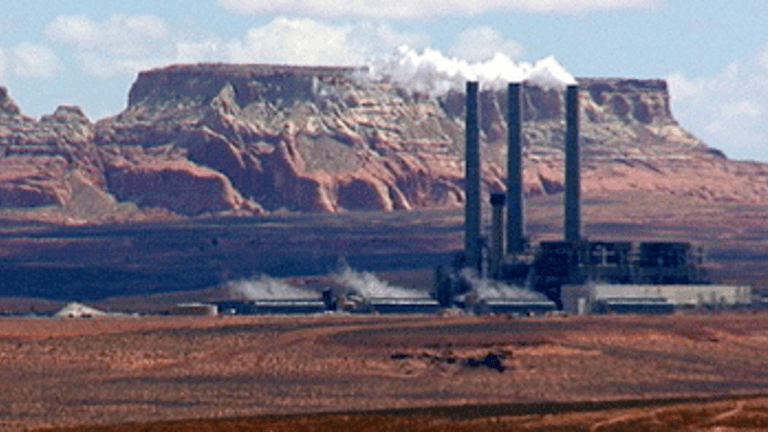 Monster Slayers: Can the Navajo Nation Kick the Coal Habit?
Winona LaDuke: A war is raging between traditional Dine people seeking to maintain their way of life between six sacred mountains and the relentless economics of fossil fuels. The battles between these two mighty forces have put the largest Native tribal government in a difficult position.
"In the far back times of the Dine people, monsters roamed the lands. And in those times, there were great beings who were called upon to slay the monsters. We need some modern-era monster slayers…." —Anna Rondon, Dine
A war is raging between traditional Dine people seeking to maintain their way of life between six sacred mountains—Sisnajini, Tsoodzil, Dook'o'oosliid, Dibe Nitsaa, Dzil Na'oodilii, Dzil Ch'ool'i'I—and the relentless economics of fossil fuels. The battles between these two mighty forces have put the largest Native tribal government in a difficult position.
So here is the question: What would you do if you were BHP Billiton (the largest mining company in the world) and industry analysts told you that small coal is not financially viable? And as you surveyed the U.S. coal market, you found that your major coal companies had seen their profits and share prices drop 20-30 percent, and that Patriot Coal had gone into bankruptcy with $3.6 billion in assets?
If you were really smart, you might start talking to the Navajo nation about a buy-out for your 50-year-old coal strip-mine.
That scenario is playing out now in the Navajo Nation, and it involves high-stakes and high-pressure negotiations. Over 75 percent of the Navajo general budget comes from royalties on fossil fuels, and there are thousands of Navajos employed by the industry. Consultants for the Nation claim that up to $80 million in annual revenues may result from the Navajo Mine and the associated coal-fired power plants, including Four Corners Generating Station and Navajo Generating Station, both of which need costly environmental upgrades as the coal market continues to decline.
At a meeting in late March, the coal companies bussed over 200 miners and their families to the Navajo Tribal Council meeting, apparently hoping to encourage a vote that aligns with BHP Billiton's agenda. When the debating and shouting and voting was concluded, here, apparently was the preliminary plan: the Navajo Nation will take full ownership of the Navajo Mine, extend the leases for coal generators at Four Corners Power Plant and the Navajo Generating Station, and remain a fossil fuels powerhouse for the foreseeable future.
A Bit of Opposition
"Buying the mine from BHP Billiton means responsibility for millions of tons of coal ash waste with toxic metals leaching into our aquifer and the San Juan River," says Donna House, speaking for Diné CARE (Citizens Against Ruining our Environment). "Navajo people do not want that dirty legacy on our hands, nor the massive costs of cleaning it up. We don't need to pay millions more to high-priced consultants to know this coal deal is a bad deal."
From inside Dine Bikeyah—the Navajo territory between those six sacred mountains—a scrappy grassroots organization is suing several parties, including BHP Billiton and the Navajo tribe, hoping to stop the sale of that coal strip-mine. "Buying Navajo Mine and renewing leases for NGS will only condemn our children to a life-sentence of pollution and a weak economy," says activist Kim Smith. "We should focus on creating a stronger sustainable economy rather than spending thousands to keep these mines and power plants going. If these industries took care of us the way they take care of cities like Phoenix, Navajos would no longer be held economic hostages."
Opposition to mining and coal generation at Navajo is not a new story. It dates back to the 1970s, with protests and arrests, and 10,000 people were relocated from the area that buffers Navajo and Hopi lands and is overlaying coal fields.
Arnold Clifford, a Navajo geologist and botanist, is in a race against coal mining. For the past 25 years, he's been researching fossils and rare plants on the Navajo Nation. The geological record in the San Juan Basin ranges in age 50-million to 90-million years old, Spencer Lucas, curator of geology and paleontology at the New Mexico Museum of Natural History and Science explains, the Basin is "the last age of the dinosaurs up until they went extinct 65 million years ago… This is where you learn about the end of an era."
Clifford says the ancient record is in danger as coal-mining operations continue to advance in unprotected areas. This past fall, a reporter from the Gallup Independent followed Clifford as he worked and took note of a poignant moment: "Arnold Clifford lay on a pile of rock fragments in the middle of a badland about nine miles north of the Burnham Chapter and took a closer look at what appeared to be a small rounded stone. He put it on his palm and observed it. 'Ain't no pebble. It's a croc's tooth,' he said, adding that the tiny tooth must have belonged to an ancient crocodile that once roamed the San Juan Basin—presumably about 60-65 million years ago."
Fossil Water
This fight is about water as well as fuel. Nicole Horseherder, who grew up on Black Mesa, says, "I have distinct memories of one particular camp, Tsenitaahotsoh, which means 'the green grass at the base of the rock.' I would get up before sunrise and take our sheep to a seep there to drink, because right around 4 a.m., pools of water would miraculously appear on the dry arroyo bed. Then when the sun came up a few hours later, the seeps would disappear.
"Our livelihoods depended on those springs, and I remember moving with our herds to follow the water all the way through my high school years, until I left for college in 1987.
"I returned home 10 years later, university degree in hand, ready to take my place as a productive member of my community. But as I began building my home at Tsenitaahotsoh, I discovered that the seeps had vanished, not just with the rising sun each day, but for good. In fact, the springs at all of the camps from my childhood were drying up. Over 20 years, the natural economy of my ancestors had disappeared…."
In 1973, the National Academy of Sciences issued a report suggesting that in arid areas like Dine Bii Keyah, "a restoration of a landscape disturbed by surface mining, in the sense of re-creating the former conditions, is not possible."
Water is scarce in the region. The Navajo Aquifer, which adjoins the coal bed, is the only source of drinking water for 50,000 Native people and 14 communities. It is more than 1,000 feet deep, and provides some of the cleanest water in the Southwest when it emerges as seeps on the surface. And it has provided for thousands of years.
As Horseherder explains, "From 1971 to 2005, the coal industry removed water from the Navajo Aquifer at the rate of 4,000-6,000 acre-feet a year, more than three times the aquifer's known ability to recharge. Since 2005, the Peabody mining company has decreased its use to less than 2,000 acre-feet a year, but that is still more than 13 million gallons a year for an area that gets less than eight inches of annual rainfall."
"We've been out of water," Kim Smith, a young Dine artist and community organizer who lives in Windowrock, says. "[We were] out of water for two weeks in Windowrock, Crownpoint, Ganado—it's a huge problem. And now, the water that we do have is orange and brown... "
Coal and Air
The Four Corners Power Plant is the nation's largest source of nitrogen oxides. In 2011, it emitted 14,488,178 tons of carbon into the air, 24 million pounds of sulfur dioxide, 77 million pounds of nitrogen oxides, 8 million pounds of soot, and 1,297 pounds of mercury. The American Lung Association estimates that 16,000 people in the region (15 percent of the population) suffer from lung disease it suspects caused by plant emissions. Coal combustion waste from the mines supporting the Four Corners and San Juan plants has contaminated local groundwater with sulfates, leading to the death of livestock. According to Earth Justice's 2012 report, 70 million tons of coal waste (containing cadmium, selenium, arsenic, and lead) has been dumped in the Navajo Mine, and 80 million tons in the San Juan mine.
Those dirty facts are behind the nationwide transition from coal to natural gas, which makes coal increasingly hard to sell in the U.S. Coal-plant operators in the United States are planning to retire 175 coal-fired plants (8.5 percent of the total coal-fired capacity), according to the Energy Information Administration. The EIA notes that 67 generators were shut down in 2012; in 2015, 61 coal-fired generators will be retired.
So what's going to keep all the nation's light bulbs burning? The Navajo Green Economy Commission was established by the Navajo Nation in 2009. Anna Rondon, one of the commissioners, says 110 chapters at Navajo could have solar farms. She points to the Moapa Paiute's most recent agreements with Los Angeles Department of Water and Power. At Moapa Paiute, a huge solar project is underway, being built by a tribe faced with environmental concerns about coal similar to what the Navajo are wrestling with. In June the Interior Department gave the Moapa Paiutes fast-track approval to build the first-ever utility-scale solar-energy project on tribal lands. The 350-megawatt plant, to be built on Moapa Paiute trust land, should generate enough power for 100,000 homes. The project will also generate lease income.
Winona LaDuke
Indian Country
Republished with the author's permission.
Saturday, 3 August 2013