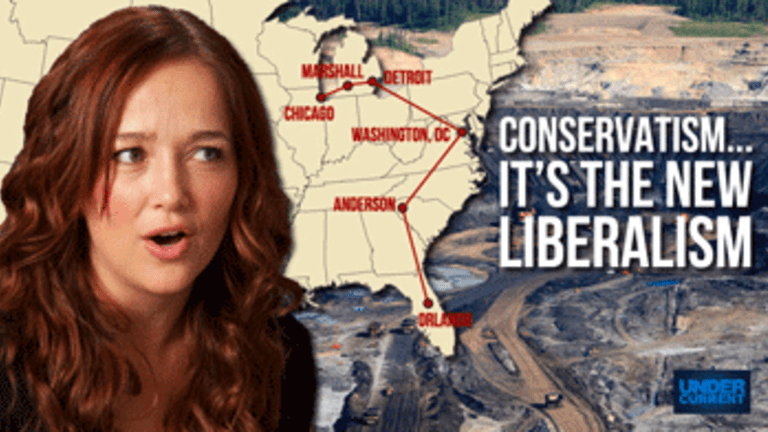 Conservatism: It's the New Liberalism
Lauren Windsor: Why is it that conservatives, who tout their morality and fiscal responsibility, are so liberal with the stewardship of our planet's resources; so liberal with their interpretation of empirical evidence; so liberal with scientific facts?
During the dog days of summer, I traveled to Chicago to cover two ideologically opposed conferences–Al Gore's Climate Reality Leadership Training and the 40th Annual Meeting of the American Legislative Exchange Council, or as it is better known, ALEC. What began as a ten-day trip would eventually become a five-week journey, as I added stops in Marshall, Michigan, Detroit, Anderson, South Carolina, and Orlando, for a town hall featuring Rep. Justin Amash, the People's Forum for Detroiters Resisting Emergency Management, Rep. Jeff Duncan's Faith & Freedom BBQ, and the Americans for Prosperity Defending the American Dream Summit, respectively. These seemingly disparate events did share a common thread—the differing approaches to dealing with, or in the case of many Republicans, exacerbating, climate change.
Both personally and professionally, my chief issue is Citizens United (which I use as an umbrella term to encompass all of the issues surrounding campaign finance reform), but a close second is climate change. When 97% of the world's climate scientists agree that climate change is occurring as a result of human activity, the issue should become one of constructive discussion of solutions, rather than divisive debate over even acknowledging the problem… Why is it that liberals are the ones promoting conservation of the environment, while 'conservatives' promote its degradation?
The environmental obstructionism of the Republican Party and the global economic climate of rapidly rising consumption by third world countries are incredibly effective in dampening optimism. I felt heartened, however, upon seeing the turnout for the climate leader training. According to Climate Reality's president, Maggie Fox, 1,300 people attended the summit from all 50 states and more than 50 countries. Her goal is to equip these environmental evangelists with the necessary information and tools to spread the gospel of Al Gore.
The following week, I encountered some of the chief opponents of action on climate change at the ALEC confab. The council's mission is to unite state legislative members and private sector members behind legislation that promotes "limited government, free markets, and federalism." The patron saint of ALEC is neoliberal economist Milton Friedman. Accordingly, deregulation is high on the group's agenda. Although I was denied credentials to cover the event, I was able to speak with many of the participants, including the founder of the National Tax Limitation Committee and former Reagan adviser, Lew Uhler, and Ohio State Representative and ALEC State Chair of Year,John Adams. I also obtained a copy of the ALEC publication "The U.S. Environmental Protection Agency's Assault on State Sovereignty." From the document:
The EPA's Carbon Pollution Standard effectively bans new coal-fired power plants by requiring them to capture their greenhouse gas emissions. Because this technology has never proven commercially viable, the Carbon Pollution Standard, in practice, renders it impossible to build a new coal-fired power plant. Remarkably, the EPA ever even tried to tether the regulation to a specific benefit accruable to the American people. This makes sense because there are no such benefits.
No such benefits? Really? Coal power plants are the leading source of carbon dioxide emissions, the chief cause of global warming. In order to substantively address climate change, we need to make dramatic structural changes to the way we produce and use energy, to change the powerdigm, if you will. The United States must take the lead globally in transitioning to renewables, despite the intransigence of the energy industry and business associations like ALEC. Not only is it a moral imperative to preserve our environment, but a fiscal one, given that the economic consequences will grow increasingly severe as super-storms become the norm.
Motor City, battered by super-storms of the economic variety, was my next destination. En route, I stopped in at the Aug. 16 town hall for libertarian Rep. Justin Amash (R-MI 3) to ask him if he would support backstopping the pensions of Detroit retirees at either the state or federal level. Unsurprisingly, he said no to federal intervention, and refused to comment on state assistance. Of course, Amash is not alone on Capitol Hill. Several Republican senators unsuccessfully proposed legislation barring bailouts of states and municipalities a week after the city's filing. What is particularly striking to me about the Republican Party in general, and its stance on Detroit in particular, is its self-serving jingoism—the chest-thumping adulation of American exceptionalism on one hand, and its unvarnished shadenfreude for the demise of a city that once embodied the American Dream, on the other.
To me the Motor City stands as a beautiful, though broken monument to a bygone golden age of American manufacturing. Despite Detroit's perpetual state of decay, its people remain resilient. One such example is Malik Yakini, the Executive Director of the Detroit Black Community Food Security Network. He runs the D-Town Farm, which educates urban farmers on both agriculture and activism. He sees the bankruptcy as a microcosm of the global struggles with the exploitative nature of capitalism.
Last November, Michiganders voted to repeal Public Act 4, a piece of anti-democratic emergency management legislation passed in 2011. Undeterred, Governor Snyder and state Republicans passed a slightly different version of the law only a month a later. Challenging its constitutionality, attorney John Philo of Sugar Law Center for Economic and Social Justice filed suit in federal court. He joined activists Grace Lee Boggs, Brandon Jessup, Shawndrica Simmons, and others at the People's Forum for Detroiters Resisting Emergency Management, to discuss the local dictatorship and the underpinnings of racism.
On Aug. 26, I headed south for the Faith & Freedom BBQ in Anderson, SC, where Senators Rand Paul (R-KY) and Tim Scott (R-SC) aided the fundraising efforts of Rep. Jeff Duncan (R-SC 3). The Tea Party congressman talked about energy independence and having an "all-of-the above" energy plan, which made me curious about his stance on the Environmental Protection Agency and climate change. Duncan said he would not only defund the EPA, but also the Departments of Energy and Education. He acknowledged that the climate is changing, but denied that it is man-driven. The point Duncan misses is that the issue is not the change itself, but rather the unprecedented rate of change.
Over Labor Day weekend, many of Jeff Duncan's ideological brethren gathered in Orlando for the Americans for Prosperity Defending the American Dream Summit, featuring party notables Ted Cruz, Bobby Jindal, Ron Johnson, Rick Perry, Marco Rubio, and Rick Scott. In "The Green Monster: Subsidizing Failure in Renewable Energy," panelists advocated eliminating government subsidies to renewable energy. That should come as no surprise given that AFP's founder, David Koch, is a billionaire oil and gas tycoon. Later I ran into Sen. Ron Johnson, who told me that extreme environmentalists want to control Americans' lives and "regulate us back to the Stone Age."
Why is it that conservatives, who tout their morality and fiscal responsibility, are so liberal with the stewardship of our planet's resources; so liberal with their interpretation of empirical evidence; so liberal with scientific facts? Degradation of the environment is neither moral nor fiscally responsible… Conservatism—it's the new liberalism.
Lauren Windsor
Lady Libertine
Monday, 30 October 2013