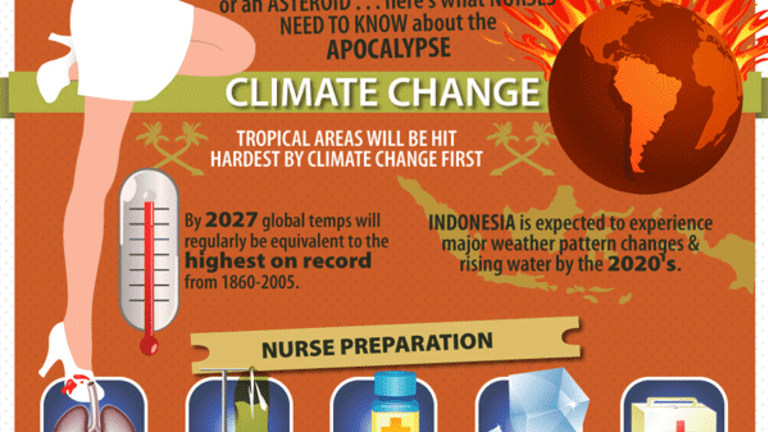 A Nurse's Guide to the Apocalypse
Nurses Guide Apocalypse: Whether it's zombies, climate change, nuclear winter,or an asteroid — here's what a nurse needs to know about the apocalypse.
A Nurse's Guide to the Apocalypse
Whether it's zombies, climate change, nuclear winter,or an asteroid — here's what a nurse needs to know about the apocalypse.
Climate Change
Tropical areas will be hit the hardest by climate change first.
Indonesia is expected to experience major weather pattern changes and rising water by the 2020′s.
By 2027 global temperatures will regularly be equivalent to the highest on record from 1860-2005.
Needed for the apocalypse:
Inhalers and asthma medication for decreased air quality.
Aid packs, IV's, stomach pumps for increased food and water degradation.
Allergy meds for increased allergen levels.
Tubs of Ice for heat stroke.
Trauma kits for increasingly severe weather disasters.
Many climate refugees will live in horrible conditions:
2008–20 million climate refugees.
2050–200 million climate refugees.
Exacerbating medical conditions.
Asteroid
A collision as large as the one that wiped out the dinosaurs would definitely need nursing aid.
Collision that created the Chicxulub crater in Mexico 65 million years ago:
2 million times more powerful than a hydrogen bomb.
Causing:
Tsunamis
Ground Displacement
Seismic and volcanic activity
Wiping out 70% of life on Earth
(including all non-avian dinosaurs)
By baking dinosaurs to death within days from ejected material in the sky
Acid Rain
And then longer term cooling.
Nurse preparation:
Burn kits
Trauma Kits
Then hypothermia kits.
A 10+ kiloton explosion sends small un-fissioned particles into the stratosphere.
For Comparison: Tsar Bomba, the largest hydrogen bomb ever made was 58 MEGATONS.
Or 5800 times larger than the 10 kiloton threshold.
The radioactive dust then travels through the atmosphere.
Causing:
Nuclear Winter from blocked sunlight
Poisoning of food and water
Radiation poisoning for exposed humans.
Nurse Preparation:
Radiation Shields
Haz-Mat Suits
Chemo therapy equipment
Zombies
There are myriad types of Zombie attacks that could spell our doom…
And increase our need for nurses!
Types:
Slow Zombies–
Any human that dies after a slow zombie apocalypse is reanimated.
Zombie bites kill in a matter of days.
Characteristics:
Slow, silent, intelligent in an animal way.
Fast Zombies–
Characteristics:
Living but infected. Fast but weak.
Can be killed with:
Chest Wounds
Bleeding Out
Or the Infection itself
Hospitals will be prime targets for zombie expansion.
Needed tools:
Chainsaws
Scalpels
Restraints
As the end looms, it looks like we're going to need some more nurses!