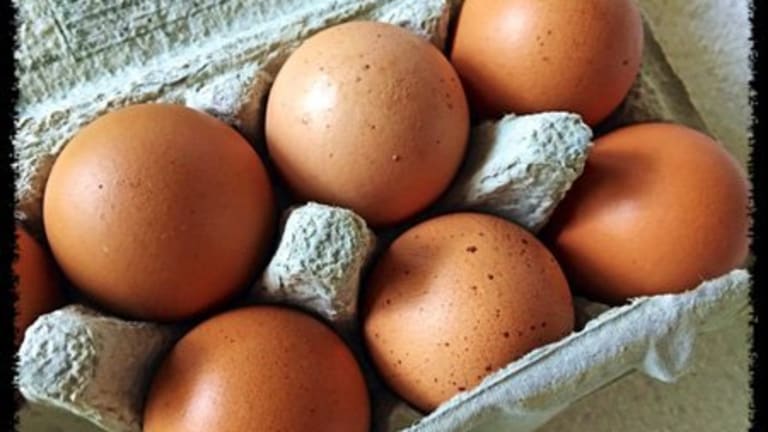 Organic Eggs…Or Are They?
Stephen Frantz: You may or may not be surprised to learn that the following, mostly nationwide, "organic" brands were basically found not acceptable by Cornucopia.
According to the United States Department of Agriculture (USDA), eggs marked with the USDA's National Organic Program seal come from uncaged hens that are free to roam in their houses and have access to the outdoors. The hens are fed an organic diet of feed produced without conventional pesticides or fertilizers. However, as they say, "the devil is in the details"
The Cornucopia Institute (Cornucopia, Wisconsin) has completed a rather comprehensive study of organic, and "would-be organic", egg production in the United States (136 brands & private labels). As part of this report, they scored the many producers according to 28 criteria, including: ownership structure of a company, certifications, size of flocks, animal husbandry and confinement (many criteria), fate of spent hens, source of feed, amount of synthetic amino acid in feed (no synthetic methionine scores highest), and overall transparency of a company's operations. For details, see: "Scrambled Eggs: Separating Factory Farm Egg Production from Authentic Organic Agriculture."
While the 91-page, 2nd Edition of this report was published in December 2015, their Organic Egg Scorecard was last updated on August 23, 2016 so the data is current. The scorecard covers all regions of the United States and can help one to chose producers with the best organic farming practices and environmental ethics. Compared to conventionally produced eggs, organically produced eggs, that carefully adhere to organic standards, have a better nutritional profile, are superior in flavor, should be without toxics (including the glyphosate-based herbicides [GBHs] present in conventionally sourced egg), and are reported to have less bacterial contamination.
You may or may not be surprised to learn that the following, mostly nationwide, "organic" brands were basically found not acceptable by Cornucopia.
You may or may not be surprised to learn that the following, mostly nationwide, "organic" brands were basically found not acceptable by Cornucopia. These were among the lowest rated on the organic scorecard, partially because the companies provided hens with no meaningful outdoor access or they would not the disclose the confinement conditions for their hens. Such companies tend to favor large numbers of laying hens raised in confinement conditions nearly identical to conventional, industrial-scale egg production.
These and many other brands essentially failed: 365 Organic (by Whole Foods), Alta Dena (by Dean Foods), Archer Farms & Simply Balanced (by Target), Country Creek & Great Value (by Walmart), Green Way (by A&P), Harris Teeter Naturals & Simple Truth (by Kroger), Horizon Organic (by White Wave), Kirkland Signature (by Costco), Land O'Lakes (by Land O'Lakes), Nature's Basket & Nature's Promise (by Giant/Ahold), O Organics (by Safeway), Organic Valley (by CROPP), Price Chopper Naturals (by Price Chopper), Simply Nature (by Aldi), Sprouts Market (by Sprouts), Trader Joe's (by Trader Joe's), and Wegman's (by Wegman's).
Some of these may be brands you have long trusted to be organic, but the fact that they pay lip service to true organic standards is an unfortunate fact. Further, since shortcuts are taken regarding egg production, we must question the degree of organic compliance for other products labeled under the same brands. Rigorous product analysis by independent laboratories could provide some very useful data.
While one might expect some of the aforementioned large corporations to be underachievers regarding their commitment to organics and to humane animal husbandry (in favor of maximizing profits), others you might expect to perform at higher standards. The important point is that lack of adherence to, or minimizing, organic standards while representing products as organic is, or borders on, fraud. Contamination of common foods with glyphosate or other chemicals is probably more ubiquitous than we thought.
GBHs are found in eggs of chickens fed glyphosate-contaminated diets. Both Monsanto and Dupont have confirmed this in their own Carbon-14 radio labelled studies and analysis by LSC (liquid scintillation counting) (Anthony Samsel, personal communication). In a 2016 study, "organic" eggs contained 2 - 3 times the FDA Tolerance Level for glyphosate. And note that FDA's "Tolerance Level" is total nonsense because no amount of glyphosate should be allowed in any food since it mimics the amino acid glycine and leads to tissue destruction at all levels (Anthony Samsel and Stephanie Seneff. 2015 and 2016). Every molecule of glyphosate that enters a cell is dangerous; the destruction is random and chaotic. Strengthening the national organic standards (re. both USDA's National Organic Program and the National Organic Standards Board), clarifying interpretations of same, and greatly improving FDA and USDA monitoring for compliance (with prompt prosecution of fraud cases) would undoubtedly improve the organic landscape for all of us who care about our health, animal welfare, and the environment.
In my opinion (see the color-coded scorecard here), egg producers that meet the gold standard (gold) or that go beyond the minimum outdoor requirements specified by the USDA (green) are the companies that deserve the most consumer support. Quoting from Cornucopia's report: "Producers in this top tier manage diverse, small to medium-scale family farms. They raise their hens in mobile housing on well-managed and ample pasture or in fixed housing with intensively managed rotated pasture. They sell eggs locally or regionally under their farm's brand name, mostly through farmer's markets, food cooperatives and/or independently owned natural and grocery stores and sometimes through larger chains."
The bottom line is that hens must have: toxic-free feed; clean water; and outdoor access to soil, vegetation/grasslands, insects/other invertebrates, and abundant exercise space in order to produce high quality, organic eggs. I encourage everyone to support those farmers that make this so. Study the organic scorecard here and do the right thing.
Stephen C. Frantz
____________________
References Cited (without online links):
Samsel, A. and S. Seneff. 2015. Glyphosate, pathways to modern diseases IV: cancer and related pathologies. J Biol Physics and Chem 15:121-159.
Samsel, A. and S. Seneff. 2016. Glyphosate pathways to modern diseases V: Amino acid analogue of glycine in diverse proteins. J Biol Physics and Chem 16: 9-46.