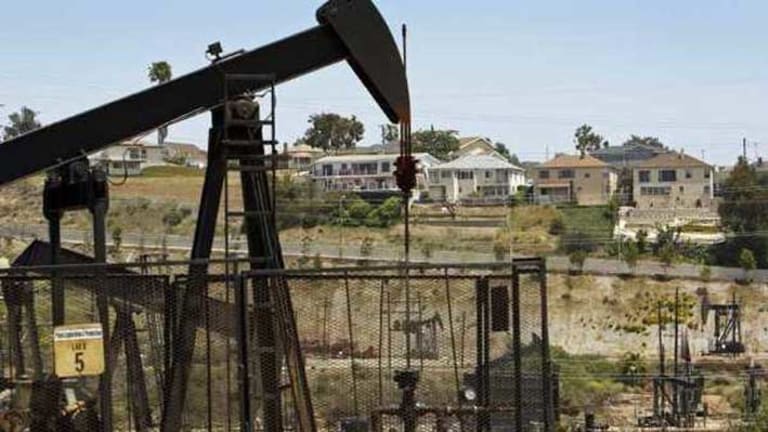 Big Frackin' Deal: The Politics
John MacMurray: Although there are laws and regulations, both state and Federal, concerning fracking, the oil and gas industry has succeeded in having a myriad of exemptions, which have largely de-fanged the laws.
Part II of a three-part series. Go here for Part I and here for Part III.
Imagine owning a home in Windsor Hills. It's a small (just under 2 square miles) Census Designated Place in Los Angeles, just a couple of miles east of the beach communities of Santa Monica and Marina Del Rey, and right by the Kenneth Hahn Recreation Area. This 400-acre jewel has a fishing lake, basketball courts, hiking and biking trails, lighted baseball diamonds, and a long list of other amenities that make life comfortable.
Some of the 4,000 homes in Windsor Hills have spectacular views of Mt. Wilson and the San Gabriel Mountain range. Some have the ocean views. Some of the homes are new, some are ranch style homes from the 1950s and 60s, some predate World War II. Ray Charles lived in Windsor Hills. Cardinal center fielder Curt Flood lived in Windsor Hills, as did Ike & Tina Turner. Obviously, it's a nice place.
Now, imagine living in Windsor Hills, and coming home to find your house broken. Not broken into—broken. The walls are cracked and splitting, and getting worse by the day. For some houses, even the foundation is broken.
This is happening because Windsor Hills is not only home to successful and famous people, it's also home to a 1,000-acre oil drilling site known as the Inglewood Oil Field, which contains hundreds of wells. And since 2004 the oil field's owner, Plains Exploration & Production (PXP) has been fracking the wells; and that's when residents say their broken home problems began.
But, Windsor Hills' problems with fracking are not unique to their community, or even to California.
Oklahoma also has seen earthquakes and related problems increase dramatically since fracking has been introduced to the drilling process. Measurements by the United States Geological Survey have shown that Oklahoma quakes with a magnitude of 3.0 or higher have increased from an average of about one and a half per year for the years 1970 to 1999 to 145 for the first six months of 2014 alone.
This matches scientific research very closely. According to Dr. Paul Asimow, professor of Geology and Geochemistry at Cal Tech, "There is no question in my mind that fracking can and does cause earthquakes, as big as magnitude 5. The statistics of increased earthquake incidence in areas of Oklahoma, Pennsylvania, and so on, are (in my opinion) incontrovertible."
Fracking, then, precipitates earthquakes, poisons water, wrecks buildings, creates more noise than before, and releases noxious chemicals into the air.
So, with all the evidence, seismic, visual, auditory, and olfactic; a fair question to ask is, Why can't we do something about all this? And the answer is, that the various state and other governments are regulating fracking; sort of.
Because, while the oil and gas industry maintains that fracking creates jobs, and not toxic or seismic byproducts, it also maintains that it is one of the most heavily regulated industries in the country. However, this is one of those magical statements that is both true, and not true, depending on which part is being looked at.
Because, yes, the oil and gas industry is heavily regulated. But, there are many loopholes giving the industry exceptions to the regulations. And as we will see, many of the regulations favor the industry rather than the public. Many of these regulations are not stringent, or are not enforced, for reasons ranging from lack of budget funds and shortage of personnel to industry influence in drafting the regulations.
For example, in most states companies do not have to prove that fractures have stayed within the target formations. Nor do companies have to monitor water quality when there are drinking water formations in close proximity to areas where hydraulic fracturing occurs.
So, there are gaps in the regulations.
And one of the most famous of these regulatory gaps is the so-called Halliburton Loophole.
It works like this: Back in 2005, then-Vice President Dick Cheney joined the lobbying efforts to get Congress to give Halliburton, Cheney's former employer, an exemption from a 1974 law called the Safe Drinking Water Act. Signed into law by President Gerald Ford, the law requires the Environmental Protection Agency to keep toxic chemicals from getting into America's drinking water.
The Cheney-led lobbyists were successful.
But the exemption didn't stop there. In 2005, Congress also gave the natural gas industry an exemption from having to write up reports on its activities under the National Environmental Policy Act. Then Congress expanded its exemption from having to follow Clean Water Act regulations on what kind of chemicals it can dump in storm water runoff.
Coupled with existing exemptions to a variety of pollution laws like the Clean Air Act, the Resource Conservation and Recovery Act, the Superfund Act, and the Emergency Planning and Community Right to Know Act, the 2005 exemptions gave the fracking industry seven total exemptions from important environmental regulations.
So, although there are laws and regulations, both state and Federal, concerning fracking, the oil and gas industry has succeeded in having a myriad of exemptions, which have largely de-fanged the laws.
So, although there are laws and regulations, both state and Federal, concerning fracking, the oil and gas industry has succeeded in having a myriad of exemptions, which have largely de-fanged the laws.
In California, a promising recent step toward regulation that actually regulates is to require oil and gas companies to report the chemicals they are using; also, the location of wells prior to drilling, and the sources of emissions. The air quality agency will post the information to the public. This will make it the first time a government agency will release real-time data on fracking activities.
Some communities, though, are not waiting for these new regulations to take effect. Culver City recently released its own hydraulic fracking ordinances, and went one step further: the court system.
In 2011, environmentalists and community groups from that city settled a suit against Texas-based Plains Exploration & Production Company (mentioned earlier), the company that operates the Inglewood Oil Field (also mentioned earlier). The suit settled a 2006 action resulting from the release of noxious fumes at the site.
But the terms of this action were largely kept secret. And this seems to be a trend. A recent investigative report from Bloomberg News Agency claims that US oil and gas companies are making similar, quiet settlements; paying large amounts of money to keep the cases quiet, which also keeps the details of the fracking transgressions quiet.
And because the details of what went wrong are now locked up in "don't tell" court settlements, the public and the lawmakers have fewer details available to craft any regulations.
Dr. Tom Williams, a retired geologist and long-time oil well specialist, cautions that Californians do not have access to enough information on the potential dangers of fracking. He likens the current fracking debate to the early debate about the dangers of tobacco, when people suspected smoking was harmful but lacked the scientific evidence to back it up. "Without information, we can't do anything," he said.
More Info:
John MacMurray