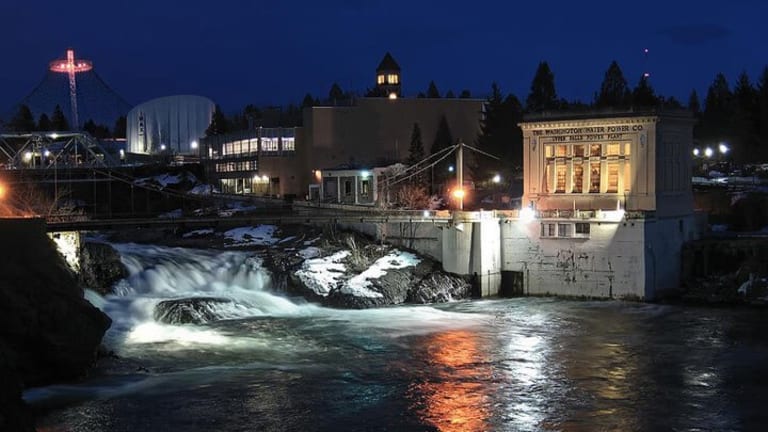 A River for Fish, Kayaks, Swimmers
What's at stake is for sure the redband trout, steelhead, and other fish that were for centuries the life source for the Spokane Tribe and other Inland Salish clans.
Health of Spokane's Treasure Is Indicator of Our Communities' Values
Eventually, all things merge into one, and a river runs through it. – novelist Norman Maclean
Many if not most of the people charged with protecting our river and/or discharging into our river have never been on it. Not a slam against them, just a notable that any connection beyond professional duties is missing. This in and of itself represents the profound disconnection that we have as we work on the river. – Spokane Riverkeeper, Jerry White, Jr.
Those Falls Once Hosted Salmon as Big as Wolves
The city is known for its falls, known for the Riverfront Park amenities, known for 14,000 acres of recreational pleasure in Riverside State Park. Even the staid County web page speaks to our running water's value to the citizens: "The primary body of water running through the most populous area of the county, the Spokane River has two tributaries - Latah (Hangman) Creek and Little Spokane. There is no debate as to the value and importance of the river to area, and even regional, residents."
Of course, there is great debate around what should be healthy total flows for the river in the summer; what the riparian-riverbank ecology should look like; and how much sewage overflow and the amounts and types of pollutants should be allowed for discharge into the River.
Center for Environmental Law & Policy (CELP), American Whitewater, and Sierra Club are petitioning Washington Department of Ecology ("Ecology") which is the agency authorized to "promulgate, and therefore amend, the Instream Flow Rule for the Spokane River."
What's at stake is for sure the redband trout, steelhead, and other fish that were for centuries the life source for the Spokane Tribe and other Inland Salish clans.
From the Spokane Tribe of Indians website: "In the early existence of the Spokane Tribe, over three million acres of land were lived upon, protected and respected by the Spokane Indians. The Spokane Indians fished the Spokane River and used the grand Spokane Falls as a gathering place of family and friends. The Spokanes lived along the river in three bands known as the Upper, Middle and Lower Spokane Indians. Depending upon the season of the year, traditional camp sites were lived in."
Poet and novelist Sherman Alexie, raised on the Spokane Reservation and in Spokane, has an epic poem about the Falls and his ancestors fishing chum and Chinook near the Monroe Bridge emboldened in metal fish steps.
I also go to one of the most prominent environmental writers, Wendell Berry, for benedictions to rivers: "Men may dam it and say that they have made a lake, but it will still be a river. It will keep its nature and bide its time, like a caged animal alert for the slightest opening. In time, it will have its way; the dam, like the ancient cliffs, will be carried away piecemeal in the currents."
A City Made by a River
On any given spring day the River can look robust, healthy, vigorous, but the downside is that since the late 1890s, the total cubic feet per second flow has been dramatically reduced by the needs of development, farming, industry and due to climate change. You might be standing in the River in Peaceful Valley or east near Baker road, and that's part of the excitement of having a river running through it (an entire two-state hodgepodge of geological forms, ecosystems, towns, cities, lakes).
A city's past, present and future are embedded in stewardship, and lack thereof: Imagine this flow from the megafloods 12,000 to 18,000 years ago, and we can envision a life-source and historical repository for the Spokane River, located in northern Idaho and eastern Washington with a drainage area of 17,200 square kilometers. It rises from Lake Coeur d'Alene, Idaho, and flows west through the Spokane Valley until reaching Spokane.
Moose, white-tailed deer, beaver, hundreds of aquatic flora and fauna species, dozens of bird species, and a million dreams are contained in the ever-changing dynamic reflection in this flow. This is not just heady, erudite stuff of a modern man or woman looking at a threatened species starry and teary eyed.
As the Olmstead brothers (John Charles & Frederick Law) reported more than a century ago (in 1913): "Nothing is so firmly impressed on the mind of the visitor to Spokane, as regards its appearance, as the great gorge into which the river falls near the center of the city. It is a tremendous feature of the landscape and one which is rarer in a large city than river, lake, bay or mountain. Any city should prize and preserve its great landscape features, inasmuch as they give it individuality."
Life Sustenance Above and Below Ground – An Interplay
The area we live in is so unique that we have this interplay with the Spokane Valley Rathdrum Prairie aquifer and River because many sections of the Spokane River "get a significant amount of water from the SVRP aquifer," almost 60% of the aquifer's outflow. And yet the water seepage of the river accounts for 43 percent of the SVRP aquifer's recharge. All aquifer water, unless pumped by wells, ends up as surface flow in the Spokane River.
Water resource management for the region is closely tied to understanding the hydraulic relationship between the Spokane Valley Rathdrum Prairie Aquifer (SVRPA) and the Spokane River. More than 38 years ago the .U.S. Environmental Protection Agency (EPA) designated the SVRP aquifer as a "sole source aquifer." Vulnerability to contamination is due to soils above – no continuous clay or silt layers exist. If the river's polluted with compounds making up fertilizers, overflow sewage, lead and other heavy metals and polychlorinated biphenyls (PCBs), a group of manufactured organic chemicals that contain 209 individual chlorinated chemicals (known as congeners), then is eventually will flow into the aquifer.
Used in electrical transformers as an oil, and also used in Kaiser Aluminum's lubricating process of rolling out the metal, PCBs are known cancer-causing chemicals, endocrine disruptors, and DNA scramblers.
With all this talk about litigation, and about those two or more sides of the debate arguing how much the River can "take" or be drawn down, or analysis on why golf courses and developments siting right on the banks of the river or creek and cattle grazing up to the edge of both Latah Creek and Spokane River are not good for a river-riparian system, it comes down to one voice – a protector's voice and actions.
Yes, it's compelling that since 1890 the city has been monitoring and recording stream flow. Here's the lo down: The average seven-day low flows have dropped from 1800 cfs to 1141 cfs from 1890 to 2015. Ecology has found that "[s]ince the mid-1980s, summer low flows in the river drop below the minimum flow established in the new rule about every other year, on average."
More compelling for some of us sustainability and environmental justice thinkers and journalists is how one person can symbolize a universal voice for the health of a river.
Swim in It, Fish It, Drink from It
"If you ask me what the most pressing issue is, I'd say Hangman Creek (Latah). A lot is happening to clean it up. It's been a multigenerational effort," said Jerry White, Jr., a native of the Willamette Valley but now a long-time Spokane resident, and our region's Riverkeeper since 2014.
He's got an open understanding of how things worked in the past – it was the old way of the developers, industrialists and farmers to get right to the water's edge. "All about maximizing yield. And that was incentivized by farm programs. As the public, we are now entitled to clean water."
This is a modern tale of false choices, Jerry ramifies – it's either all agriculture's needs or all environmental values. "People are being shorted, and it doesn't have to be that way."
He's into the concept of normalizing the values of clean stream-beds, healthy fish runs, safe swimming along all parts of the creek and clean drinking water. Getting there involves a lot of education. Hangman Creek probably has been the most neglected waterway in the state – running 65 miles from Idaho and flowing north into the Spokane River. The Little Spokane is the second large moving body of water entering the Spokane River. That river is also threatened.
Phosphorous, which comes from ag, golf course and private lawn fertilizing, ends up in Hangman Creek, and then this large nutrient load, along with the sediments washing into the creek, puts everything out of whack – algae takes over, temperatures rise and then it all gets into the Spokane River and even accounts for algae blooms in Long Lake.
"I can put it this way – Hangman Creek no longer delivers ecological services: salmon and trout can't thrive and the creek can't be swam in."
White, who gets out on the Spokane River as much as he can, either floating it in a boat, or walking the river's edge and cutbanks, talks about how aggressively the Coeur d'Alene Tribe is restoring the headwaters of Latah (Hangman) Creek, and we are seeing redband trout (Oncorhynchus mykiss gairdnerii) returning.
The irony is that the public already spends $500,000 a year on a clean up plan for the Spokane River, yet the problem largely originates in Hangman Creek.
"We'd like to see redband trout returned to all the areas, not just parts of the creek," Jerry said. There is work to be done to get cattle out of the river, and to restore all the native bank- and soil-holding willows and other fauna. Moose and beaver, muskrat and deer, and all the other species in and out of the water will return. It's been a recipe throughout the world – take small dams out of small rivers, and cut the pollutants and bring back the food web, and they will return.
The Price of Consumerism – Pollution
The largest dischargers are Spokane County, City of Spokane, Kaiser, and Inland Empire Paper. Those persistent organic chemicals in PCBs bio-accumulate and bio-magnify in the top of the food web predators like osprey. Jerry wants the work being done with the dischargers and Spokane River Regional Toxics Task Force to move forward so an end of the pipe numerical limit is placed on the dischargers.
He was raised in Cheney, WA, and he still remembers his grandfather teaching him to fish and to love salmon in Oregon. Jerry recalls being in 5th grade and attending Spokane's Expo '74. "I have these memories of the River being dirtier than it is now. So, we have come a long way in some sense."
More forward motion is needed, however, to get developers, permit regulators, and the public at large to have incentives to restore riparian (river edges locales and surrounding lands) areas.
We talked about baselines – what the norms for biological systems were four decades ago as opposed to now. Or what the Spokane Tribe had for centuries: free flowing rapids, undeveloped river banks, zero industrial or other human discharges into the river. Jerry cites Colonel William Abercrombie's dairy that it took longer to catch a grasshopper to bait a hook than to catch a fish.
Educate, Demonstrate, Activate
We talked about the foundation of change, K12 education, and college and trade schools. Jerry is all for curricular shifts – "in the case of K-12, get the kids out of Texas-based textbooks and get them into our river banks to study the ecosystems, issues and solutions in the places they live, in our case, Spokane River Watershed."
Jason from GameQuarium, told us: "Activities that happen outdoors such as cruising on a boat can be fun for teens and have a far larger educational impact than the traditional in-class activities."
We talked about the countervailing forces of the economy over the environment: "Many of those in control have defined fixing and restoring in terms of what works inside the frame of an economic reality, that answers to rate payers, shareholders, et al. So rather than going all the way with riparian restoration and enforcing laws that are already on the books, we compromise with voluntary programs that simply don't have the teeth to get us to real recovery."
The Clean Water Act is still a powerful tool questioned by industry. Just recently the EPA changed Washington Water Quality Standards on PCBs to 7 picograms per liter from the previous Washington standard of 170 pg/L. "This is almost no PCBs in the water column. However, you will see industry fight this new law tooth and nail as they are quite content to call 170 pg/L 'fixed and restored.' Protecting empowered, financial frameworks for short term gain still holds a lot of sway, even in an identified 'river city' like Spokane."
The art of the deal or inside job or loopholes, all of these allow developers to skirt even new regulatory measures (laws) like the Growth Management and Shoreline acts. Imagine that money talks, and it's in overdrive in this upcoming end of the decade. Exploiting the laws' own loopholes allows for developers to do the wrong thing, intuitively, culturally, for this generation and generations yet to be born.
According to Jerry, the contradictions are huge: "These loopholes, of course, allow developments to destroy priceless ecological treasures like shoreline critical zones along our river. In the early 2000's we let a large housing development build within 150 feet of our river on pristine, ecologically critical areas rather than hold them to the newly minted shoreline set backs of 250 feet."
Again we should go back to the 1890s baseline where the Olmstead Brothers identified Hangman Creek/Spokane River as a scenic gorge "to be valued for its beauty." Those values shifted very little a hundred years later when the state department of fish and wildlife identified this area special for herons, mule deer, otters – a critical wildlife corridor.
We talked at length about values in the culture at large shifted from when we were youth. Sensory overload with all the video games, TV, screen and Facebook time. In one sense, youth do not know what is worth fighting for if they do not get out into nature, along rivers and creeks. Jerry knows stewardship begins with outreach and education, both in the classroom and experiential.
What the City of Spokane is embarking on to mitigate one measure of a cleaner Spokane River is a two- year project to build a two-million gallon tank west of City Hall. The $32 million project is a diversion tank to buried underground to hold most of the stormwater runoff from downtown.
The federal government set the pollution standards, but one of the added features of the project is a new wide promenade that will provide overlooks and shaded seating. Talk of food trucks and other vendors are part and parcel integrated into the project. As will be a tailhead connector from City Hall, along the river, and then looping into Peaceful Valley, crossing the river at the Sandifur Bridge and hitting the Centennial Trail in Kendall Yards.
Hope Is a Water Protector
The problems of pollution and nutrient and soil overload along the Latah Creek need the Riverkeeper and others pushing for strong laws and quick action. While it all seems daunting, Jerry White, Jr., has a lot of hope:
"In the end, two things give me hope – kids and the flowing of the river I love. When I feel sort beat down, I try and make sure that I schedule a youth outreach event. Kids seem to get the value of nature. They are curious about their world. They naturally want to do the right thing by the little critters around them. A youth knee deep in the river with a turtle in their hand is the symbol of hope."
[dc]"I[/dc]f I spend a little quality time with the river I love, I find that the waves, the swaying willow and just watching a blue heron hunt along the banks fills me with the hope that nature will always heal, always accept you, and always prevail." Jerry White, Jr., Spokane Riverkeeper, 2017.]