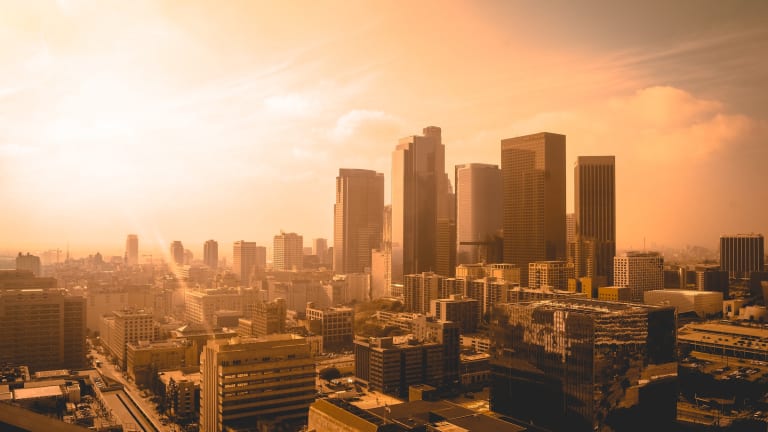 Prop 30 Takes on California's Killer Air
Sadly, merely inhaling in the L.A.-Long Beach metropolitan area now means risking your health.
California's air is a silent killer. The American Lung Association's top-ten lists of worst cities in the U.S. for ozone and particle pollution read like a travelogue of the state.
But even in the state with the most toxic air in the nation, Los Angeles and its neighboring counties stand out. My family lives near the 10 freeway, and every day we see the line of Amazon and UPS trucks streaming west, spewing pollution. Between our freeways and inland shipping corridors, our hazy brown air is thick with dangerous pollutants. Sadly, merely inhaling in the L.A.-Long Beach metropolitan area now means risking your health.
Poor air quality leads to asthma, lung cancer, preterm births, and heart disease. L.A. and Riverside alone account for 89 percent of deaths linked to air pollution in California, and almost a third of such deaths in the country.
That's the bad news. The good news is that Californians will have the opportunity in November to take real action against air pollution and climate change by passing Proposition 30, a bold initiative that will accelerate our adoption of zero-emission vehicles (ZEVs) — the most effective way of restoring clean air — and reducing extreme wildfires, our second largest source of carbon emissions.
We have the technology to convert our transportation system to zero-emissions and we have the will: In August, the California Air Resources Board (CARB) issued the historic Advanced Clean Cars II rule that by 2035, all new passenger cars and trucks sold here must be zero-emissions.
But how do we meet that deadline? At the average ticket price of $66K, light-duty ZEVs are too expensive for most Californians, and our charging network too sparse to meet increased demand. The state budget allocates some funding for rebates every year and the federal government is stepping up with incentives, but even with those programs, California is not on track to meet its ZEV and climate goals.
Enter Prop 30, which offers a practical plan for dramatically cutting our state's greenhouse gas emissions via a 1.75% tax increase on Californians with yearly incomes over $2 million. Only some 36,000 of the wealthiest Californians will pay — no one else will pay a penny.
Prop 30's funds will be distributed as follows: 45% for rebates on ZEVs, 35% towards a statewide network of fast-charging stations, and 20% for forest management, more firefighters, and firefighting equipment. The entirety of Prop 30's funding goes through state agencies — CARB, the California Energy Commission (CEC) and CAL FIRE state firefighters — overseen by the governor.
True to California's values, the money will be spent equitably. At least fifty percent of Prop 30's ZEV-related funds will go to low- and middle-income consumers who may not otherwise be able to afford a ZEV. And the measure doesn't just apply to passenger cars — it also subsidizes zero-emission big rigs, farm equipment, school buses, freight trains and ships to ensure we're reducing pollution from our heavy-duty diesel fleet. Getting to 100% ZEVs could slash transportation emissions by as much as 70% by 2035.
Prop 30's resources will also help control wildfires before they become catastrophic and protect the firefighters who so often put their lives on the line for us. As fire season worsens, so does the toll on these frontline heroes, with heartbreaking reports of injury, illness, and loss of life.
We need dedicated, sustained funding to combat air pollution and climate change. California is blessed with the means to conquer these challenges, and Prop 30 provides the long-term plan we need to do so. Join me in voting Yes on 30.