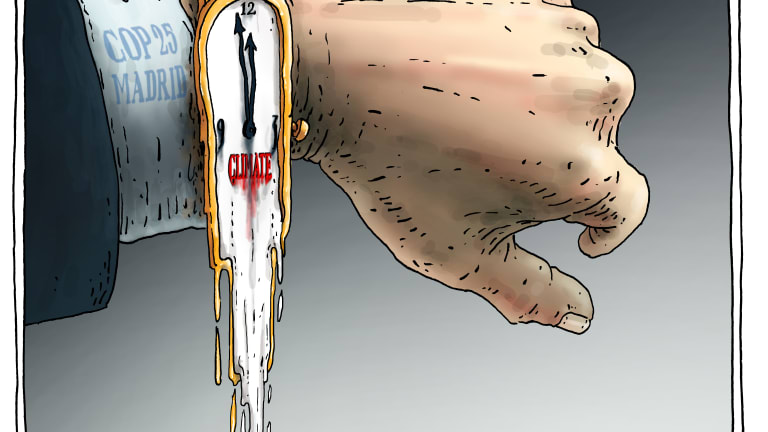 Our Rapidly Changing Climate
Unless we put the brakes on production and export of oil and gas at home, our investments in renewable energy will do little to change climate history.
Edward J. Drake may not be a household name, but he made our modern households possible when he drilled the world's first oil well on August 27th, 1858. National Petroleum Day honors his contribution, as well as that of the countless innovations that flowed from that humble little well in Titusville, Pennsylvania producing just 25 barrels a day. Today the United States is the world's largest oil producer, producing roughly 12 million barrels of oil a day.
Fossil fuels are the bedrock upon which our modern society has been built, but now the blessing has become a curse. The human-caused warming to date has already proved deadly for millions. A recent meta-analysis of "attribution" studies—which quantify the human contribution to extreme weather events—found that, of the 500 events studied, 93% of heatwaves, 68% of droughts, and 56% of floods had been made more likely or more severe by human burning of fossil fuels.
The excitement around America's new climate law, the Inflation Reduction Act, is thus well-deserved. The $369 billion in clean energy incentives will go a long way in accelerating the electric vehicle sector and electrifying our grid with sunshine and wind power. 
This could be the great green pivot the world has been waiting for. As with any compromise legislation, there are contradictions: For example, provisions in the new law make approval of offshore wind leases contingent on the sale of new offshore oil leases. But that's how the sausage gets made.
At a certain point, however, trade-offs become toxic. As we start to unpack and enact America's historic climate bill, one question should be answered soon as a matter of our national security and international climate reputation: How long will the United States remain the world's number one producer of oil and gas, and the third largest exporter?
The Inflation Reduction Act is full of carrots for electrification and renewable energy, but very few sticks for the fossil fuel industry which is why U.S. oil titans have given the law a glowing review. There is virtually nothing in the law that would derail the industry's dangerous expansion plans, with its hundreds of billions earmarked for new oil and gas fields by 2030.
In fact, the law indirectly sanctions these expansion plans with subsidies for carbon capture and storage (CCS)—a controversial technology that, in theory, would allow us to keep burning fossil fuels, given its dubious promise to capture emissions and store them underground. In practice, however, CCS has only been used to force more oil out of the ground—a euphemism known as 'enhanced oil recovery. U.S. oil majors have lobbied hard for CCS for good reason: It is their lifeline to the future. Nevermind that the Intergovernmental Panel on Climate Change has warned that it faces "multiple feasibility and sustainability constraints." Not a solid place to hang your hat.
Unless we put the brakes on the production and export of oil and gas at home, our investments in renewable energy will do little to change the course of climate history. Of the 11 million barrels of oil per day that were produced domestically in 2021, over 8.5 million barrels per day were exported. The Inflation Reduction Act only counts the barrels burned at home towards its targets, giving the fossil fuel industry a free pass to dump its trash in someone else's backyard.
Exporting climate change is consistent with the industry's overall game plan. As electric vehicles disrupt and displace oil demand for transportation, the industry has pledged to bring the developing world out of energy poverty. That's right: The U.S. oil and gas industry is gearing up to use fossil fuels to develop parts of the world that have been hardest hit by climate change, even though fossil fuels are the primary driver of climate change.
Much of the progressive commentary around the new climate law concedes that it has shortcomings, yet concludes that it is better than nothing. This is true up to a point, namely the temperature tipping point after which feedback loops—methane release from Siberian permafrost, destabilization of the Antarctic ice sheets, and the destruction of the Arctic Ice Shield—can't be stopped.
In fact, the message that incremental progress is acceptable is a poor choice when talking about a nonlinear system, such as the rapidly heating global climate. In this system, "winning slowly is the same thing as losing." It's like the old adage: An ounce of pleasure brings a pound of pain—until there's only pain.
Mr. Drake helped bring the world into modernity with his first little oil well, on August 27, 1859. He deserves our thanks. But every innovation runs its course. Now it's time to plug the wells and move on.