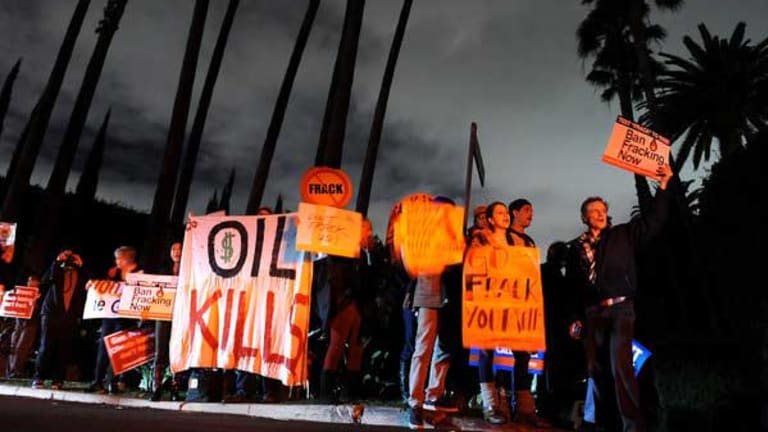 Last Chance to Stop Big Oil
Teka-Lark Fleming: How is allowing big oil to kill people and contribute to the early death of children until 2015 preventing anything?
How is it that a taxpayer-funded agency that accepts money from big oil is allowed to "regulate" big oil?
The Division of Oil, Gas and Geothermal Resources (DOGGR) has the power to ban fracking, but the state agency is funded by a fee of $0.143 on each barrel of oil collected in the state.
To many, Senate Bill 4 (SB4)–signed by Governor Jerry Brown on September 20, 2013–is a joke.
According to a Mission and State article by Nicole Cherot titled "Where Fracking Bills Go to Die," it was disclosed that two weeks before signing the bill that one of the most powerful oil lobbies, Western States Petroleum Association (WSPA), held a dinner for California politicians that ran up a $13,000 tab. According to the December 9, 2013 story, "The venue was The Kitchen, a posh Sacramento dinner destination. The guests were a select group of pols occupying seats in the California state legislature. The host was the most powerful oil lobby around, the Western States Petroleum Association."
According to WSPA's Web site, WSPA was "[f]ounded in 1907…[and] is the oldest petroleum trade association in the United States. WSPA is a non-profit trade association that represents companies that account for the bulk of petroleum exploration, production, refining, transportation and marketing in the five western states of Arizona, California, Nevada, Oregon, and Washington."
WSPA's headquarters are located in Sacramento.
Also stated in the story was that the "[t]he $13,000 tab [was] footed by the WSPA" and that "[t]he dinner event came just a couple weeks before Gov. Jerry Brown signed Sen. Fran Pavley's (D-Agoura Hills) SB 4, better known as the Fracking Bill, on September 20."
SB4 was written by Senator. Fran Pavley, D-Agoura Hills with the intention of it being the strictest regulation on fracking in the country at least–in theory.
SB4 the fracking legislation is a watered down bill rewritten by big oil.
SB4 started out paved with good intentions and we all know the destination of that road.
The oil lobby got its jaws on SB4 like a bear that caught a sleeping rabbit.
On Friday, July 18, DOGGR held a public meeting in Long Beach. The state agency apparently invited no one to an inconvenient location that even hired staff were unable to initially locate for those seeking the room; it was held in a rear basement room under the Long Beach Convention Center. Save for the Morningside Park Chronicle, of which I am the publisher, there were no media covering an event regarding a bill rewritten by big oil that now allows fracking–and its resultant water, air and ground pollution–until 2015.
Section 3161 of SB4 states that Big Oil companies like ExxonMobil, Chevron and Occidental can can frack until at least 2015. How is that a "regulation"?
Here are a few excerpts from the bill that your allegedly elected lawmakers are about to allow to poison your air, water and ground:
The division shall finalize and implement the regulations governing this article on or before January 1, 2015.
The division shall allow, until regulations governing this article are finalized and implemented, and upon written notification by an operator, all of the activities defined in Section 3157
Fracking is an activity defined in Section 3157.
At the meeting, DOGGR District Deputy Daniel J. Dudak sat with two other DOGGR representatives as members of the L.A. community explained in detail how SB4 is pointless. If DOGGR was a true regulatory board, Dudak would advise his board to ban fracking.
On DOGGR's webpage, it is stated: preventing damage to life, health, property, and natural resources.
How is allowing big oil to kill people and contribute to the early death of children until 2015 preventing anything?
How is allowing big oil to kill people and contribute to the early death of children until 2015 preventing anything?
"The intent of SB4 effort is to allow oil production and well stimulations under a strict regulatory structure," said a representative from oil lobby organization WSPA.
Recent meetings regarding fracking in the South Bay has prompted big oil interests and politicians funded by them to speak out in favor of fracking under the guise of jobs.
"Is is very important that we add jobs," said disgraced former NAACP president Leon Jenkins in his pro-fracking comment at an April Carson City Council meeting.
Jenkins spoke for big oil in Carson's anti-Occidental Petroleum action to enact a moratorium on fracking which was spearheaded by local African-American environmental group Carson Coalition and national environmental groupFood and Water Watch.
In addition to SB4 allowing fracking until at least 2015 Sierra Club pointed out several additional huge holes :
Section 1781 doesn't define what is protected waters.
Section 1783 doesn't have any regulations in case of an accidental spill.
Section 1784 has nothing about notifying property owners or leasors.
Section 1785 has unenforceable measure to monitor pollution of groundwater.
"The oil industry is creating superfund sites below the ground that will be the responsibility of our descendants to have to clean up. We should allow the planet to sustain us and find alternative ways for energy," said David Haake, president.of the Angeles chapter of the Sierra Club.
Community members echoed Haake's sentiments.
[dc]"W[/dc]e don't have to poison the water system to feed our kids. If we don't do this (bend to the will of big oil) we are risking losing money for an industry that is filthy rich," said Elliot Gonzalez of Sustainability Coalition Committee Long Beach.
Comments regarding SB 4 can be submitted via email to DOGGRRegulations@conservation.ca.gov or FAX to (916) 324-0948 through Monday, July 28.
Teka-Lark Fleming
The Morningside Park Chronicle